Happy Wednesday! This week, I have a diverse pull of four books: two from the Big Two, two from outside; two books that I know are solid, one that I'm staying with after an event, and one that's brand new.
So let's get to it!
Marvel Comics
Captain Marvel #13
Writer: Kelly Sue DeConnick
Artists: Matt Hepburn, Gerardo Sandoval (pp 12 & 14), Jordy Bellaire & Andy Troy (colors), VC's Joe Caramanga (letters), Joe Quinones (cover)
Here we are, part three of five of Enemy Within! This issue had a lot of great dialogue, which I expect from anything Kelly Sue writes, but which I'm always happy to see. Bruce Banner shows up for a bit, Carol makes a deal with the devil (her landlord), and Thor makes a weird metaphor about pickled Asgardian fish. What we get in a Captain Marvel issue that isn't necessarily there in Avengers Assemble is time with Carol's back up crew, her non-Avengers friends and colleagues.
This issue is a lot of fun and moves the story along pretty well. There are a few panels dedicated to rehashing, but it works in the context (and leads to some great one-liners). I wasn't immediately sold on Hepburn's art, but it grew on me. I just really love Andrade's style on Carol's book, but Hepburn's has a similar feel to it.
I'm enjoying the event and looking forward to the big ending next month!
Favorite panel:
DC Comics
Supergirl #21
Writer: Michael Alan Nelson
Artists: Diogenes Neves (pencils), Richard Bonk (inks), Dave McCaig (colors), Mahmud Asrar (cover)
Okay, so I've got a spotty history with Supergirl. I read the first few post-relaunch issues, fell out of it, picked it up again for the H'El on Earth event, skipped one, then really enjoyed the last two issues, which involved a guest starring appearance from Power Girl. I thought I'd stick with it and see if Michael Alan Nelson (who started writing duties with the really solid issue 20) could keep me interested.
He could! The dialogue was really great, and the story ended with a reveal that absolutely made me want to buy next month's issue. Pleasant surprise! Right now, Supergirl is feeling pretty emo. She's dying, Superman's been a jerk for the past year and a half, Earth hates her, and her house tried to kill her. Her friend Siobhan (who's also housing the Silver Banshee? I missed that story.) tries to give her a reality check, but it doesn't work. So instead Kara flies off into space, answers a distress call, and finally gets some of the acclaim she deserves… or does she?! I'm going to guess no, based on the fact that the last panel revealed a character who was pretty villainous in the old continuity. I doubt that much has changed.
I like where Supergirl is right now, from a character standpoint, and Nelson's writing is pretty good. The art, as I said last month, has improved. I think I'm going to stick with the Girl of Steel.
Favorite panel: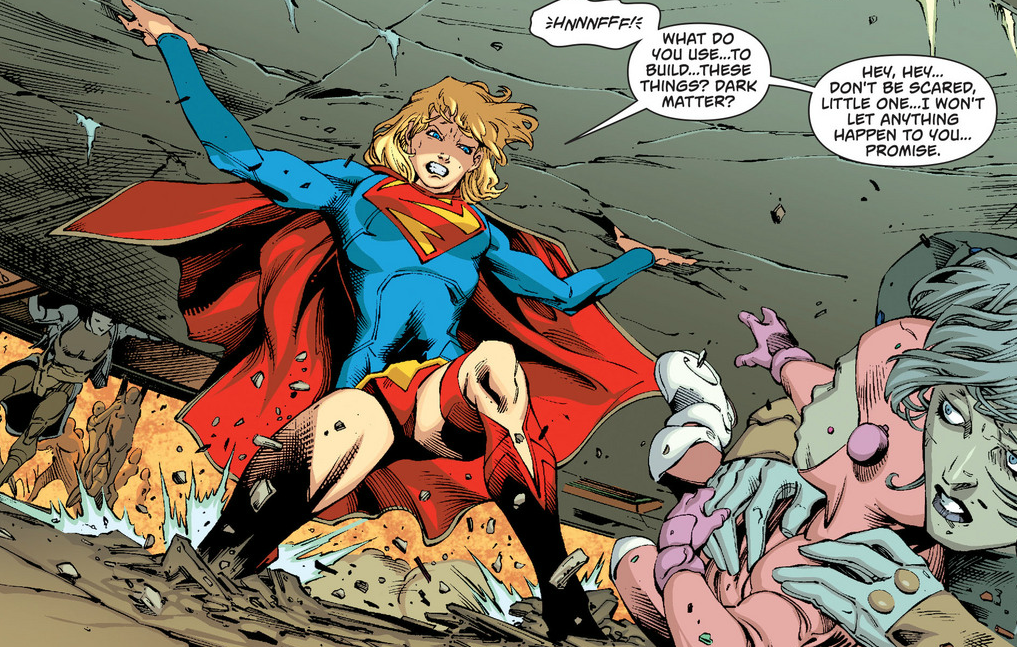 Image Comics
Mara #5 (of 6)
Writer: Brian Wood
Artists: Ming Doyle, Jordie Bellaire (colors), Clayton Cowles (letters)
Mara is just a good, solid book. I first got into it because I like Ming Doyle. But man, the story… it feels like I'm reading something I've never read before. The pace is different than almost everything else I read, but the story still manages to move along. We're on issue five and lots has happened, but everything feels very deliberate. It feels epic. Mara has evolved in this issue, and Earth has treated her, well. About how you'd expect. Her travels in space and around Earth all look beautiful, and the story delivers some fantastic drama. I'm actually sad that the series is ending with the next issue.
Favorite panel: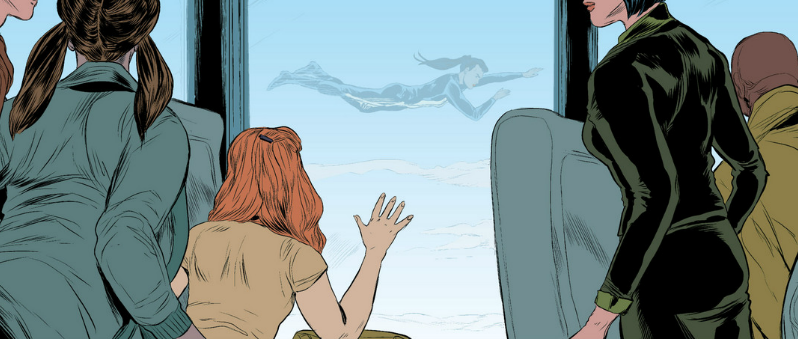 IDW
Wild Blue Yonder #1 (of 5)
Writers: Austin Harrison (story), Mike Raicht (story/script), Zach Howard (story)
Artists: Zach Howard, Nelson Daniel (colors), Thompson Knox (letters)
I really really like this comic so far. Here is why I picked this book up: there's a woman on the cover, who looks like a pilot, and is wearing clothes that cover her body. The description calls it an "action-adventure scifi tale", and it takes place on a post-apocalyptic Earth, where people have taken to the skies to avoid the mess of the planet below. I love that concept. I've read the "go to space" story a lot, and seen it in a lot of movies and TV shows. But the flying around our planet thing seems kind of new and cool.
Plus, the woman on the cover is actually a pilot, and a good one. And she does actually wear a full set of clothing. As do the other women in the story, of which there are several, including the captain of the airship thing that the heroes live in/on.
So this has a concept that I really like and women play an important role in it. I get a bit of a Firefly vibe from the crew already, and the art is great, both with the individual characters and the much broader action scenes. I'm not sure how I feel about the villain yet, but maybe we'll get more time with him in the future.
This was a random decision that totally paid off. Wild Blue Yonder is off to a great start.
Favorite panel: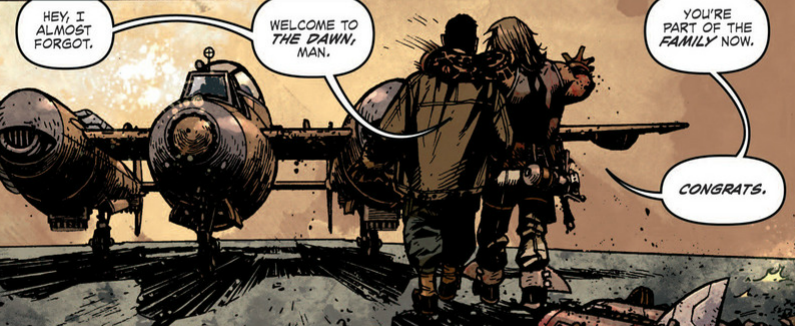 Book of the week: Tough choice. I really enjoyed every book I read this week. But I'm going to go with Wild Blue Yonder, because it's something new and I like when something new works out.