I was already not reading much DC when the New 52 launched and Teen Titans was the only title I followed in the new continuity. Because Cassie Sandsmark is my favorite Wonder and because Cassie and Tim Drake are my DCU One True Pairing. I wasn't loving the story but I love Cassie and Tim so I kept on. Cassie's origin story is told in issue 13:
She spent her childhood as a "dig-rat" following her archeologist mother to various dig sites all over the world (awesome). Something of a thrill seeker and wanting to catch her mom's attention she became a bandit, stealing trinkets wherever they went (still awesome). One day she met Diesel and "not to go all Fifty Shades of Grey on you guys but it was lust at first sight" (starting to get less awesome). Cassie and Diesel spent a year or so together travelling around, still following the digs, still stealing, hitting dive bars, making connections with criminals, and hooking up. The sex and crime made Cassie feel alive.
Look, this could be awesome in a Romancing the Stone kind of way except for the part where Cassie is a teen girl. Anyway, Diesel gets taken over by evil power armor which leads to Cassie putting on her own evil power armor and voila, Wonder Girl.
So that happened. But it wasn't my breaking point. Okay, a gross boyfriend had replaced Wonder Woman in Cassie's backstory, I could still work with it. But then a few issues later Tim and Cassie have sex. It should have been adorable — she is wearing his shirt and nobody's dead! I have been waiting for them to be a couple forever! They are my favorite! This was our moment! Except it happens a few pages after Tim randomly kisses someone else because Tim is not himself and not in control.
To be clear, romance drama is great. Tim and Cassie having a complex relationship that includes sex is everything I ever wanted. Tim and Cassie finally getting together and having sex while he is mind controlled by a supervillain is RAGE BLACKOUT. So I stopped reading Teen Titans.
But when I heard that it was starting up at #1 again I thought, well, maybe I'll give them another chance. Cassie is still my favorite Wonder. Tim is still my favorite Robin. The Titans are still my favorite team. Maybe it will be different. Maybe it will be better. Maybe it will be okay.
Or maybe critiquing the cover featuring Wonder Girl's breasts will spark a debate that results in rape threats.
It is becoming increasingly difficult to not give up. It's like arriving at a meeting and there is no place for me at the table. It's uncomfortable to stay but if I leave I'm taking myself out of the conversation entirely. If I complain I'm dissembling, if I ignore I'm complicit. It's a no win scenario.
Luckily, I don't believe in no win scenarios. Sometimes you just have to punch your way through.
I don't know when I'll start reading Teen Titans again, but I'm not going to stop talking about Wonder Girl and how she deserves better as defined by me. Because MY Wonder Girl really does belong to me and I am allowed to care what DC does with her whether I support it or not. That's part of what being a fan means to me.
Warner Brothers recently announced they have a number of DCU (DCCU?) films planned, none of which are Wonder Woman. But they are "warm" to the idea of someday maybe having a WW film, so chances have gone from nearly impossible to highly unlikely. Yay, progress! In the meantime, I've made up my own film treatment.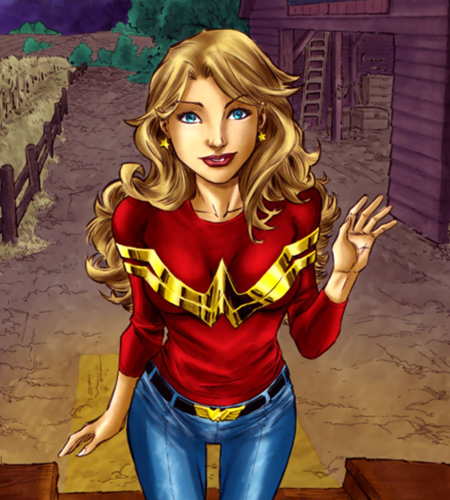 Wonder
the origin story of Cassie Sandsmark (Wonder Girl)

Cassie is the teen daughter of archeologist and amazon mythology expert, Helena Sandsmark. She grew up on digs and in libraries around the world. Helena is considered the foremost expert on the mythological island of Themyscira and the Amazonian society that lived there; however her research is not widely supported outside of academic circles. Cassie is bright and knowledgeable about Greco-Roman mythology, but she is more adventurous than studious. A young Lara Croft or Indiana Jones type. A discovery of ancient ruins, thought to be proof of Themyscira, is found in the Greek Islands. The Sandsmarks and their research group, including Diana Prince, a military liaison, set off to document the discovery.
My movie has a teenage girl as the protagonist and a supporting cast of women in positions of authority. It introduces Diana's "complex" backstory and society in the simplest way possible: a literal history lesson. There are so many options for an antagonist it's ridiculous: rival scientists who are really treasure hunters! Creatures out of the greco-roman mythology we all learned in seventh grade! Diesel the abusive and manipulative boyfriend! Whoever is the main bad guy in That Batman Movie Pretending to Be About People Who Are Not Batman Part 6! Point being: endless possibilities! Including the Endless! Ancient Mythos Crossover Teen Drama Action Flick FTW!
The chances of this film ever being made are less than zero. I guess all I can do is talk about it until we all wonder why.