This post contains spoilers.
Anika: We're back to wrap up the short first half of DOCTOR WHO series six, specifically the episode The Angels Take Manhattan aka Farewell to the Ponds.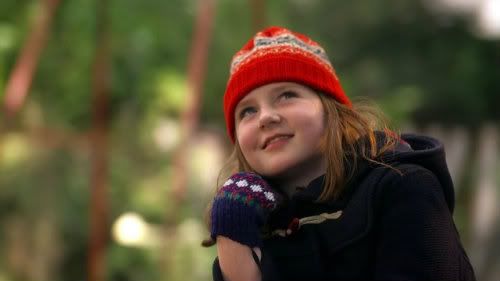 So, the three basically filler episodes in between "Asylum of the Daleks" (which was SO GOOD, now having seen the rest of the half-series) had lulled me into the mistakenly safe idea that maybe, just maybe, the Ponds would leave on their own terms. That they'd make their own adult decision, as I wished for in our earlier roundtable, and stop traveling because they wanted to. But no, that was a false sense of security (to quote seemingly all of tumblr: Damn you, Moffat), and the Ponds were ripped away and lost to time. It made Amy even more like Rose (I feel like I am the only person in fandom who thinks they are similar but they are So Similar!) and it made for a heart-breaking half-series ending.
I cried.
Sam: Yeah, I went back and watched "The Eleventh Hour" today, as a way to heal the horrible wounds of sadness that were torn into my very being. Not to be… dramatic (too late!). It's always sad when the Doctor's companions leave, except Martha, because she deserved to go out the way she did. Poor Martha. I have to say that I'm kind of glad my favorite Old School companion (Ace!) never got an official send off, because I probably would have been wrecked.
Anyway, to the episode at hand: I had a vague idea, just from the fact that the Angels were the bad guys, how the Ponds would go. But the reality was so much more nuanced and heartbreaking than I had even thought possible. I basically cried from the moment Rory stepped up on that ledge to five minutes after the credits stopped rolling. I think it's because, even though the last few episode had been filler, like Anika said, they did a good job of building up the emotionality of it. "You're the first face this face saw," has been in my head all day, and it makes my heart hurt. It's so sad and so hard to say goodbye to people you love.
Jessica: I guess I'll have to be the curmudgeon again, alas! I'm not sure if it's resentment or just that my brain fires on a way different wavelength than Moffat's, but I never cry when he wants me to. I will say that I think this episode was almost really great — it had a lot of fantastic elements. For one, even though I've never been a big fan of the Ponds, I did appreciate that their best feature — their love for each other — was prominently and sweetly displayed. But there were way too many plot holes for me to totally buy into it. I think that Moffat cared too much about exploiting the deep affection most fans have for the Ponds and not enough about actually writing a cohesive story. It probably doesn't help that I loathe River Song and I have problems with the characterization of the Doctor in this episode. Still, overall I liked it! It was definitely the second best one of the season, after "Asylum of the Daleks". It almost makes me wonder if "The Power of Three" was intentionally horrible, to make this one even better by comparison…
Sara: I agree with you, Jessica. There's something about Moffat telling me how I should feel that turns me into a toddler, stomping my foot, yelling, "No!" This time around, I really did feel for the Doctor and the Ponds, but it was nowhere near the heartbreak I felt at Donna's end (DONNNNNNNAAAAAAAAA). I did like the Ponds, but I never loved them, so this episode was emotionally okay for me.
The problem with this episode (which I will only go into a little, because I really did like this episode) was a recurring problem with Moffat's writing in general. He's SO OBSESSED with writing a story like a tangled web of misdirection and fake-outs because he's banking on the big finish, the awesome reveal — kind of like a magician and his bag of tricks. It works well for some of his characters, Sherlock especially. It would work as well for the Doctor if he didn't do it again and again! He's messing around with time and space (ha, duh!) to tell this incredibly intricate tale, which, at the time, people might buy into. When you go back and think about it just a little harder, however, the plot holes are enormous! It's off-putting and kind of insulting. I don't want to be a kid marveling at the quarter that magically appeared out of my ear, I want to be taken seriously as an educated audience member.
Le sigh. Now, for the good things!
JUST WHEN I THOUGHT THE ANGELS COULD NOT GET ANY CREEPIER, ONE FREAKING SMILES. I WAS TERRIFIED.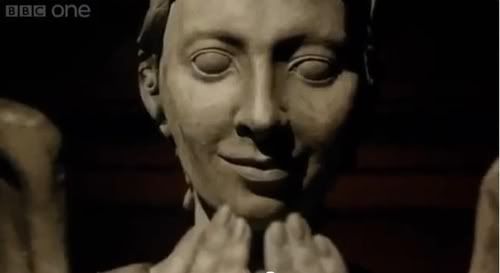 LET ME BE HONEST, I'M STILL TERRIFIED.
I hate you, Moffat. Do you have any idea of how many stone statues there are on my block alone? Let me tell you, walking home last night was an exercise in calming my heart down so it wouldn't burst out of my chest.
Something that I really liked about this episode made me realize what truly separates Moffat from Davies as a Who writer: the relationship between the Doctor, the companions, and the audience. It's not too much of a leap of logic to say that, in the past, the companions have been a device for propagating the plot and also, more importantly, to give the audience someone to identify with. We (or at least, I) can't exactly see ourselves as a brilliant alien genius, running around like a madman and solving all the world's problems. We can, however, see ourselves as the person running alongside that madman, yelling at him to slow the heck down or rethink that course of action or simply stating the fact that he is indeed mad. That's how it's always worked. Whether you see more of yourself in Rose or Mickey or Martha or Donna, the companion is the person we are, while the Doctor is the person we aspire to be.
This episode made me realize this was not the case in Moffat's Who. Well, not entirely in any case. With all the Doctor's crazy ripping-of-last-pages-of-books and I-hate-endings-declaration, for once, we were put into a position where we were utterly and completely identifying with the Doctor. He was the person voicing all our inner thoughts and feelings. He was our representation on screen. He was the one desperately grasping with us at the fleeting images of his best friends. And he is the one that is just as lost as we are now. For once, we have become the alien with two hearts–even if both are broken.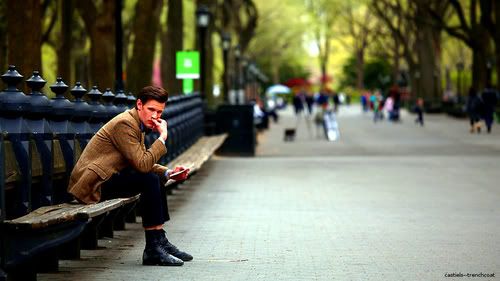 Sam: First off, I think it's great that we have different reactions to the episode. It helps me put my unabashed love for the show in perspective. That said, I'm not sure I have a problem with plot holes in Doctor Who, honestly. It's my show the way Once Upon a Time is Anika's. I hear the criticism and understand it (sometimes, sometimes I really just don't understand it at all) but I don't really care. I've managed to get what I need from each series since the reboot, and I kind of like how Moffat has reframed our connection to the show. I definitely agree that series 6 was pretty weak (but not as weak as series 3, because of how the Doctor – and RTD – treated Martha) mainly due to Moffat trying too hard with the timey-wimey. I didn't really get that sense in this episode. Like "A Girl in the Fireplace" and like the entire arc of the Doctor and River, it felt more like The Time Traveler's Wife and less like the convoluted mess that was "The Wedding of River Song". Plus the Dixon Hill episodes of Star Trek: The Next Generation.
Generally, I think comparing Sherlock to Doctor Who (which I see over and over) is unfair, since Doctor Who has to take into account the younger audience, even if it's no longer aimed purely at them. This is meant to be a show the entire family can sit down and enjoy… or hide behind the couch and enjoy. Sherlock doesn't have that limitation, and so can treat its audience accordingly.
But back to the episode! I love noir, so I loved the nods to that genre. And I love the Ponds, and how they love each other (including Melody). The only thing I won't give them is the Statue of Liberty, because there's just no way that makes sense. But I don't even care, because it is kind of a little terrifying to even think about.
Jessica: I think the reason I can't overlook the plot holes in the show are because I love it so much. Let's face it, any show about time travel is going to be inconsistent, especially one that is this long running, but I think my main problem is that I don't feel like I get any payoff from the plot holes that Moffat creates. It's not like all of these logical fallacies are present BUT I feel like the characterization is really good, or that these episodes add much to the world of the Doctor. Rather, I feel like Moffat sacrifices these things and tries to do something spectacular that doesn't pay off. Thus I resent these plot problems! It feels like Moffat traded the quirky little show I love for something that is trying to be different, trying to be edgy, trying to be exciting, but just comes off as bland when compared to the way it used to be.
In this particular episode, I just couldn't bear the way it all hinged on technicalities. One angel just randomly survived the paradox? How is that even possible? Did it not get zapped somewhere? How could the paradox get rid of the Statue of Liberty Angel but somehow this one weird survives? It just doesn't make sense! AND THEN, even then, it would have been okay if Rory had just been looking in the right direction at the right time. What? That's not even really going into the fact that the angels look at each other ALL the time in the episode, which they are not supposed to be able to do. And who is that collector guy? Since when do angels look anything other than weepy? How is a baby angel even created? Also, why, exactly, can't the Doctor go back and visit them? Even if he can't go back to the exact spot where they were sent, can't they travel somewhere else and he go visit them? Can't he go to like 1942 or something instead? I don't understand how he can be blocked from ever seeing them again if they are in the same universe.
The only other problem I have is probably more of a personal one, of me not liking the the personality of the 11th Doctor that much. Even though I appreciated his attachment to his companions, I couldn't quite buy into his reactions in this episode, like Amy leaving, to River's hand getting injured. The Doctor is literally ancient. I'm all for him being emotionally tortured–his humanity (time-lordy-ness?) is what makes you care about him, but I thought the particular reactions in this episode were more on par with a small child that had been through a trauma than an 800-year-old immortal being. It seems like he would have accumulated more coping mechanisms than this. Further, it just doesn't seem to mesh with the overall emotional picture of the Doctor Moffat has been giving me ever since 11 showed up. Many a time have I ranted that Moffat's Doctor doesn't seem to care when he has to kill people, or commit genocide. He doesn't seem to bat an eye, as long as he and the Ponds make it away okay. And now he is suddenly unable to cope with even a few laugh lines around the eyes? Sigh.
Okay, rant over, maybe. As I said earlier, I also thought there were some really good parts to the episode! It's probably the first time I haven't been super annoyed at Amy/Rory in a really long time. They were great! I wish they were like that all the time. I would have been satisfied, and had many more rosy feelings about the Ponds if they had perished after they jumped off the building. Or even if they just disappeared somewhere. That was noble. That was brave. That would have eliminated like half of my problems with plot inconsistencies. I also really appreciated the focus on relationships between the Doctor and his companions. I miss touchy feely-ness sometimes. Probably what I liked the most was that the Angels were scary again. Blink was so terrifying. And then Moffat made the angels lame. But now they are really scary again. It's the first time I've been scared by Doctor Who in a long time. In the end, I can say that this episode gave me hope that future episodes of Doctor Who might be more satisfying. For me, the legacy of season seven is this: next season might be better.
Anika: I really only have one thing to say. It wasn't Amy and Rory that made me cry. It wasn't Amy and the Doctor that made me cry. It was Amy and Melody.
See…I love River Song. I love her for the reasons people tend to hate her. She bends all the rules. She basically lives in plot holes. She doesn't make sense. She personifies the fact that it doesn't have to make sense — it just has to be fun. I spent a lot of this episode laughing at how coincidental it all was. It was rushed and random and I didn't find the angels particularly scary. But I enjoyed it because River was there. And I cried because Amy called her Melody and talked to her like a mother to a daughter. That's enough for me. I suppose it means I don't love the show in the way you all do, but that's okay.
Sam: Different perspectives are great! And, like I said, I love all the Ponds. But despite my sadness at the loss of the Amy and Rory, I really can't wait for Christmas. Even though I don't think it would kill the Doctor to recognize one of the other religions' winter holidays on his beloved Earth, having Doctor Who around is my favorite part of the season. And I can't wait for Clara, or the return of Madame Vastra, my favorite Victorian lesbian Silurian.