Hello everyone! We're gearing up for Thanksgiving here in the United States, and that means talking about things we're thankful for (like certain comics). So I'd like to take a second to thank those of you who read this, whether it's your first time or you check it out every week (or somewhere in between). I started writing this column because I was tweeting about my weekly comic reads anyway, but I appreciate you coming here and reading the longer form version of that.
So happy US Thanksgiving to those who celebrate, and Hanukkah also (it starts Thursday night)!
Now onto comics!
Dark Horse Comics
Mass Effect: Foundation #5
Writer: Mac Walters
Artists: Matthew Clark (pencils), Drew Geraci (Inks), Michael Atiyeh (colors), Michael Heisler (letters), Benjamin Carré (cover)
Okay, non Mass Effect fans: scroll down to the next one. Then go out and buy the games and come back. I know I say this every month, but I'm going to keep saying it because Mass Effect.
This month's issue is about Miranda Lawson (one of my space wives) and Jacob Taylor (the only character I refuse to even consider romancing). It's really more about Jacob than Miranda, I think. I'm hoping we'll get an actual Miranda issue later, one that focuses on her escape from her father or something. That would be neat. But in the meantime, we have Miranda recruiting Jacob into Cerberus with the mission of finding Shepard's body. Jacob is probably my least favorite character in the entire series, as I find his personality and backstory fairly uninteresting. So if they're going to have him in a comic, I'm glad at least that Miranda's there with him.  It ends on a cliffhanger, so I imagine this is it for the two of them. Ah well.
There's a walk-and-talk at the beginning of the issue on a Cerberus base that is so spot on for the level design that I immediately was transported back to the game. I imagine that part of my reaction is because I've played it upwards of twenty times (it's right at the beginning of Mass Effect 2). But still. It's stuff like that that makes this series enjoyable for me, despite some less than stellar art.
Favorite panel: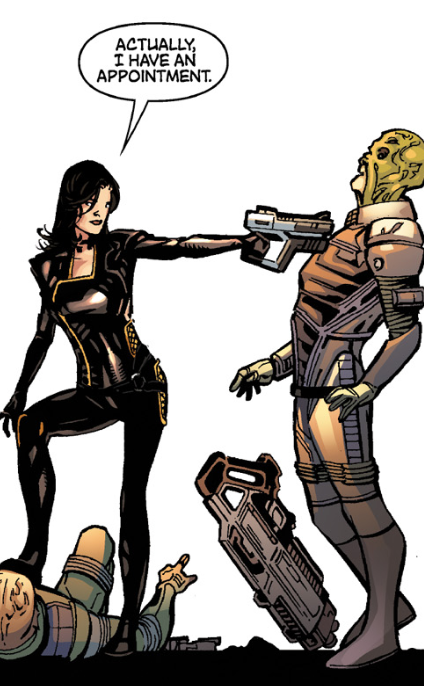 Image Comics
Pretty Deadly #2
Writer: Kelly Sue DeConnick
Artists: Emma Rios, Jordie Bellaire (colors), Clayton Cowles (letters)
I feel like I could write an entire essay on Pretty Deadly. Maybe a book, and we're only two issues in. I'm still not sure how I feel about the story as a whole; I think I'll know that better when an arc is completed. But there's a lot happening in these pages that feels really important. It's genre defying while also having so many trapping of certain genres, especially Westerns, that it feels simultaneously new and familiar. It's like having a conversation with a friend you haven't seen for ten years; you're catching up on what's going on, but the cadence of words is the same as it's always been.
Okay, so issue two specifically. There is a lot of violence in this issue. Not that there's not a lot of violence in other comics – especially some of the really brutal stuff happening over at DC these days – but I say it because it's bloody and it's perpetrated not only on women, buy by women. These things stand out to me. Along with a naked woman who's drawn with features that resemble actual human naked women. Ginny, the daughter of death, shows up at the call of Cyrus, who learned her song in issue one, and fights off the men attacking his family. Then Alice shows up, apparently to bring Ginny back to her dad. They fight, and it's probably one of the coolest fight scenes I've ever seen in comics.
This is all to say that Emma Rios' art (combined with Jordie Bellaire's always-spectacular colors) is amazing, and it lifts this book from something really good (because Kelly Sue Deconnick's writing is special, and if you don't believe me read her author's notes in the back of the first two issues) to something extraordinary. I wasn't sure if I was going to stick around for this book, but after this issue… I'm in.
Favorite "panel":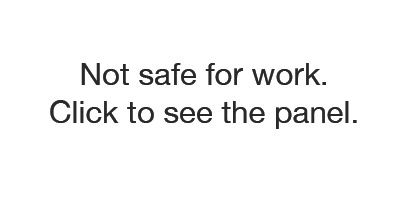 Marvel Comics
Hawkeye #14
Writer: Matt Fraction
Artists: Annie Wu, Matt Hollingsworth (colors), Chris Eliopoulus (letters)
I really kind of appreciate how Hawkeye has become a double book, alternating between the adventures of Hawkeye Barton and Hawkeye Bishop. It's also great to have two different artists on the two different editions of the book. It gives them a different feel, as they should have. So this is Kate's issue, drawn by Annie Wu, and it's Kate trying to stop being poor by becoming a private detective. Kate Bishop and the Missing Wedding Orchids is case one! The case actually involves two older, black men who can finally get married (because California) and that's very sweet and not sensationalized. It's nice that we live in a time where at least some writers have no problems putting same sex marriage into their books as a total non-issue.
There are hijinks, naturally, and because it's Hawkeye it's got an awesome "awwww, flowers!" line. New favorite.
Favorite Panel:
Avengers Assemble #21
Writer: Kelly Sue Deconnick
Artists: Matteo Buffagni, Nolan Woodard (colors), VC's Clayton Cowles (letters),
SPIDER-LADIES. I can't even tell you how excited I was when this arc was announced. Anya Corazon is one of my all-time favorite comic characters ever ever. Throw her in with Jess Drew (another favorite) and Natasha Romanoff, and I'm in Spider-Heaven. This issue didn't disappoint. Anya shows up at Avengers Tower to report that her Social Studies teacher, recently cocooned during the Inhumanity event (I guess?) was kidnapped. Or… cocoon-napped, I guess. Carol's busy doing something with Steve, so Jess volunteers (in a hilarious panel) along with Natasha to look into it. Then there's a really excellent countdown/fight-in-the-dark scene. This is really fun, as I would expect, and Kelly Sue has a great handle on Anya. I hope she sticks around after the arc is over or, dream big, gets her own book again.
My only quibble with this issue is that Black Widow can't seem to zip up her jumpsuit. Jarring. You'll see it in my favorite panel, below.
Favorite Panel: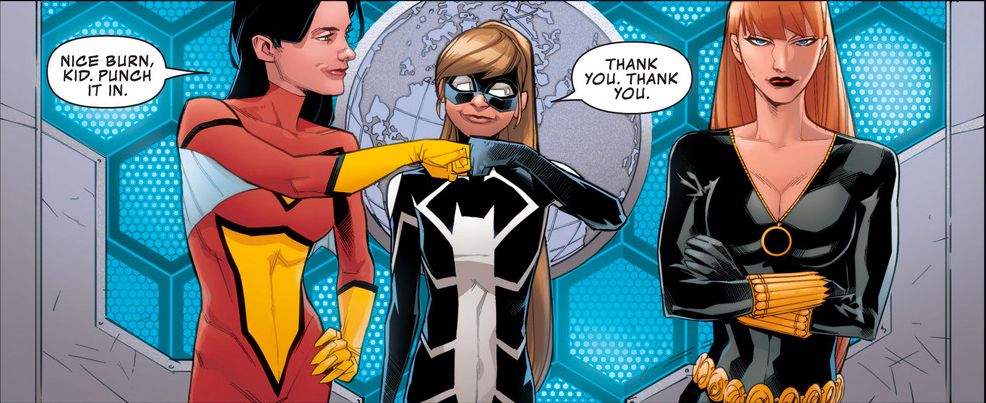 DC Comics
Superman #25
Writer: Scott Lobdell
Artists: Kenneth Rocafort (pencils), Blond (color), Rob Leigh (letters)
Part four of Krypton Returns! The thrilling conclusion (I think?)! Too bad Scott Lobdell ruined the big sacrifice at the end. There was still a great moment just before it happened, though. I sort of wish this event had run longer (I know, right?), because I would have liked to see more of the time that the Supers spent in Krypton's past. Nonetheless, this was a fairly decent ending, if a little bit quick. I'm a teeeeeeeny bit worried that they're setting up Jor-El to be Doomsday, which would be a (IMO) horrible horrible decision, but we'll see. There was a Face of Boe-esque line (if you're not a Doctor Who fan, I apologize for that reference). Anyway, I'm more interested to see how this affects Kara than Clark, but I think the Super books going forward should be pretty neat. I may even check out Superboy. As usual, Kenneth Rocafort's art is spectacular, particularly in the layouts. So so good.
Favorite panel (hard to get one with the non-rectangular layouts!):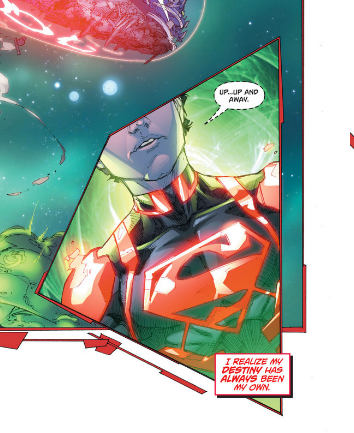 Also reading: FF #14, Saga #16, Uncanny X-Force #14
Book of the week: Avengers Assemble #21