I feel like I have a lot of comics this week, though really it's only five. I can't imagine being one of those people who pulls a dozen comics every week. I'm stretching my budget as it is, and it would take forever to read all of them.
Anyway, comics! Five pulled this week, mostly solid. One new title in the mix. Here we go!
DC Comics
Justice League #20 
Writer: Geoff Johns
Artists: Gene Ha, Joe Prado (Cover by Ivan Reis), Gary Frank (Shazam backup)
I am super excited for Trinity War, you guys. This issue of Justice League continues the prologue, and it ends on a really awesome note. In a related statement, I love the new 52 Atom, Rhonda Pineda. There have been some missteps with "casting" (or lack thereof) in the new 52, but she is absolutely not one of them. Also Element Woman reminds me a little of Delirium from Sandman, and that's a really good thing in my book.
There were some revelations, some foreshadowing, and some action. Overall, a pretty strong issue for anyone who's invested in any of the Justice League storylines.
The Shazam backup is rolling towards its conclusion. I'm a little mixed on the idea of a 21-issue origin story, but since it's getting less page space than a main issue would, I'll let it slide. It's also been pretty good, but I've been a fan of Shazam since I was a kid. These last two have been more about Black Adam than Billy Batson, but that's okay. They're linked. The next issue is allegedly the conclusion, so I hope that means we'll start to see the Marvel family getting involved with some of the other DC titles.
Favorite panel: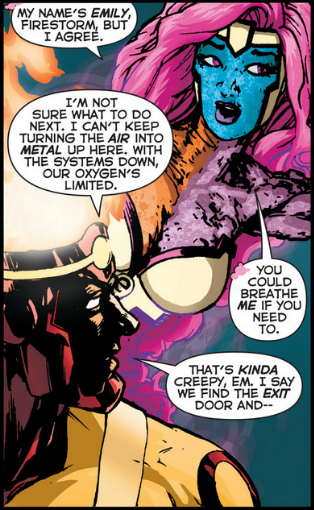 Superman #20
Writer:Scott Lobdell
Artist: Aaron Kuder
Hector Hammond invades Superman's mind and hides out in all his hopes and dreams for happiness and peace. This sounds crazy, but it sort of works. But more importantly, Orion and Diana have a non-thing that makes Clark's speech bubbles look frosty. I'm not even kidding, and it's awesome. I really like the Clark/Diana relationship, which I've said a billion times before, because it's a chance to tell some new stories for the characters. This felt like a bit of a filler issue, finishing off the one-on-one fight between Superman and Orion, and setting up some weird zombie!Lana (yep) something for the next issue. But it had some of the best comic book onomatopoeia I've seen in a long time.
Favorite panel(s):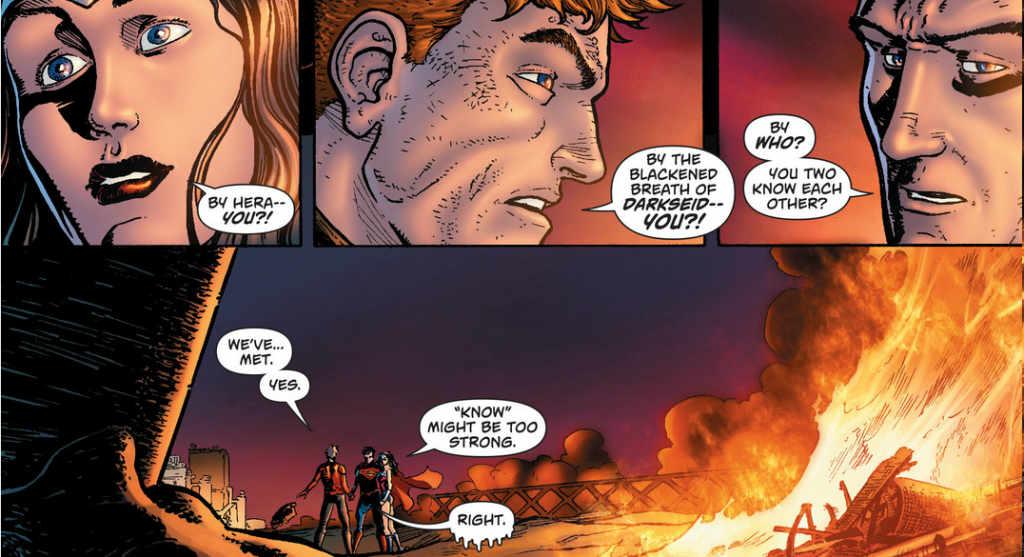 The Green Team: Teen Trillionaires #1
Writers: Alt Balazer, Franco
Artist: Ig Guara (Cover by Amanda Conner)
With most TV shows, I give them 3 episodes to catch me before I drop. I have basically the same rule for comics, unless they're really bad or really expensive. I'm giving The Green Team two more comics (to be fair, I feel the same way about The Movement).  I'm kind of wary of this whole "socioeconomic privlieged vs. downtrodden" thing they're doing, which I've said before. But I get that rich people who use cool technology to fight crime and do justice are popular now (right, Tony?) so DC is giving it a shot. You know, besides the 50 Batman titles and stuff.
I don't know enough about the characters to care about them yet, but I'm already intrigued by the villain(s). We'll see how the next couple of issues go.
Favorite panel: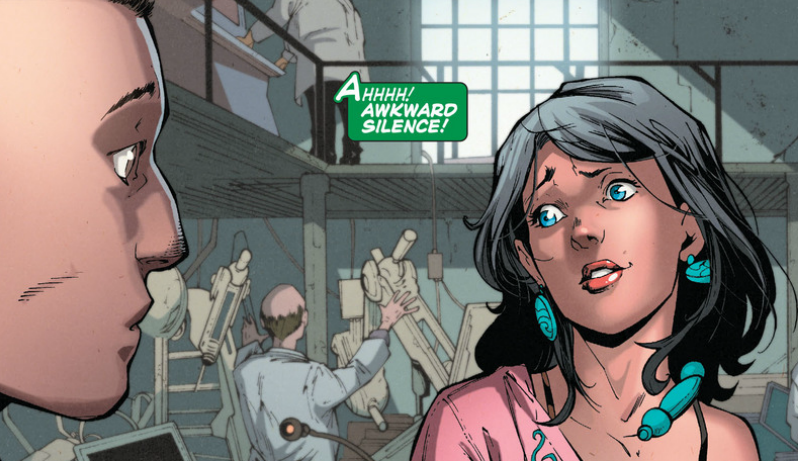 Marvel Comics
Journey Into Mystery #652
Writer: Kathryn Immonen
Artist: Valerio Schiti
Um, I love this book. I'd never been a big Asgardian reader, but I started reading JIM when it started focusing on Sif, and I haven't regretted a single moment. The art is awesome, the writing is awesomer still, and the book is just a lot of fun to read. The first arc was one of the best action stories I'd read in a long time, and since Sif dealt with her berserkerness, the story has settled into a really enjoyable tone and pace. This month's issue had appearances by Jane Foster (yay!) and Tony Stark (he's cool too, I guess). Also Beta Ray Bill showed up, and if you don't like Beta Ray Bill, well. I guess we're all entitled to our opinions.
Favorite panel: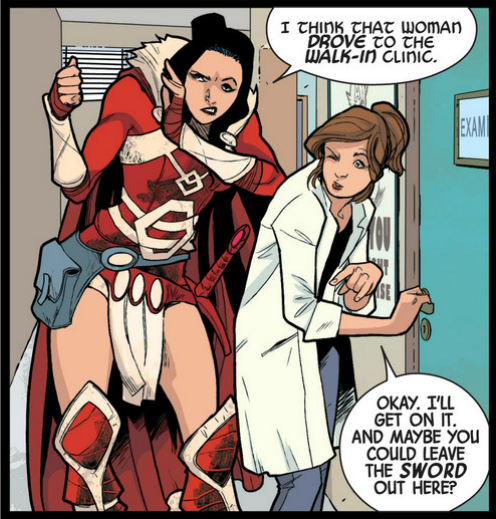 Young Avengers Vol. 2 #5
Writer: Kieron Gillen
Artists: Jamie McKelvie, Mike Norton
This was a nice end to the first arc of the new Young Avengers title. I like this team – the characters (for the most part) and the creators (totally) – and it's been a solid title since it launched. It blends action, pop culture references, humor, and heart, which is a great way to become one of my favorite comics. This wasn't my favorite issue, but it was still good, and I'm absolutely excited to see what this group gets up to in their next arc.
Favorite panel: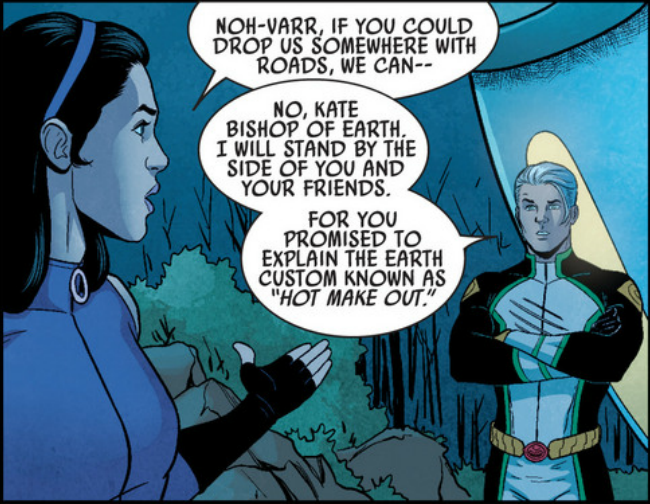 Book of the Week: Journey Into Myster #652 (Though Justice League #20 was a close one.)
See you next week!