In Q & A, a weekly feature of Fantastic Fangirls, we ask our staff to tackle a simple question — then open the floor to comments.
What are your media consumption habits? Netflix? Hardcover books? Digital comics? Tell us how you access the stories we all love.
---
GABBY
If trade paperbacks were the only type of books one could buy, that would make me the happiest girl in the world. I love TPBs; how the art on the covers is usually prettier, how it folds every which way, how they fit on a shelf.
I limit the comics I purchase to the Whedonverse, and the other shows that I wish to follow in comic book format. The Silver Snail(https://www.facebook.com/SilverSnailComicsOttawa) in Ottawa is my preferred location for all things comics; they are quite friendly and there are many female employees that are super welcoming.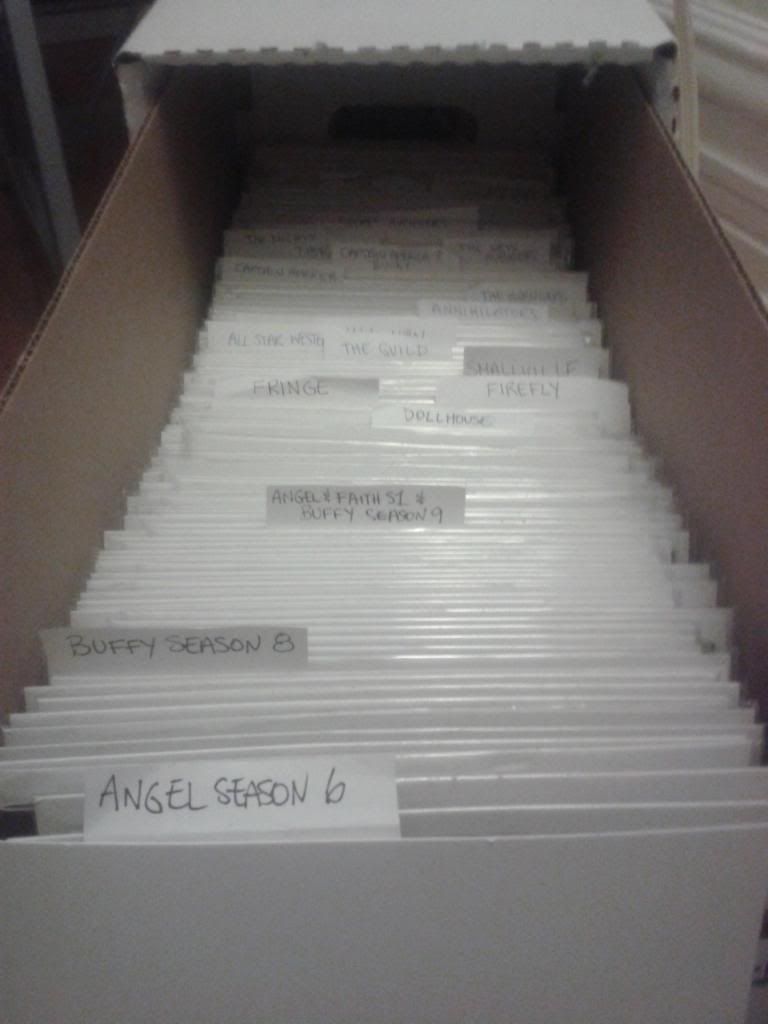 Recently, I bought a Nexus 7. I've been cutting back on paper-book purchases, and my student-on-a-budget wallet thanks me for it. It's a great tablet; I mostly use the Kobo app to read e-books, and I love getting the achievements! They're like virtual stickers and you can collect them depending on how many pages or what kinds of books you read. It really appeals to the overachiever in me.
---
JESSICA
My favorite way to consume media has always been (and will forever be) through reading – hardcovers and paperbacks, fantasy epics and cheesy time-travel historical romances, I love it all. Most of the fandoms I'm really passionate about originated with books (Harry Potter, Lord of the Rings, Ender's Game), and reading traditional books satisfies my craving for narrative in a way that no other media outlet does. I love the way that when you are reading a book, especially one that may not be commercially popular, the world inside becomes your own. You are granted a privileged access into the hearts and minds of the characters, and it's yours to take advantage of whenever you have the time to delve into its pages. Books have the power to suck me into them emotionally. I've noticed that if terrible things are happening to the main character in a book I'm really invested in, I will be seriously depressed and sad. Sometimes I don't even realize why until I notice that there is nothing terrible happening in my life–it's all in the book! As much as I love television, movies, and comics, none of them have the power to stick with me in the way that books do. I rarely buy them new, although I do make exceptions for special occasions, like a new release by a favorite author. Just let me loose in a used bookstore (my favorite is McKay's, back home in Knoxville) with $10 and I'll be happy for at least a week.
---
SAM
Well, I play video games mostly on my XBox, with a few exceptions (Journey, the Uncharted series, and some older games I play on my PC, mobile gaming on my iPhone), which has also become something of a media center for me. I watch most of my TV via either Hulu or Netflix, and occasionally will watch stuff on the web if they don't offer it anywhere else and I don't want to wait for Netflix, like Pretty Little Liars, Lost Girl, and Elementary. I watch most movies via Netflix, unless I'm so excited for something that I absolutely have to see it in the theater. For newer releases, if I happened to miss it in the theater but really want to see it, I'll probably rent it via Amazon Instant or Zune or something.
As far as reading goes, I read books mostly on my Kindle these days. I'm in love with my Kindle. I read so much more now that I have it. I used to be a huge reader; I'd read a book a week from age 10 through law school, but I haven't read so much in recent years. Now I read all the time. I'll read the occasional paper book, usually if someone's lent it to me, but I'd much rather carry my Kindle around with me than a book. Comics I read almost exclusively on my phone. I love the guided view of Comixology, and actually think it adds a lot to the reading experience on some titles, like Hawkeye. I'm glad I went totally digital, because I've still got about ten boxes of comics from five or six years ago that I have no idea what to do with. I aspire to one day have an iPad or Kindle Fire, but I'm pretty happy with the tech I have right now.
---
SARA
So, what I really want someone to do for their college thesis one year (hopefully soon) is to look at the attention span / GPA changes of college students pre and post the invention of Netflix. Because hotdamn. If there was one thing (besides Glee) that tanked my GPA in college, it was Netflix.
What a wondrous thing. High quality, quick streaming, and thousands upon thousands of movies and TV shows ranging from Oscar Nominated Classics of the 1950s to C-grade Zombie Movies that You Have to be Drunk And Or High to Enjoy.
You can imagine why college might be the best place for Netflix subcription drones to set up shop.
Netflix is awesome. Netflix is the best. Netflix now has all of Justice League, Justice League Unlimited, and Batman Beyond on its Instant Streaming. Oh my God, am I glad that I no longer have a GPA to tank.
---
So what about you? What are your media consumption habits? NetFlix? Hardcover books? Digital comics? Tell us how you access the stories we all love.