In Q & A, a weekly feature of Fantastic Fangirls, we ask our staff to tackle a simple question — then open the floor to comments.
What is your Hogwarts House?
---
ALI
I have it on excellent authority (i.e. the Sorting Hat from the Warner Bros Studio Lot) that I am not only a Gryffindor, but a Weasley as well. Which is pretty much the best news I've ever gotten in my life because I am totally and unabashedly #TeamRonWeasley. Seriously, I'm still pissed at Ginny for making fun of Ron and his lack of kissy faces, causing him to run into the arms of Lavender Brown. And we all know how well that turned out.
I digress.
The thing is: while I really wish I was a Gryffindor, I know in my heart of hearts that I am a true Hufflepuff. And I don't mean that in a self-deprecating, ho-hum Hufflepuff kind of way. I mean that in a hell yeah Hufflepuff way! Because Hufflepuff are awesome! They're friendly and kind and welcoming. They believe in loyalty and doing the right thing and hard work. And they're nice! Which is a good thing! No matter how sexy Slytherin makes devilishly clever look.
In the Sorting Hat's song there's a line "And Hufflepuff said, 'I'll take the rest.'" Which people kind of snark at, but really I think it means that as long as you love magic and learning, you're cool beans in Hufflepuff's eyes. The official House Motto is "Those patient Hufflepuffs are true and unafraid of toil" but unofficially, I like to think it's "Don't be a dick, man. Just be cool."
Also, BADGERS.
---
ANIKA
I'm a Slytherin. Nine quizlings out of ten make me a Snake, including Pottermore. I am an idealist. I believe in causes more than individuals. I am impatient. I am vain. I hate to be ignored. I refuse to be invisible. I expect a lot out of people and more out of myself. I dream big dreams. I believe that things can be changed. I want to be a part of something greater than myself. I choose my battles. I make my own rules. Everything you know about me might be a lie.
I am a proud Slytherin.
---
GABBY
Throughout my life, I've always been praised for my intellect. Somewhere along the way, we learned that we can't always (and only) tell a little girl that she's "pretty". So, instead, we decided that we would tell them that they are "smart". I was doing good grades in school, so "smart", "genius", "intellectual" are qualifiers that I identified with. It's no surprise, then, that when I started reading Harry Potter in the 6th grade I identified with Ravenclaw.
"Or yet in wise old Ravenclaw,
If you've a ready mind,
Where those of wit and learning,
Will always find their kind."
I believe this identification influenced my original career choice. I decided to study in psychology.
In those four years of college, though, I learned to despise rationality, and "wit beyond measure". I wanted to study psychology because I loved working with people! Not because I loved observing them and dissecting their every move! (My program was VERY research-based.)
I had an existential crisis at the end of my bachelor's degree and decided to snub the ivory tower.
After that, I worked for a year with youths; we wrote manifestos, organized conferences, played sports. I figured out that THIS is where my heart lays. Cooperation, hard-work, friendship, loyalty, kindness. This meant that my house allegiance changed.
For the past 3 years, I've proudly identified myself with Hufflepuff, for all the reason Sarah mentions, and for the simple fact that I feel Hufflepuff embraces something that is very important to me: humans, in all their flaws and glory.
"You might belong in Hufflepuff,
Where they are just and loyal,
Those patient Hufflepuffs are true,
And unafraid of toil"
---
JESSICA
I feel cliche for saying it but – GRYFFINDOR! I can't help it, I've thought of myself as a Gryffindor ever since I was a little kid. I remember I was so nervous when Pottermore came out, because J.K. Rowling had said that she believed the sorting on the site was really accurate – that she had never seen it place someone incorrectly. I was SO NERVOUS while taking the quiz, afraid that it would cause me to have a Potter identity crisis, but at the same time, I wanted to be completely honest in my answers and not try to steer myself towards Gryffindor on purpose (not that I could have; i.e., "Which chess piece do you prefer?") because it's the closest I was ever going to get to having Jo tell me which house I would be in. I couldn't breathe after clicking the sort button…and then the Gryffindor banner popped up and I nearly died. SO HAPPY.
At the same time, I know Gryffindors sometimes have a reputation for being arrogant or thinking they're better than other houses, and that's not the way I feel at all! I'm totally for House Unity. All of the houses are honorable in their own way, and all have good and bad people within them (both in canon and in real life, I'd expect). I've just always felt that my personality aligns most closely with Gryffindor – although many people that I know could also make a strong case for my Ravenclaw candidacy. I could probably muse on this for a really long time so I'll stop! #ScarletnGold4eva
---
MARIE
I'm actually a little scared to admit this, but when Pottermore also sorted me into Gryffindor I was a little disappointed. Perhaps it's because everyone I knew at the height of the Harry Potter craze wanted so desperately to get into the Gryffindor house. I looked around and was like, "Gryffindor's great! Don't get me wrong! But there are three other houses–each with their own merits." I mean, even the mechanical Sorting Hat at the traveling Harry Potter exhibit sorted each child into Gryffindor.
In any case, Pottermore may have placed me in Gryffindor–but given the choice (as Harry had a choice), I would have said Ravenclaw since I always placed the pursuit of knowledge before anything else. Plus, Luna Lovegood was a Ravenclaw!
"Wit beyond measure is man's greatest treasure."- Rowena Ravenclaw
---
SAM
So listen, the official Pottermore sorting quiz sorted me into Gryffindor, but I think they got that wrong. Hey, Gryffindor is fine. I'd like to think I'm brave and chivalrous. I can see myself as a Weasley type (I probably dislike Ron so much because we have so much in common) or a Neville type. But in my heart of hearts I'm a Hufflepuff. I feel a certain affinity for the wizards who are underestimated, who fly under the radar, and who are loyal to the bone. They're generally a little less serious and they're taken a little less seriously but they're just as good and as strong as the other houses.
As an aside, I honestly think that I could fit into any house. I have a lot of Slytherin traits (and I don't find cunning or manipulation to be a negative, so that's a huge push towards those guys; and tbh I'd rather be Slytherin than Gryffindor) and a few Ravenclaw (nerds!).
In the end, I guess I could go either way. I'm a Huffledor or a Gryffinpuff or a Slytherpuff (lol). But when it comes right now to it, I want to be in RPatz's house.
Hufflepuff it is!
---
SARA
You might belong in Gryffindor,
Where dwell the brave at heart,
Their daring, nerve, and chivalry
Set Gryffindors apart
I'm a Gryffindor!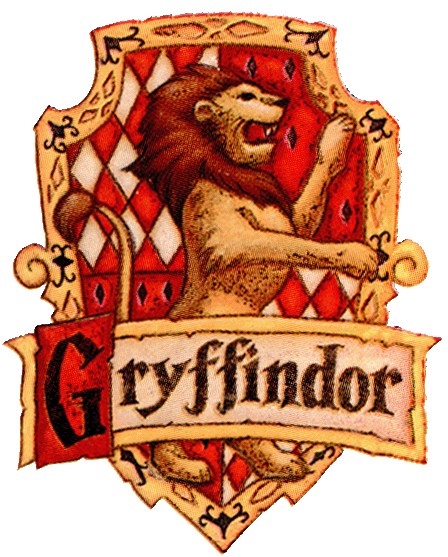 I know, I know. It seems self-serving and ungenuine to put yourself in the same house as most of the heroes of the books. However, I have to say, I came to the Gryffindor conclusion after MUCH debate and even more soul-searching.
I'm a Gryffindor above all because I have been known to jump into situations without thinking, in pursuit of justice and righting wrongs. I strongly believe in standing up for what's right and will never pass someone in need without helping them. This aspect of my personality outweighs my intellect and love of knowledge (Ravenclaw), my loyalty (Hufflepuff), and my cunning (Slytherin).
I wouldn't be the person I am without the combination of characteristics, interests, and values, but one value stands above the rest and I guess that's what makes me a Gryffindor!
---
So what about you? What is your Hogwarts House?