The Originals was back last week after a short hiatus, and the big Marcel/Klaus face-off finally happened, with Klaus walking away "the winner". But Klaus definitely isn't my winner this week. I'm left wondering if the show is self-aware enough to tackle head-on the issue of "Klaus as abuser". It's the theme that seems to be recurring in the past weeks, and it could be a fascinating way to broach a topic very seldom explored in teen-supernatural-dramas… But I'm wondering if there will be direct confrontation, rather than the sweeping metaphors we've been served. Putting it on the wishlist.
On to the winner!
Winner of "The River in Reverse": Camille O'Connell
Fearless, intelligent and determined, Cami continues to impress me. She doesn't take any of Klaus' crap, and if there is someone that can brutally and honestly talk to him about his status as an abuser, it's her. She's a little too generous with him, saying things like "you're too scared to trust" instead of "you're a raging maniac", but baby steps. Plus, she's really witty!
Klaus: What is this?
Cami: It's an ancient mystical plot I'm using to destroy you.
And when Klaus condescendingly tells her to "draw on her own terms", she became down-right gutsy: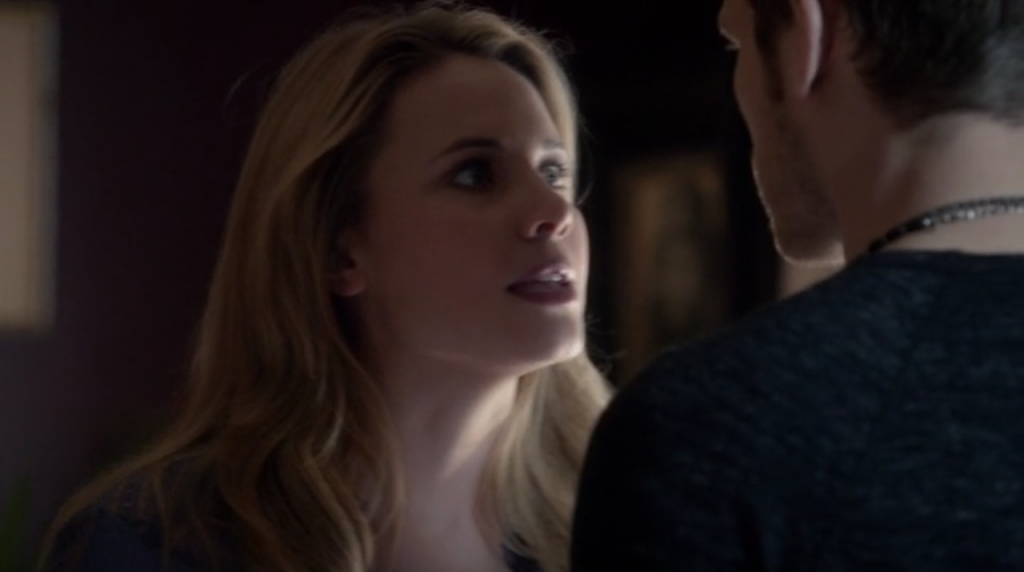 "This IS my time, YOU steal it from me", she yells in his face. She's pushing his limits and I admire her bravado.
Her intelligence becomes apparent later, when she discovers that she has been leaving herself notes. As before, she's still noticing that she's missing time, and her memory has a lot of holes. Consequently, she wrote down a message in a code that she and her brother used to share. In doing so, Cami realizes that her past-self found pictures of Marcel and Klaus in 1919.
Just like I hoped a few weeks ago, the only human of the show is also the one that has the most agency so far. She's actively fighting her way out of mind-control, and using all means necessary to change the situation that's keeping her oppressed. Shame on her uncle for siding with Klaus and encouraging her to leave town, instead of supporting her in her quest to uncover the truth. Hell, he knows the truth, and I'm thinking he's keeping it from Cami under some pretense of "protecting her". I can't wait to see how angry she gets when she learns this; the priest should do the right thing now and team up with her against Klaus' bullying.
I really hope it wasn't the goal to make Klaus come off "sweet" that he hoped she would make the decision to leave New Orleans under her own terms or else he would have to compel her to do it. It's patronizing, and disgusting, and Cami would never stand for it.
Hopefully it's something that she will teach him in due time.