In Q & A, a weekly feature of Fantastic Fangirls, we ask our staff to tackle a simple question — then open the floor to comments.
What is your favorite work of historical fiction?
---
MARIE
Tracy Chevalier's The Lady and the Unicorn . This is, hands down, one of my favorites of all time.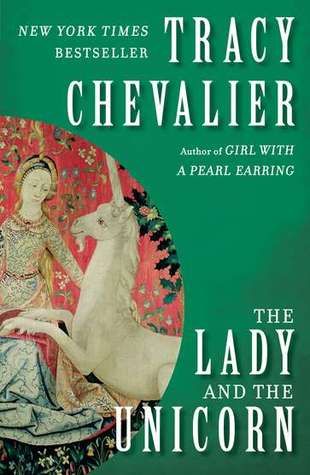 I first got into Chevalier's work through Girl with a Pearl Earring , which is also pretty rad (the movie adaptation starred Colin Firth and Scarlet Johansson). But the reason why I love the The Lady and the Unicorn is because it did a wonderful narrative interpretation on the history of a famous medieval tapestries–the origins of which are still hazy to this day. It's got the full package too: courtly intrigue, seduction, innocence, awakenings and some of the most beautiful time period descriptions I have ever read.
---
JESSICA
Alright, so even though I should know better by now, my favorite work of historical fiction remains a throwback to my childhood days: Titanic: The Long Night. Just looking at the Amazon page for it makes me want to read it again. It follows two teenage girls, Elizabeth and Katie, during their voyage on the Titanic. Elizabeth is traveling first class, feuding with her parents, who refuse to allow her to attend college and are trying to stick her with a much-older fiance. Katie is traveling steerage from Ireland, making her way to America to start a new life. Of course, neither girl has any idea of the tragedy that is about to hit…and what goes marvelously with tragedy? ROMANCE, of course. Both Elizabeth and Katie find handsome suitors aboard the doomed ship (Katie's in particular is extremely juicy – she's in love with one brother, but that brother thinks she's in love with his brother, and his brother is in love with a Norwegian!), and I've always said that romance & tragedy are the peanut butter & chocolate of YA historical fiction. Soooo good. And probably terrible for you.
The book has sadly gone out of print (You know nothing of literature, publishing tycoons, NOTHING!), but there seems to be an ebook version available. You should also totally read the sequel. BRB I have to go cry because I really love this book a lot a lot.
---
CAROLINE
If I can cheat slightly and mention historical drama instead, I have a particular affinity for Shakespeare's play cycles about English history. Just this past weekend, I went to see Richard III at the Folger Theater, and tried to keep my spewing-of-trivia-about-the-Wars-of-the-Roses to a minimum, for the sake of my companions, who were more interested in functional answers. ("So basically he wants to kill everybody between him and the throne?" "Yes. Or, you know, marry them.") I also did my version of stealth cosplay by wearing a scarf for the Tottenham Hotspur Football Club. (Hotspur isn't actually a character in Richard III but I felt like I was standing up for the side, anyway.)
This histories have traditionally been a bit of a niche interest, even among Shakespeare fans, though in the tumblr era, they've gotten a bit of a boost from filmed productions starring fan favorites like David Tennant as Richard II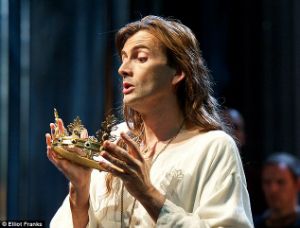 and Tom Hiddleston as Prince Hal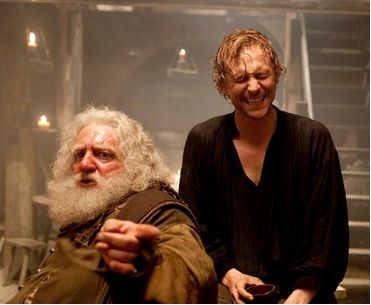 And if I ever have to explain the plot of Richard II from this time forward, I can just refer to the Hollow Crown production, starring Ben Whishaw and Rory Kinnear, here memorably choreographed to the stylings of Taylor Swift
---
SAM
Welp, gonna have to say Xena: Warrior Princess for this one. I know what you're thinking. "Sam," you're saying, "Xena is probably the least historical show that ever happened. A woman wandering around ancient Greece kicking butt? So unrealistic, so fictio – oh, wait."
Exactly!
For instance, she met a whole bunch of Roman emperors, starting with Julius Caesar:
(Look familiar?)
And Gabrielle studied the bardic arts with a little guy named Homer: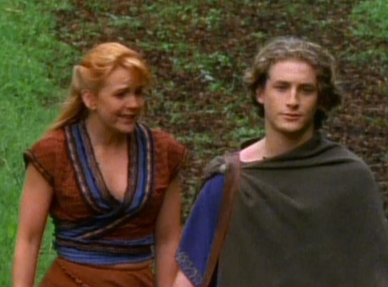 (Also look familiar? New Zealand actors, everyone!)
Xena invented CPR, held the Persians off long enough for Leonidas to get to Thermopylae, fought along side Boudica in Briton, hung out with Lao Tzu's wife, invented kites (and harnessed lightning), and was responsible for Stonehenge ending up as, well. Stonehenge. And that's only the tip of the iceberg. Plus she was involved in a whole bunch of mythological and literary adventures, from The Odyssey to The Ring Cycle (yep) to chilling with Jesus (probably) for awhile.
Sure this involves a whole lot of messing with time lines and creative license, but that's what, in my opinion, makes Xena such a great example of historical fiction, emphasis on the fiction. It's basically a survey course of western history, with a bit of eastern culture and mythology thrown in. It was stuff like this that, when I was younger, inspired me to read the real histories that made these stories so good.
---
So what about you? What's your favorite work of historical fiction?