In Q & A, a weekly feature of Fantastic Fangirls, we ask our staff to tackle a simple question — then open the floor to comments.
What cancelled comic book do you miss the most?
---
ALI
There were a bunch of comics that came to mind when I started thinking about this question: Bryan Q Miller's Batgirl, Jimmy Palmiotti, Justin Gray and Amanda Conner's Power Girl, Paul Cornell's Captain Britain and MI:13, and Kieron Gillen's S.W.O.R.D. But as much as I love those stories and wish there was more of them, they all got an ending. Maybe it wasn't the ending that was planned and usually it was a bit rushed, but there was closure. So while I do miss them, I feel like I can always revisit them as complete stories.
The comic I can't do that with is Thor: The Mighty Avenger (a.k.a. My Boyfriend Thor) by Roger Langridge and Chris Samnee. Definitely one of my Top 5 Desert Island comics, My Boyfriend Thor was cancelled after 8 issues with no resolution to the story that was being told–regardless of the "Issue 8 of 8" Marvel put on the cover of the last issue.
---
CAROLINE
They say that you will always be nostalgic for the comics that were coming out when you first got excited about comics. I have found this is true and it is true even if the year was 2006 and the comics that opened your eyes to the beauties of the Marvel universe included one where a dude with a Messiah complex and a metal arm lived on a shiny island with his best friend the insane mercenary.
Cable & Deadpool we barely knew thee. But seriously, your first 35 issues were amazing.
---
GABBY
I wish Alias, by Brian Michael Bendis, had continued. Don't get me wrong; I do think the evolution of Jessica Jones as a character followed its due course by switching titles. I liked The Pulse (because who doesn't love Spider-Man cameos?). She's now in The New Avengers, along with her family, and that feels right for where she's at in her life. But I feel like Alias brought more focus on her, as a person. She deserves to be the main character of her own title, because she struggled to get where she is now, and will do anything for the people she loves. I just want more of her.
And I mean, Alias brought us gems like this. So I would like it back, please and thank you.

---
SAM
Young Justice. Oh, Young Justice, how I could wax poetic about you forever. I would also accept the Teen Titans lineup pre-reboot, but it's really Young Justice that does it for me.
Uh, the one from the 90s, not the current/also cancelled TV series Young Justice. I'm talking about the team of Superboy, Impulse, Arrowette, Robin, Secret, and Wonder Girl (and later a few others). Sure, it had its issues (like, er, that whole overly-endowed character thing) and was clearly aimed at teenage boys, but whatever. To this day, it's the only comic for which I own the entire run, from first issue to last (and specials, and annual, and some tie-ins). I'm not much of a collector, so that's actually a pretty big deal.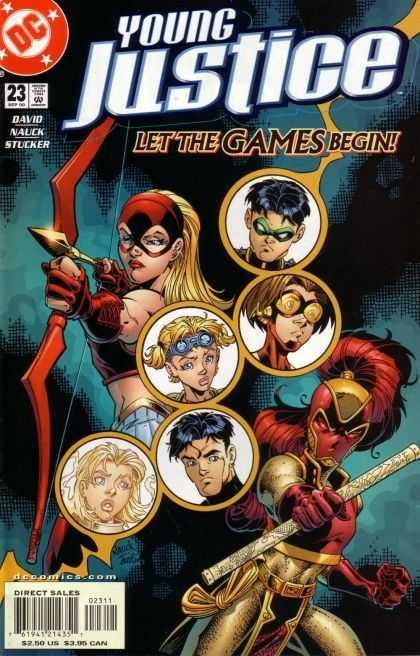 Here's why I miss it: DC's current teen titles are just falling totally flat for me. I tried! I did. But none of the rebooted characters feel like the characters I fell in love with. There was a magic about that group, something I connected with immediately and strongly, and I haven't found that with any of the current Teen Titans, whether in their team book or individually. It's funny, because I will defend almost every editorial choice made so far with the reboot (or at least be willing to give it a chance), but I just can't get behind the current teen characters.
So I miss Young Justice. I miss all the characters who have been rebooted into shadows of their former, awesome selves.
At least I'll always have my box full of comics. I'm probably due for a reread…
---
So what about you? What cancelled comic book do you miss the most?