In Q & A, a weekly feature of Fantastic Fangirls, we ask our staff to tackle a simple question — then open the floor to comments.
What storyline do you never want to see used again?
---
Anika

I love the X-Men. The concept of "mutation" opens up so many interesting questions and their ongoing struggles for acceptance, understanding, and equality can be strong metaphors for minority groups in the "real world" (as Ian McKellen said in an interview, "the demographic of the readers of the X-Men is young blacks, young Jews and young gays – those made to feel that society is against them, that they're a little bit like the mutants of the comic books."). That's a gold mine for storytelling.
So, why, Marvel, WHY, do you insist on shuttling them off into space? I like things to be realistically fantastic (fantastically realistic?) . The X-Men already fall under the genre of "Science Fiction" without adding aliens and space pirates and star wars and, while we're at it, the Savage Land (dinosaurs? Really?). I love space opera, I'm a huge Star Trek and Battlestar Galactica and Macross fan. But in my X-Men stories it just makes me sigh.
There are a lot of popular and acclaimed X-Men storylines that take place in space. Many of them I can even enjoy on an impersonal level. I just don't like them.
---
Caroline
And I say there shall be no more Phoenix fakeouts! As I type this I laugh, knowing the futility of my plea, since Uncanny X-Men 511 is coming out next week with this Greg Land-tastic cover:
Jean Grey has been dead for what, five years? And Marvel keeps using her picture to sell comics she's not in.* Seriously, Marvel. Stop.
This isn't me bitching about the current Uncanny storyline, since (a) it's written by Matt Fraction; (b) it revolves in part around Wolverine keeping a lock of Jeannie's hair. It is mathematically impossible for me not to love these things. But — big picture time. The first arc of Astonishing X-Men, which came out shortly after Jean's death in Morrison's Planet X, pulled an ingenious switcheroo, leaving Jean dead but bringing back the long-dead Colossus. Phoenix: Endsong, the Greg Pak/Greg Land mini in which Jean's body is possessed by the Phoenix force and Wolverine stabs her like 80 times on the same page, and then Scott and Emma have sex in an egg and at the end Jean's spirit flies off and everybody stands around and cries a single perfect tear? Significantly less awesome.
This isn't just a Jean Grey thing, of course. It's threatening to become a Steve Rogers thing, it will inevitably become a Bruce Wayne thing before he comes back for good. Marvel and DC both have franchise characters who have shuffled off the mortal coil. At this point, nobody expects comic book death to last forever, but fake the audience out enough and we'll stop caring. (Yes, Mark Waid's Return of Barry Allen story that turned out to be nothing of the kind was awesome. Because Waid genuinely didn't believe Barry would or should ever come back. Also, that's the kind of thing a company should only try to pull off once).
*Take note that I am refusing to entertain the idea that the Uncanny 511 cover is NOT a fakeout.
---
Jennifer
Two words: Snap. Wilson.
Way back in the 1970s, Steve Englehart thought it was a good idea to reveal that the Falcon, Sam Wilson — the first African-American superhero in comics, and Captain America's partner — had a secret past as a criminal (and gang member, and possibly pimp) named "Snap" Wilson. His heretofore acknowledged history, as a hard-working Harlem social worker, had actually been false memories implanted by the Red Skull when he used the Cosmic Cube to manipulate him into becoming Cap's partner.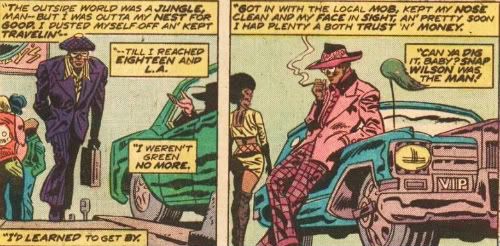 This was, frankly, a horrible idea. Turning the first African-American hero into every awful stereotype of inner city African-Americans is completely unjustifiable. And since that storyline, writers have continually attempted to change, mitigate, or revive the Snap plot, to mixed effect. Some writers claimed that the "Snap" persona had never actually existed — that it, rather than the social worker past, was what the Red Skull had implanted. Others treated "Snap" as more of a split personality, totally outside of Sam's control. But it never quite went away, and as recently as the Avengers Disassembled-era Captain America and the Falcon series, Sam was still periodically reverting to his "Snap" persona.
Thankfully, no one lately seems to be acknowledging that most recent series. In fact, since Sam "died" at the end of it, and then reappeared without explanation in Ed Brubaker's Captain America run, it might be safe to say it never happened as far as continuity is concerned. And I'd like it to stay that way. Brubaker has made no reference to Snap in the 50 issues he's written so far, and Sam has found a solid place in the comics as a hero, social worker, and the glue that holds together Cap's supporting cast. I want to see this continue. Sam is an excellent character, and he deserves much better than he's been given in the past. And since it's become increasingly obvious that no retcon has managed to make the "Snap" backstory palatable, ignoring it entirely seems to me to be the best possible solution.
---
Sigrid
Um. I don't know how to say this without haterin', and I really try to avoid that. But. No aspersions on X-Men Legacy, or on Mike Carey, but I never want to see Rogue and Gambit in a romantic relationship ever again. Carey's work on Legacy could be amazing, but I can't get past my aversion to the story to see it. I talked about this in the Sacred Cow post a while back, but I think it's one of the most dysfunctional relationships — written and presented as romantic — in comics.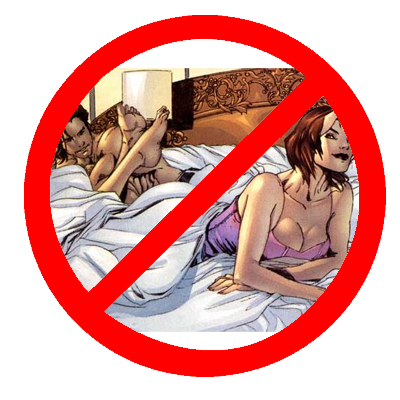 ---
So what about you? What storyline do you never want to see used again?