In Q & A, a weekly feature of Fantastic Fangirls, we ask our staff to tackle a simple question — then open the floor to comments.
Who is your favorite teen team?
---
Anika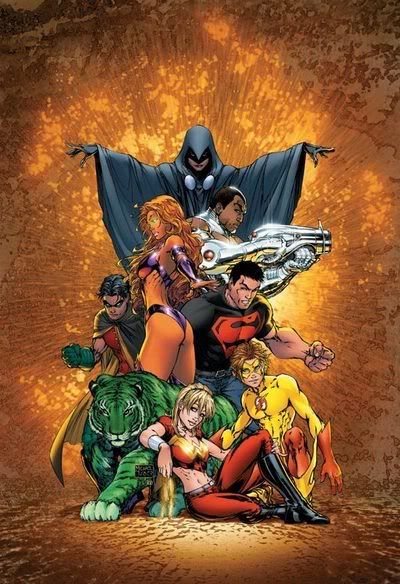 T-E-E-N T-I-T-A-N-S. I like the Titans the way I like Star Trek. If it is a part of the franchise, I will give it a go. "My" Titans will always be The New Teen Titans (Marv Wolfman era) aka The Next Generation because I grew up with them. My "favorite" team will always be the misfit Teen Titans (Geoff Johns era, my Young Justice holdovers) aka Voyager because I love those characters best. And I absolutely adore the original-re-imagining, Teen Titans (the animated series) aka Star Trek 2009.
What I like best about the Titans, and the reason I like the Voyager/Young Justice crew the most, is their relationship to legacy. Any story about growing up is at heart about stepping out of the shadow of the adults who came before, and the story is literal when your identity as a super hero is directly tied to someone else's (an aside: I do find the name "Titans" amusing considering it is backwards). I love that struggle, both internally and externally, and I love it especially in the team that has to deal with it doubly.
And again: excellent theme song!
---
Caroline
Confession: I don't like teen teams — mainly because I don't like stories about teenagers. Now, of course, there are fictional characters I like (even some superheroes) who happen to be teenagers. But stories that are primarily about the experience of adolescence, and particularly of high school, don't have very much resonance with me. I like stories about kids. I like stories about young adults. But just about anything based on the ages 14-18, I'm going to end up having to like it in spite of, not because of, the age group. I even liked Buffy better after the Scoobies graduated high school. I'm weird like that.
So, for the most part, I'm a hard sell on a group of teenage superheros. That said — I adore the original X-Men. Beast, Angel, Iceman, Cyclops and Marvel Girl were Marvel's original "teen team." Those Silver Age comics were some of the first that I looked at when I got interested in superheroes, and the first issue of the X-Men: First Class revamp started coming out the same day that I started buying comics on a weekly basis. I'm not sure why the X-Men get a pass from my general indifference, but my hunch is that it's because the original X-Men grew up. They graduated from teen team to full-fledged, grownup superheroes. So, now, when I read about the first team of X-Men, I think of their childhoods (yes, I know those origins); I think about their futures (not to give anything away, but there's lots of angst and death and being drawn by Rob Liefeld). When I view it that way, those teen years are a fragile, lovely, and all-too-brief moment in those characters' lives. And I like that a lot.
---
Jennifer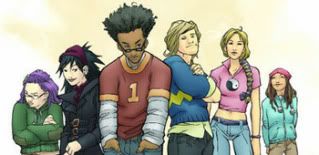 It's by now a well-known fact that the first comic I read was Joss Whedon's Astonshing X-Men. But that was a loan from a friend; I hadn't found it by myself. So my real first comic, the first book I picked up all by myself (mostly because it was one of the few comics that my local library, where I worked at the time, possessed) was Brian K. Vaughan's Runaways.
Unlike Caroline, I've always loved teen teams. I've loved YA fiction since before I was the target age group and continue to love it now that I'm well past it. And Runaways, at first blush, simply seemed to fill the hole in my heart left when the Animorphs book series (about 5 California teens who can trust no one and must save the world from alien invaders with their animal-shapeshifting powers) ended. But the Runaways are so much more than Animorphs-lite. They're the most diverse and original team in Marvel's comics, with the tightest and most consistent plotting I've seen in a teen team (sorry, my beloved Young Avengers), and under Vaughan's pen each character stood out as a complex, three-dimensional person with believable strengths and failings. I have my favorites — I related most to Gert, and who doesn't love preteen superstrong mutant Molly? — but I can honestly say I love every character, even those who would never be my "type" in other stories. The writers that have come since BKV left the book haven't quite captured the magic in the same way, but I can guarantee that I'll still be reading the adventures of these determined, earnest supervillain offspring for as long as the book is published.
---
Sigrid

Oh, that's easy. I mean, don't get me wrong — I love the Marv Wolfman Titans, I love BKV's Runaways, and my love for Kate Bishop gives me a deep affection for the Young Avengers. But there is one team of gawky adolescent heroes that will always be my favorite. The New Mutants.

As slightly awkward and goofy as they may have started out, the New Mutants quickly came into their own. They fought demons, the Shadow King, each other — they traveled through time and space and held their own. I've always loved this team, they were my gateway into comics. I loved Sam's awkward and sincere attempts to be a good leader. I loved Dani's anger under her self-control. I loved Bobby's bravado, Shan's steely determination, Rahne's insecurity and emotional issues. My favorite moments include the time in Asgard, the wonderful Very Special Issue #45, dealing with suicide, and the gritty darkness of the Legion saga. I'm glad that the New Mutants are back in Marvel comics as a team. I look forward, very much, to reading what happens next.

---
So what about you? Who is your favorite teen team?