In Q & A, a weekly feature of Fantastic Fangirls, we ask our staff to tackle a simple question — then open the floor to comments.
Who is your favorite animal in comic books?
---
Anika
Krypto the Superdog!! He's a super dog. He's a super hero. He came to Earth from outer space and his name is Krypto! As you can clearly see, Krypto has a brilliant theme song (no, really! It's a lot of fun to sing along to). The cartoon is aimed at six-year-olds so it is basically: CUTE. Krypto, along with his BFF Ace the Bat-Hound and Streaky the super-cat-next-door, run around saving the day.
Beyond the CUTE, in the comic continuity, Krypto is Superman's pet and then, adorably, Superboy's pet. Conner and Krypto don't get along right away but end up puppy-friends and following the story is something like Old Yeller or Lassie only with super powers!
---
Caroline
I could explain my answer or the world's smartest man could do it for me: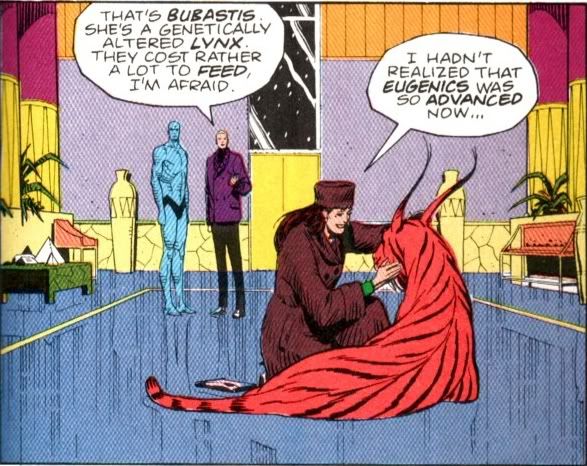 'Nuff said.
---
Jennifer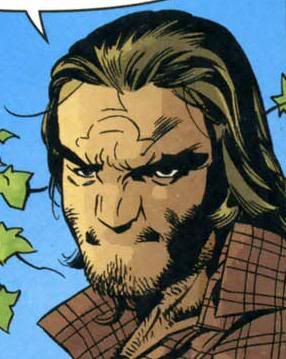 It's not a book I talk about frequently, but one of my favorite comics month in and month out is Bill Willingham's Fables. I've always been a fairy tale person; even my freshman year writing seminar in college was on fairy tales. But while the premise of Fables — beloved fairy tale characters living under the radar in present-day New York City — intrigued me from the beginning, it was one character in particular who grabbed my heart and wouldn't let go, leading me to devour dozens of issues within a span of days. That character is Bigby Wolf.
I almost feel uncomfortable calling Bigby my "favorite animal" in comics. To me, he's much more human than wolf. But the fact that he is a wolf deep down inside, and could become one again at any moment, is one of the most compelling parts of his character, so I think it's fair. Of course, there are many compelling things about Bigby. The easiest way to describe him is to call him "Wolverine done right." His characterization is Logan's almost exactly, but he isn't weighed down by decades of conflicting continuity. He isn't a Canadian wolf-descended samurai secret agent experimented upon by the government. He's just the Big Bad Wolf, personified and redeemed. And so we're able to see what's essentially a calmer, less complicated, more settled Logan; a Logan who might be allowed to get married and have the world's most adorable babies, but is still gruff and hostile and conflicted and snarky and very much the best there is at what he does.
Bigby may not fit my favorite character archetype, but he's undoubtedly the most consistently interesting thing about Fables. I love his relationships with Snow White and with his father; I love his role as sheriff; I love his sideways heroism; basically, I love every moment he graces the page.
---
Sigrid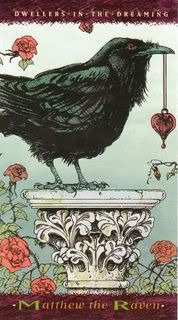 Some people might argue that Matthew the Raven, from Neil Gaiman's Sandman comics, is not an animal. But the comic makes the point over and over that Matthew is a raven who was a man. He's not a raven-shaped man. He's an animal, with an animal's tastes and concerns.
Matthew is a good character. He's the necessary commentator on The Dreaming, giving the reader a chance to get some questions answered. He fulfills the role of Data on Star Trek: TNG — the character all the other characters are expositing at. Matthew is a new raven and asks a lot of questions. But I don't merely like Matthew for the purpose he fills. I like Matthew because he is himself: wry, a little crass, excruciatingly honest, and generous with his time and friendship. He's is a creature for whom all the bad things have happened. They happened, whatever they were, in another life. And while he doesn't remember what that life was precisely he has carried the lesson with him into this form. That things happen, and you just go on. That you perform evil acts and you go on. That harm is done to you and you go on. That joy fills you and you go on. Matthew is the embodiment of one of the central ideas of the Dreaming — that there is no going back, but there is always going forward. You can't ever make your old life different than what it was. But you can make a new life if you grab your chances.
---
So what about you? Who is your favorite animal in comic books?