Posted by Caroline
Funny thing about Preacher: I like it a lot. When I wrote about my choice for May's reading challenge, I admitted that my reluctance to pick up the book was uninformed. I had a general wariness of the writer and the title, but I didn't have a good reason why. Less than a week later, I can say that being informed wouldn't have helped. On the surface, there is nothing about the plot, themes, or characters in this book that even the most enthusiastic reader could describe to me to make me pick it up. The only thing that would have induced me to try Preacher out was if somebody dared me to do it.
So I dared myself, I tried it, and I liked it. I've read a third of the series, and I'm eager to get my hands on the rest. Now I'm in the position of writing about why I like a book that, my brain keeps telling me, I have no particular reason to enjoy. The best that I can come up with is this: these guys really know how to tell a story.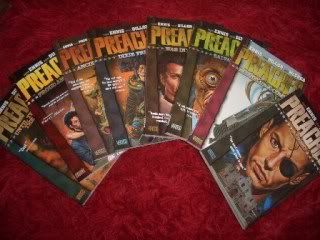 I don't just mean that the creators are talented. Without a doubt, Garth Ennis writes sharp dialogue, and Steve Dillon and his collaborators are skilled visual artists. But I could say that about a lot of comics that I appreciate but don't especially love. Preacher, though. . . Preacher is like the stranger you meet in a bar, who starts telling you a story that you didn't ask to hear, about the kind of people you don't want to meet, facing obstacles you never really thought about before. You've got no good reason to keep listening, but there's something about the people, the places, something about the forward motion of the story. . . Next thing you know, it's nine hours later, you have a crushing headache and all your money is gone. But you know you've heard a story.
Appropriately, the first issue of Preacher starts with the three core characters sitting around a table at a diner, sharing their own stories. Jesse Custer is the title preacher, a young man whose brilliantly iconic Western name combines doomed outlaw and failed general. (I haven't finished the book yet, but that name doesn't seem to bode well. Quite belatedly, I figured out that "J.C." could also stand for "Jesus Christ" but then I thought about my college professor who had a rule, "Anyone who uses the phrase 'Messiah figure' gets an 'F'; and I like my Jesse and George answer better, anyway). Then there's Cassidy, a differently-alive Irishman, whose own name simultaneously suggests Ennis's home country and yet another doomed American outlaw. Cass is suitably funny and profane, and he and Jesse take to each other instantly, which I expected out of the kind of comic — violent, gritty, macho — that I expected this to be.
The third member of the troika surprised me. Tulip O'Hare, Jesse's sometime girlfriend, is not the kind of woman I thought I'd find in this story.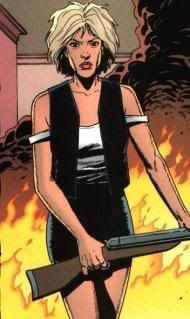 She's not just 'the girl' who exists to be 'gotten'; she's not just along for the ride. I don't want to say she's a "strong woman," because God knows what that means in a story like this. What matters is that Tulip has all the brains and guts of the men she hangs out with. She's not morally better or worse than they are, either — which, in this world, means she's a car thief and a hired killer, though just slightly too moral to be any good at the latter. It's possible that I love her a little.
Ennis's women, it turns out, are memorable and tough across the board. Like Tulip, they hold their own with the men in the story, and frequently scare the shit out of them. Granted that there aren't that many of them (if one woman orders another to be shot, does that count as passing the Bechdel test?). At times they drop out of the story altogether, since Tulip is better at demonstrating that she can hold her own than Jesse is at believing her, and he tends to take evasive action at key points to keep her from having a chance to prove it. But my initial assumption that this would be an all-male book about an all-male world, with the occasional whore or dead girlfriend showing up to prove the heroes are straight, proved unfounded.
If I was pessimistic about what Preacher would have to say about men and women, I was flat-out uneasy about what it would say about religion and Texas.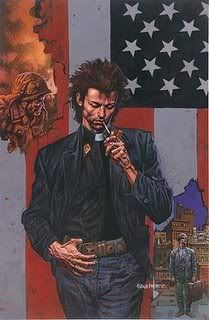 The Southern preacher is such a worn-out type in fiction that I was anticipating a retread of old clichés. What I didn't count on was the scope of Ennis's vision. I was expecting a look behind the scenes of a corrupt Southern town. In fact, the town, and Jesse Custer's congregation, get vaporized before the main action of the story even starts. By page ten, we've had a glimpse inside heaven, and the good (which in this context means violent, thieving, profane, and frequently drunk) Reverend Custer has set out on a road trip with cosmic implications. Jesse and his friends are on a quest to find God, and (for them, at least) it's not a metaphor.
None of this sounds like it should work, but Ennis and Dillon do such a seamless job of blending the concrete and the legendary that it's hard to know what kind of cosmology we're dealing with from one minute to the next. The angels in the story are completely literal, and their inter-faction conflicts feel more like violent office politics than metaphysical struggles. But if Preacher's Heaven is mundane (it looks a bit like a space station built from childrens' toys), its Texas is mythic, populated by vampires and undead, indestructible gunmen. Meanwhile, Jesse's utterly human family contains some of the most monstrous people in the story. It's characteristic of Preacher that, when we learn that our hero has been having regular conversations with an apparition of John Wayne since he was a young child, it'simpossible to tell if this is a literal ghost, if it has some connection to the story's heavenly goings-on, or if it's a casual way of saying, "Just so you know, this protagonist is psychotic."
There's a general axiom that "the rules" of a fictional universe, especially a fantasy universe, need to be established early in the story. Preacher spits on this conventional wisdom, and dances on its grave. We don't know if John Wayne is a ghost or a delusion, and that uncertainty fits within a world where the undead don't know how they got that way, and the leader of a global theological conspiracy doesn't know (or care) if its basis is true or not. The plot of Preacher is a high-stakes game to which hardly anyone knows the rules — and anybody who does isn't telling, unless the price is right or someone scares the shit out of them. All of us, readers and characters, are figuring it out as we go along, and it's precisely that uncertainty that gives the story its momentum. Ultimately, Preacher is about searching for knowledge, and cursing in the face of anybody who tells you it doesn't matter — even if He happens to call Himself "God Almighty."
This is the first entry in our What are you waiting for? project, which will continue throughout the month of May. We'll each write about the experience of reading a book that we had previously resisted or put off reading, for good or bad reasons.
Specifically, this article covers the first 26 issues of Preacher, which comprise the first 3 trade paperbacks, and approximately one-third of the entire series. Caroline is completely unspoiled for anything that happens in the rest of the book and would prefer to stay that way. So please keep in mind that these comments are based on those 26 issues only!
Email: Caroline@fantasticfangirls.org
Twitter: madmarvelgirl