In Q & A, a weekly feature of Fantastic Fangirls, we ask our staff to tackle a simple question — then open the floor to comments.
What's a favorite book to curl up with?
---
JESSICA
The true but completely boring answer is Harry Potter and the Sorcerer's Stone, but for the sake of your interest I'll go with another book I love: Diane Hoh's Titanic: The Long Night.
This 1998 YA novel traces the story of two young girls embarking on the Titanic: Elizabeth Farr, a wealthy New York society-girl whose parents want her to marry an old boring banker, while she harbors ambitions of attending Vassar, and Kathleen Hanrahan, a poor girl from Ireland traveling to America to build a new life, hopefully as a famous singer, but more likely as a nanny or a seamstress. There are romantic entanglements. There is heartbreak. So good. After I first read this book when I was 11 or 12, it sparked a whole phase of reading historical fiction-disaster-romance novels for teens. I regret nothing.
---
MARIE
I love curling up with Tim O'Brien's The Things They Carried .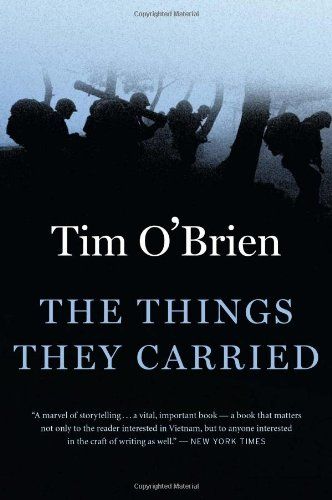 I first read this novel in high school, but was too immature to appreciate it at the time. It wasn't until now did I realize that this was more than just a war story, but the power of storytelling in general. In O'Brien's own words, "Stories can save us."
Amen.
---
SARA
Like Jessica, a truthful answer from me would include any of the Harry Potter books (especially the first one), but it's so predictable, I thought I would share more!
A book that I never get tired of reading over and over again is This is How You Lose Her by Junot Diaz. I love that man and the stories he weaves, which draw from his own experiences being a Dominican immigrant living and growing up in New Jersey. His books world build like nothing else and it draws me in to the lives of people that I can relate to so much. His writing is fantastic and cozy, which I absolutely adore.
---
So what about you? What's a favorite book to curl up with?