In Q & A, a weekly feature of Fantastic Fangirls, we ask our staff to tackle a simple question — then open the floor to comments. This week, however, we're doing something a little different. Spring is here, and spring is time for new experiences. So those of us at Fantastic Fangirls decided to challenge ourselves (and anybody else who wants to play along) to try something new in May. Specifically, we're all going to read something we've never read before.
It's a little more complicated, though. Our choices don't consist of things that we simply haven't taken the time to read, or couldn't locate, or couldn't afford. We haven't passed them up because we think they're bad, either; in order to be considered for this challenge, we have to have some reason to believe the books have merit. Somebody whose taste we respect likes these things, even if we have a feeling it isn't going to be us. No, these are books that we've had the opportunity to read in the past, but felt that something internal was stopping us — texts that, for one reason or another, we've resisted.
Resistance is nothing to be ashamed of, of course. Often it's quite sensible. But the downside of the Great Unreads (Unseens, Unlisteneds, et cetera) is that they don't go away. You find yourself in enough conversations where you end up admitting, "My strongly-held opinion about that text is based on never having read it." So, eventually, the question becomes, "What are you waiting for?" In the month of May, our answer is going to be, "Nothing!" In the paragraphs below, each of us will discuss the book we've decided to read. Then, over the month of May, we'll take turns posting our reviews, and find out how well our preconceptions line up with our informed impressions. Maybe it will turn out we were right all along; maybe we'll find something new and surprising.
Only one way to find out.
---
Anika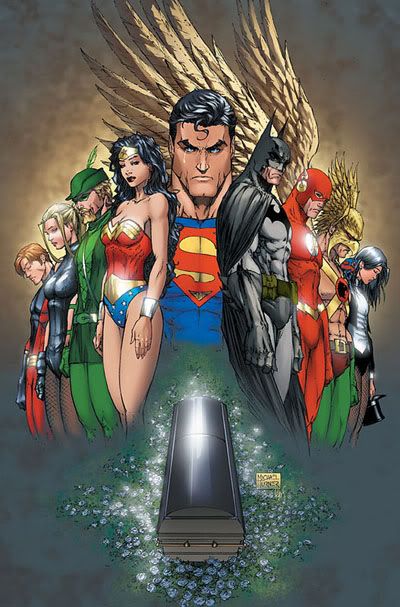 In the summer of 2004 I was reading (obsessively) Avengers Disassembled and I paid absolutely no attention whatsoever to my husband's choice of Comic Event, Identity Crisis. I wasn't reading any DC titles at the time and though he strongly suggested I read it after reading the second issue I shrugged him off. Now, it is widely known that Avengers Disassembled is one of my most favorite story arcs EVER so at the time, I was distracted. The odd part is where I have never gone back to it.
Now, I know the story. I've seen some panels. I've heard a lot of opinions on it. Sometimes I forget I haven't actually read the issues. I have even used it in discussion as an example of the "that never happened" gimmick. A gimmick I hate. I am also not a huge fan of the "we're going to have a big huge event to FIX things that are wrong in our comicsverse" gimmick (cough:House of M:cough). And I don't like the "we are going to prove comics should be taken seriously by being violent and sexual" plan. With all that, it's not so odd I've never read the book.
But I hear it's really good.
---
Caroline
The first trade paperback of the Vertigo series Preacher has been on my shelf for over a year, and I've never gotten past the cover. That would be this cover: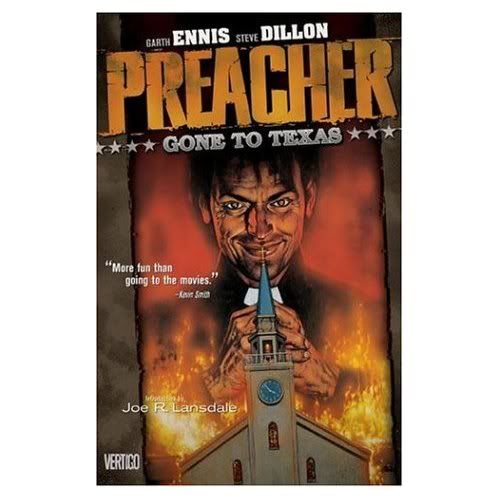 First I see the writer's name, Garth Ennis. He's probably the only mainstream "A-list" comic book writer that I haven't ever read. This hasn't exactly been a deliberate strategy, though I have a vague idea of his stories being violent, gritty, and macho, in a way that doesn't appeal to me. I like plenty of violent/gritty/ macho writing, though — in prose and in comics — so it isn't just that.
Then I look at the title, "Preacher: Gone to Texas", and the accompanying visual — a church in flames, a man in a clerical collar, smirking diabolically. So this comic, it seems, is going to have something to say about: religion, specifically Christianity; and Texas and, by association, the American South. Now, religion and Southernness are two concepts I have a troubled relationship with. It's not, by any means, that I think they should only be written about in a positive light. But a story about religion and the South has a good chance of getting a lot of things wrong and thus infuriating me ("Where's this Ennis character from, Ireland? And he's going to tell me about Texas??") or getting a lot of things right in a way that hits so close to home I don't want to read about it. I can imagine a good story with these elements, but most days I'd just as soon not take the risk.
None of the above, of course, has anything to do with Preacher, a critically-acclaimed comic book that I have not actually read. Let's see what I can do about that.
---
Jennifer
In the process of writing my senior undergrad thesis on Captain America, I had to do a lot of comic book research. And there are two self-contained comic book stories that are mentioned in pretty much every piece of professional comic book criticism and history: Watchmen and The Dark Knight Returns.
I learned a lot about those texts, from the research. I found out what they were about (including their endings), and I found out why they were important. As a result, I immediately went out and read Watchmen, and loved it — much more than I expected to, actually, since I'd assumed it couldn't possibly live up to the hype. But I never picked up The Dark Knight Returns, and I didn't see any reason why I should. I wasn't interested in Batman. I wasn't interested in "dark" and "edgy" comics. I wasn't interested in Gotham City, or, really, the DC universe in general. And everything I'd heard about Frank Miller — his obsessions with whores and gratuitous violence, especially — made me never want to pick up any of his works.
But if I want to be a comic book scholar, there's no way I can get away with never reading this book. This is the book that changed the direction of superhero comics; this is the book that inspired my fellow Princetonian Jim Lee to become a comic book artist. Its importance to the industry trumps any personal distaste I'll probably feel. If I wind up loving it, it'll be a happy surprise. But even if I don't, I know the experience will have been worthwhile.
---
Sigrid
Well. I'm going to read American Flagg. It's a ground-breaking work, vitally important to the rise of the darker comics of the late 80s. It — like Watchmen and Camelot 3000 — was part of an important shift in the kind of storytelling done in comics. I've read almost all the major works from that era. Sooooo . . . what am I waiting for?
Part of it is just that I missed my window. During the years I was reading all the darker classics — The British Invasion, Moore, Morrison, Ennis — during the years I was catching up on indy titles and comics and reading Roberta Gregory and Los Bros. Hernandez, I didn't come across American Flagg. And now it's out in this gorgeous hardcover, and I look at it and think, "geez, didn't I read this sorta thing already? Aren't I off the hook?" But why do I think of it as a hook in the first place? The only thing I can come up with is that I am put off by my preconceptions. For whatever reason, I imagine American Flagg as being depressing, cynical, sarcastic, and without any ray of light at the end. I also expect that it will have no likable female characters. I do have my biases; if the comic doesn't have women in it, I am far less likely to pick it up.
So. I'm expecting this to be bleak and depressing and without either cute eye-candy or intelligent, assertive women. Let's see if I'm wrong.
**
Now, it's your turn! We challenge our readers to try something new this month — whether it's a comic book, a novel, a movie, or an album by a band you've never given a fair listen to. If you think you might want to play along, tell us about it in the comments below. Or write about it on your own blog. Throughout the month of May we invite you to share your own experiences. We'll put up a masterpost tomorrow and update it throughout the month. Right now, we invite your comments about our Great Unreads, or yours, in the comments below.
So what are you waiting for?