In Q & A, a weekly feature of Fantastic Fangirls, we ask our staff to tackle a simple question — then open the floor to comments.
What's a favorite back to school tradition?
---
JENNIFER
My favorite back-to-school tradition is the dream I have like clockwork every single August, from Kindergarten to PhD program, where it's the first day of school and I can't find any of my classes and I'm late to everything and my teachers (played, in the dream, by last year's teachers with this year's names) all hate me and…
Oh, wait, we said favorite, didn't we? Opening up a new notebook, then. Definitely.
---
JESSICA
Buying new crayons! THE SMELL. IT IS SO GOOD! I haven't needed crayons as a school supply in over a decade, but I can't seem to break myself of the habit. I have boxes and boxes of never and barely used crayons. They go on sale for .25 right as school starts and I can't help myself. I HAVE A PROBLEM.
---
MARIE
Back-to-school shopping campaigns are basically my annual excuse to buy spiral notebooks at discount prices. Seriously–each blank page offers such fresh potential! As a kid, there was nothing more gratifying than crossing that bit off my school supply list–other than getting a new Lisa Frank Trapper Keeper.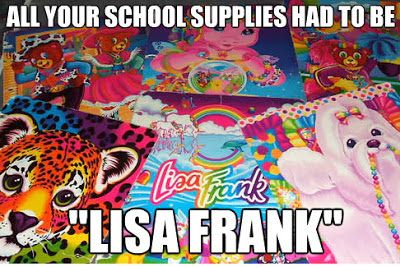 ---
So what about you? What's a favorite back to school tradition?