In Q & A, a weekly feature of Fantastic Fangirls, we ask our staff to tackle a simple question — then open the floor to comments.
Recommend a book you think not enough people know about.
---
ALI
Nick Harkaway's Angelmaker is one of those books I'm a bit evangelical about. Part London gangster movie, part steampunk adventure, part espionage thriller, this book has all of the things. All of them. And my favorite thing about Harkaway as a writer, aside from his wonderful turn of phrase, is his ability to weave all of these disparate "genre" elements into a rich tapestry of a story.
The other thing I love about Angelmaker is the bevy of lady characters.
"If I must do this thing … then it is an act of greatness. I do not mean that I am great. Just that this choice is the great kind of choice. So then: let it be a matter between women of consequence. Between queens."

"I'm… I'm sorry they sent me then. I'm not important."

"Pfft. You have no rank, you mean. You are not Lady Edie or Duchess Edie."

"No. Plain old Edie."

"And yet here you are, on the far side of the world, with your King's commission and soldiers to do your bidding. You have achieved things."
There are not enough people who know about the awesomeness of Harakway and Angelmaker, and they all are missing out.
---
JENNIFER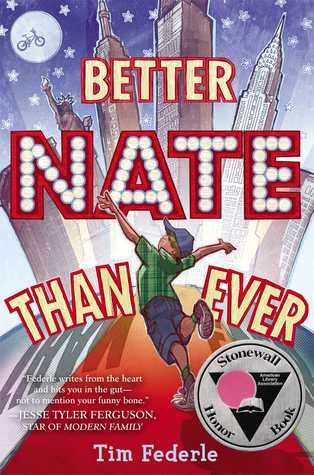 One of the first articles I ever wrote for this site was a discussion of the connection between comics fans and fans of musical theater. If those two groups overlap as much as I believe they do, then this is the right audience for pitching Better Nate Than Ever, a middle grades novel about an 8th grade boy and his dreams of Broadway stardom. Written by Broadway actor Tim Federle, the book is equal parts charming, hilarious, moving, and heartwarming, as irrepressible Nate sneaks out of his house in suburban Pittsburgh and travels to NYC for an open casting call for ET: The Musical. The Broadway jokes are spot-on, but the real appeal is the joy, determination, and humor in Nate's first-person voice as he traverses the unknown. The novel isn't perfect, and it suffers from some first-novel problems (chiefly pacing), but it's well worth reading, especially for those eager to find kids' books with queer characters and themes. If you like it, be sure to pick up the sequel, Five, Six, Seven, Nate!
---
JESSICA
I started working at a children's bookstore a few months ago, and was shocked to find when I tried to order it that Mairelon the Magician by Patricia C. Wrede is out of print! Most people are more familiar with Wrede from her excellent Enchanted Forest Chronicles (which kicks off with Dealing with Dragons), but when I was younger I was much more in love with this book, which features Kim, a young woman disguised as a boy who becomes apprenticed to a street magician in order to steal a mysterious silver bowl from him. I want to tell you more but I can't because it will spoil it, and I really don't want to do that because it's SO GOOD. It looks like the book and its sequel, The Magician's Ward, were combined into an omnibus version called A Matter of Magic in 2010, so rejoice!
---
MARIE
The Boy Detective Fails by Chicago author Joe Meno is one of the most beautifully surreal novels I have ever read. If you've ever been a fan of Nancy Drew, The Hardy Boys or even Harriet the Spy series, you may be a fan of the heartbreaking adventure of Billy Argo and the mystery of solving his younger sister Caroline's death. Meno takes the trope of the child prodigy and turns it on its head by following said child prodigy into adulthood, where his quick wits and innocent demeanor give him more setbacks than clues.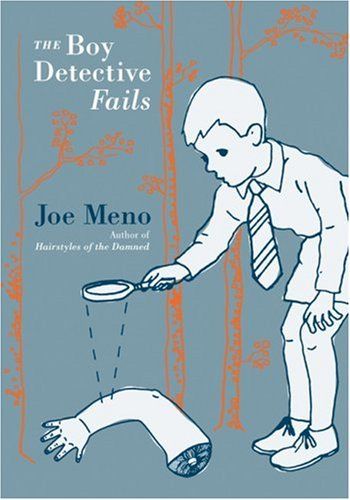 ---
So what about you? Recommend a book you think not enough people know about.