I'm posting this essay on my 28th birthday, and there's a pretty good chance that, at some point today, I will receive a piece of Cinderella merchandise – as I have for at least the past 25 birthdays. I don't remember the first time I saw Cinderella, but I know there was a period during my toddler days when I would take the VHS out of its clamshell case and watch it several times a day, rewinding and replaying until both my parents could recite the film from memory. My father likes to remind me of the times I'd march around the house, repeatedly announcing the arrival of "the Graaaaaaaaaaaand Duke!" Ever since those early days, Cinderella has been my thing.
Cinderella is Disney's flagship princess. She wasn't the first, and she isn't the most popular, but her fairy tale is the ur-fairy tale, the easiest to package and market. Her castle stands in the center of Walt Disney World's Magic Kingdom, and its silhouette is the major component of the logo shown before all Disney films. With every merchandise redesign, she gets blonder and more generic-looking; at this point she's basically Barbie in a blue dress. Rags-to-riches "Cinderella stories" are an entire genre of entertainment (not to mention news media shorthand), and Cinderella herself has become the target of feminist rage against a culture that teaches little girls that finding Prince Charming and living Happily Ever After is the only goal they should strive for.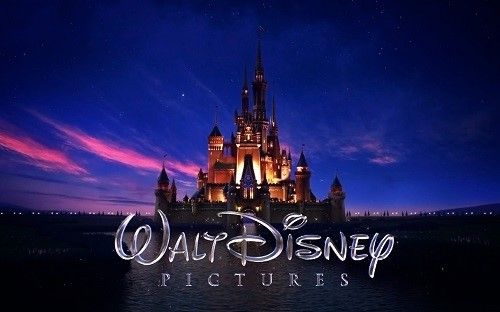 I acknowledge the problems with Cinderella's marketing, especially her Barbification. I wholeheartedly agree that girls need to be provided with a more diverse set of narratives to influence their lives. But most of this has very little to do with the Cinderella I love, the character I've aligned myself with. The corporate and patriarchal corruption has little to do with the original film, and even less to do with the ways I've applied its messages to my own life.
I was an incredibly obedient child. I'm not saying this to brag, though I'm sure my parents were grateful. But I was obedient to a fault, and the lesson that Cinderella taught me – along with my other childhood favorite film, Willy Wonka and the Chocolate Factory — was that if you were a good, kind, quiet child who did what you were told, you'd be rewarded. I didn't understand disobedience. I didn't like The Little Mermaid because I thought Ariel was selfish and impulsive and would be better off listening to her father, who was only trying to protect her. (I understand the power of her story now – especially for transfolks – but 4-year-olds don't have a great grasp of metaphor.) I wanted to believe, with all my heart, that this was how the world really worked, and I clung to this faith in karmic balance for more than a decade –maybe closer to two.
I know now that the world is more complicated than that. I know that sometimes you have to break the rules to do what's right, or what's necessary. I know that "well-behaved women rarely make history." But that quote isn't just a celebration of unruly women, much as unruly women deserve celebration. It's a way of rethinking how we look at history, an examination at the cultural structures that have kept women's voices overlooked for centuries, and a call to reexamine those quiet, ordinary female lives for the historical value that they hold. Most women weren't ruling countries or fighting wars, but that doesn't mean their lives were devoid of meaning.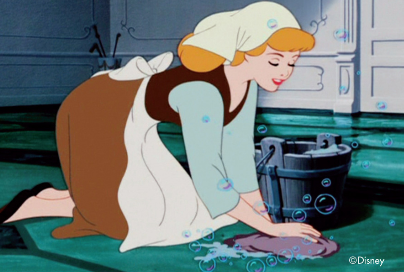 I'm never going to be an Ariel – or a Jasmine, or a Merida. I'm not spunky; I don't roar. However firm my political beliefs and dedication to my chosen causes, I'm never going to be a revolutionary. I'm timid, and shy, and I keep my head down more often than not. I'm a sidekick at best, not a hero. And Cinderella showed me that I could be that kind of person, and still be the protagonist of my own story. I could be dreamy and long-suffering and fight back only in my own quiet way (the metaphoric equivalent of saving mice and giving them tiny clothes), and I wasn't less of a person for it.
Yet Cinderella, as a film, also taught me something else, something I've only recently come to understand. See, Cinderella isn't really a film about obedience. Cinderella does everything she's asked by her abusive stepmother and stepsisters, and she's told –- she's promised –- that, if she does, she'll get to go to the ball. But they take back that promise. They move the goalposts at the last second, and leave Cinderella standing in the garden in rags, shell-shocked and heartbroken.
Follow the rules, the film tells us, if you can. But the people who make the rules are the people with power, and when they're willing to move the goalposts willy-nilly, it means the rules weren't necessarily worth following to begin with. That's when you make a new path.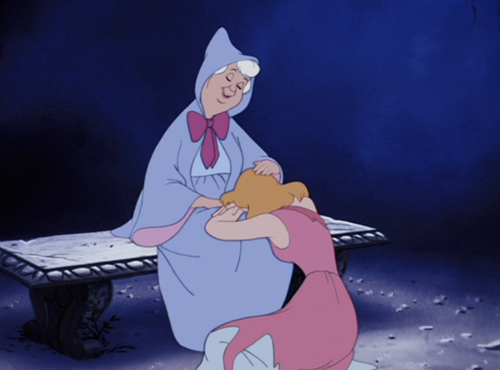 Part of my feminist education has been has been about unlearning the rules, realizing the hypocrisies and outright abuses of patriarchal society and socialization. It's been a long road, and it's hard, sometimes, to resist that ingrained sense of duty to the social order. But the same film that taught me obedience also taught me the necessity of disobedience. When Cinderella is visited, and assisted, by her Fairy Godmother -– an older woman, a feminist mentor, of sorts -– she decides to go to the ball anyway. She takes what was supposed to be hers, what was promised to her by a society that pretended to be just. And her ultimate reward (not the prince, but love and kindness and an escape from an abusive home) comes, not from her years of obedience, but from that one act of disobedience that she finally screwed up her courage to commit.
Activism takes courage. Self-care takes courage. There are many kinds of courage, and women aren't lesser if they use that limited reserve of bravery for something other than completely overthrowing the world they know. And if they don't yet have courage, even those quieter kinds, that's ok, too. It's not a character flaw. Some women, through nature or nurture, find courage earlier, or more easily, than others do. But there's no shame in being the quieter, more timid type – and there's no shame in being in the middle of your own narrative.
Cinderella is the story of a woman making the best she can of a bad situation. It's about acknowledging the things that stand in the way of your happiness, and biding your time until you can change them, if that's all you can do right now. It's about the value of kindness. And yes, it's also about Cinderella being prettier and more talented than her sisters and thus becoming the object of the prince's interest – I'm not saying the film is completely unproblematic. But for a movie released in 1950 and set in an even earlier era, it provides a surprisingly nuanced portrait of a young woman coming into her own and leading her own story. Considering the paucity of female film protagonists even now, that's nothing to sneeze at.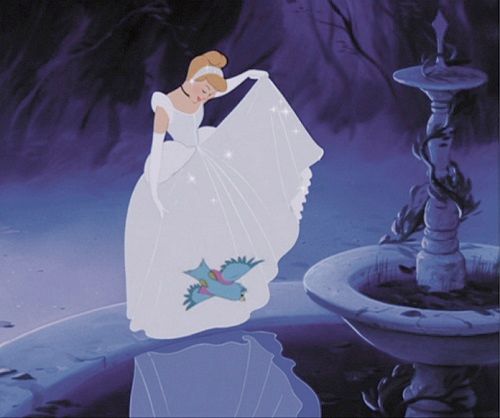 As a member of the Disney Princess Collection, Cinderella works for me as the one I can identify with, the one I can point to and say "That's me!" – and that alone is valuable. But the same symbolic plasticity that has led to her use as a marketing juggernaut, media narrative shorthand, and rallying point for justified feminist ire has also allowed her to become my own symbol of feminist hope. My reading might not be Disney's preferred reading, but it's no less valid. Cinderella is my girl, and no amount of Barbie lips and unnecessary sparkles is going to take that away from me.
So I'll probably get a card, or a hand mirror, or a little plastic dollar-store figurine of Cinderella today. If the merchandise is based on the most recent redesign, I'll probably gnash my teeth a little. But I'll also be grateful that the people who love me understand the character's importance in my life, and the power I've found in her since I was too young to understand why.