I've been watching Project Runway since its second season. I was rooting for General Zod.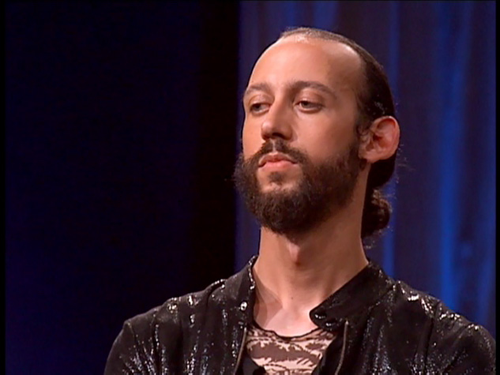 Santino Rice was the 'villain' of the season but beyond his outrageous behavior he had a distinct point of view and he made it to the final runway show. Santino came in third because, after doing exactly what the judges told him to do as far as editing his designs, they said the designs were too tame and lacked the Santino-ness that got him into the finals in the first place. I'm still mad about it, but that's just the way fashion (and reality television) is.
I've waited through challenges revolving around plants, fruit, candy, modern art, drag queens, Barbie, wrestlers, Broadway, and small dogs (literally dogs) but I finally, finally, finally got a superhero fashion challenge. A Marvel sponsored, get excited for this year's MCU and also comic book darlings Hawkeye and Captain Marvel, SUPERHERO FASHION challenge judged in part by Lady Sif. The universe is smiling on me for this one.
Under the Gunn is the newest version of Project Runway, hosted by fan favorite Tim Gunn and featuring teams of new PR designers mentored by former PR designers. I've watched the whole season and it is about as good as Project Runway is lately, which is not very good, but still fun. Plus the judging panel for this show is much more on my wavelength than the old guard. This was the final challenge before the final challenge so the stakes were super high — or actually, super inflated to make it seem like a fashion life or death situation when in reality I called all four designers left going to the finale sometime in the first fifteen minutes of the show or quite possibly last week, but, that is all very "comic book marketing" so they made it work.
None of the designers or mentors were super duper into the concept of comic book fashion but once they got over the initial "Really?" they worked it. The heroes they chose seemed pretty handpicked to market what Marvel wanted them to market but this show is full of the most heavily produced product placement on TV every week so that's to be expected.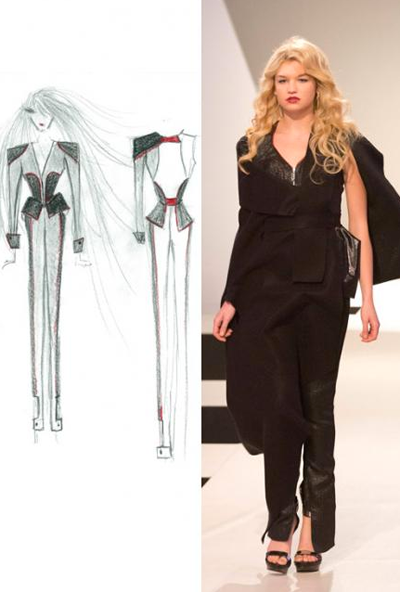 Oscar chose Gamora because she is a "sexy alien" and his Guardians of the Galaxy inspired look was the most heroine chic by far. The picture above hardly does it justice (here's a view from the back) and I encourage you to find a way to watch it on the runway. This design would look equally at home at New York Fashion Week or the pages of, well, Guardians of the Galaxy. Oscar designed actual superhero fashion — to the point where the judges cautioned it was "bordering on costume". While I find this critique a little silly since the challenge was to be superhero costume adjacent, Oscar's looks are always a bit costume adjacent, and that's why he's my favorite designer of the season, so my critique of the critique is also biased.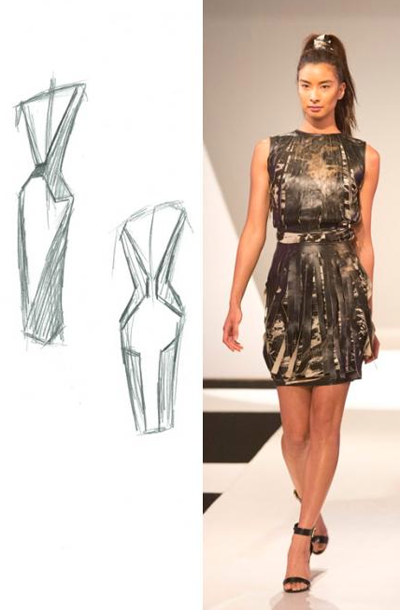 Shan picked Captain Marvel because his mom and his wife are strong women. Which is darling and I applaud the sentiment. Having seen, and put together, many Captain Marvel inspired outfits my initial reaction to this one is confusion. Or as Aeris put it, "That looks nothing like Captain Marvel!" I can make a case for this dress having design origins in the military, black ops, and an alien mystique, all of which works for Carol Danvers' backstory, though I don't know that was necessarily intentional. Regardless, it was a cool enough concept and execution to get him safely into the final, and it is certainly heroine chic.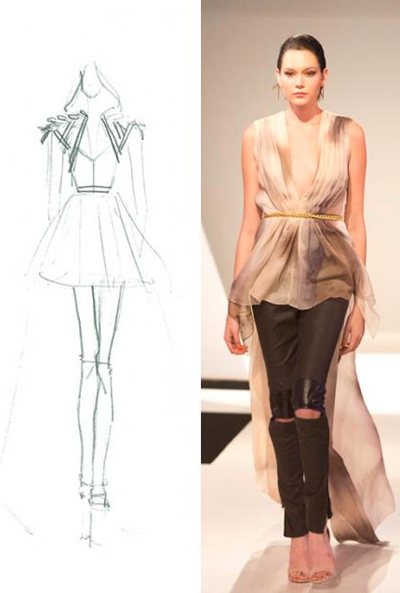 Asha was drawn to Falcon because he was one of the first black superheroes and she saw him as a phoenix figure. Which, okay. The result was very pretty though I agree with the judges that it wasn't particularly exciting. This look didn't wow me, but I am very happy Asha made it into the finale. And notably, this look is the one that most clearly followed my own formula for ready-to-wear superhero looks: she used Falcon's color palette and created a winged silhouette.
Sam described himself as "the little boy who wanted to be Britney Spears" and therefore not a comic book reader. He chose Hawkeye because Clint is a tortured rebel who the other Avengers look down on. Which is exactly how Hawkeye is always sold and I've never liked it. But then the cameras showed Sam curled up on the couch reading the comic book while his voiceover told us it brought up memories of all the mean kids in his past (later we learn he tried to kill himself more than once). I don't even care how orchestrated the editing was, it brought tears to my eyes. That is why I read and write about superheroes. Sam found something in his Hawkguy book, and he pinned a square of purple fabric to his pocket to proclaim it and that is why I wear and write about superhero fashion.
I love Sam's Hawkguy look. Going into this episode Sam was the designer I'd pick to go home. He's cute and clever and has something to say but he's young and he has time and I've simply been more excited by the others. But of the four that went down the runway last night this is the one I want to wear. It's adorable.
Sam painted a back panel of the dress to represent the dark vulnerability of Hawkeye, and Sam, and that's a gimmick and over the top and I'm not sure it was his design or his story that saved him. But I found this look super cute and fun and I want to wear it and judge Jen Rade agrees with me. Also, as with Shan and Captain Marvel, I don't think Sam meant to bring in Clint's circus background but he totally did and that's perfect.
In a twist that surprised no one all four designers move on the finale. "Superhero Fashion" was an hour full of heightened emotions, flashy colors, obvious plot twists, manipulative editing, pop culture quips ("It's like the Hunger Games with fabric and scissors!"), hipster philosophy ("Being a superhero doesn't mean putting on a cape.") and unexpected depth. Not unlike a Marvel comic book.