In Q & A, a weekly feature of Fantastic Fangirls, we ask our staff to tackle a simple question — then open the floor to comments.
What comic book character team-up would you like to see (or see more of)?
Anika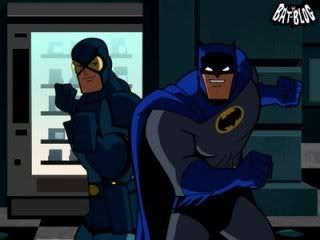 My family makes fun of me for my disdain for the cartoon Batman: The Brave and the Bold, a series that is pretty much based around Batman teaming up with everyone in the DCU, a special guest star each week. It's a cute enough show but the Batman who smiling says "Blue Beetle, I trust you" is not my Batman. I don't think him incapable of teaming up with anyone (obviously he does), or even trusting anyone. But he wouldn't say it with a smile…to Blue Beetle…and then again to someone else (in space???) the next week.
Aside: I don't hate Batman: The Brave and the Bold and I do love the Justice League cartoon but even there I've wondered how in Starcrossed Hawkgirl knew not only that Bruce IS Batman but HOW TO GET IN THE BATCAVE? Diana and Clark, sure, but Hawkgirl? Proven to be the traitor in that very episode? So, see, it's just one of those "Scott and Jean"s with me.

But. Batman should team up with Ms. Marvel. As I've mentioned on Twitter, I'm pretty enamored with the idea that Carol Danvers wins the Battle for the Cowl. She would make an excellent Batman. That's not the question at hand, but the principle is the same. Carol would "get" Batman better than most — sans power she essentially has all the same skills and she's equally obsessive — and she doesn't put up with any nonsense. And Batman would be a good stabilizing figure for Carol. Yes, that sounds odd, but consider the people she hangs out with: Tony Stark, Nick Fury, Logan, Jessica Jones, need I go on?
Basically, they would kick ass. And then, they can smile about it.
Caroline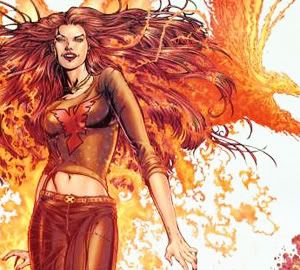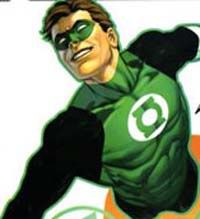 Jean Grey and Hal Jordan. I could endorse this on a profound level (the Phoenix Force and the power of the Green Lantern as gender-influenced versions of the same mythic narrative) or
a very shallow one (they both have cosmic power and pretty hair). But basically, these are two characters I will always love, and for similar reasons. They're both brave and headstrong, both people of action more than contemplation. They're also, face it, each other's type. Hal's got the square-jawed, dark-haired aviator with daddy-issues thing going, with more than a dash of devil-may-care bravado, and anybody familiar with Jeanie's romantic history can figure that one out. Meanwhile, Hal has had his share of women-who-go-crazy-and-evil in his life. For that matter, he's been in that position himself. Not that these two are going to sit down and have a deep conversation about losing your willpower to a destructive winged-thing from space; like I said, action, not contemplation. But there would be a meaningful moment when you knew they were both thinking about it. Mostly, though, the flirting and the taking on cosmic level threats. They might even get back to Earth in time to catch a baseball game.
But, you know, just the one time. If the team-up went on any longer than that, they'd kill each other.
Jennifer

I'm going to be predictable and name two of my favorite characters: Steve Rogers and Scott Summers. But the fact that they're my favorites isn't the reason I'm choosing them. I'm choosing them because I think the dynamic between two leaders forced to be partners for some length of time would be absolutely fascinating. They've worked together before, leading their respective teams into battle against a common foe. But how would they relate, one-on-one, without teams to command? How would they divide the work load? What would they talk about? Would they be the most competent team in the world, or would they fall apart immediately?
Cyclops and Captain America are similar characters, but it's in their differences that the intricacies of the dynamic really start to take shape. Cap is as confident as he is humble; he takes charge of a room without even meaning to. Scott, on the other hand, is wracked with self-doubt, and he takes on the burden of leadership only reluctantly. I can see him being steamrolled unintentionally by Steve's presence and drive, until a key moment when he asserts himself and thoroughly impresses the old soldier. I can also see the two having to deal with the differences between the worshipful public perception of the Avengers (and Cap in particular) and the fear and hatred directed at the X-Men. And then there's their common skill: long-distance projectile fighting and uncanny aim. Does a force blast propelled by a man with mutant visual trigonometry skills beat the shield-slinging aim of a man designed to be the peak of human perfection? And if they really are evenly matched, how can they combine their powers to greatest effect? How fantastic would it be — and how visually stunning — if Scott sent out a blast designed to strike Cap's thrown shield at exactly the right moment to bounce off and hit a villain in a vulnerable spot?
This isn't a teamup that would last — they're both too dedicated to their home teams for that. But I'd love to see what these two upstanding gentlemen and military strategists could do together, if only for a miniseries.
Sigrid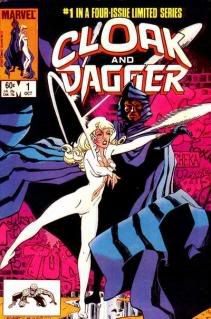 I think everybody should team up with Cloak and Dagger. No, seriously. Think of it. Cassandra Cain, fighting drug-smugglers with Tandy and Ty. Hal Jordan schooled in reality by Dagger's hard grace. Francine Peters dealing with Cloak's cold hunger. Think of Cloak and Dagger and Echo and Manhunter kicking ass on human-traffickers in, say, New Orelans.
Guys, I love me some Cloak and Dagger. I really do. As a concept, as characters, as a team, I think they are great. But what I really love is this: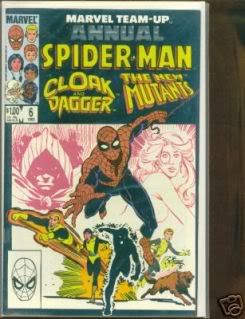 I love the Cloak and Dagger / Spider-Man / New Mutants Marvel Team Up Annual #6. This is the first Marvel comic I bought. Right here. (It's long gone, sadly. Torn to shreds by love and obsession. I think I threw it away when I was fourteen, when it was finally and undeniably unreadable.) But this story — with the innocent mutant kids sucked into the sordid danger of Ty and Tandy's world, with Peter Parker as the older, wiser guy who could help them, with that throbbing undercurrent so many comics of this era had of a danger (never explicitly mentioned to be sexual in nature) lurking just one misstep outside the schoolyard — this story was the ur-Marvel story for me.
And it's the perfect team-up. Team-ups have to do a few complicated things, story-wise. They have to give everyone a chance to shine. They have to initially make the characters uncomfortable about something, and then resolve it. A good team-up teaches the characters something they didn't know, but it also strengthens their resolve to continue as they have been. And a good team-up shows the readers new characters in a favorable light. Everyone has to look good, so that the New Mutants reader will pick up Spider-Man, and so forth. This comic, MTU Annual #6, does all of that.
I want more of it. The New Mutants, the original team, are coming back into a new title pretty quick here now. The solicits cover image is the mirror of the cover of New Mutants #1. Marvel is clearly making a nostalgia play of some sort. Let me tell you, Marvel; it's working. I'm going to get your new New Mutants title. And what I want to see, desperately, achingly want to see, is another New Mutants / Cloak and Dagger team-up.
Maybe you can get Sienkiewicz to do the art again. What do you think?
What comic book character team-up would you like to see (or see more of)?