Posted by Jennifer
I'm a huge Hank McCoy fan. I think he's possibly the most awesome character ever to come out of comics. Maybe not my number one favorite, maybe not the objective best, but certainly the character most clearly endowed with pure, undiluted awesomeness. I want to be Hank McCoy when I grow up, and I'm pretty sure anyone who's ever read an X-Men comic secretly shares that desire.
But, unlike most Hank fans, I'm also very, very happy that he's a cat.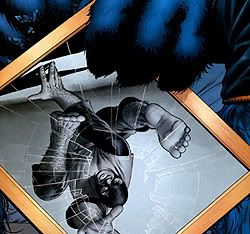 Everyone knows that the X-Men started out as a group of five attractive, WASPy kids in Westchester, New York. While their fantastic powers set them apart from society, it wasn't hard for them to blend in when they wanted to. Bobby and Jean were, for all intents and purposes, baseline human; Warren could hide his wings under his jacket; and Scott was just the weird kid with the sunglasses. Even Hank, with his big hands and feet, looked more like he had a glandular problem than a mutation. Given these factors, it was often hard to believe, however much they claimed to be ostracized, that the X-Men really felt alienated at all.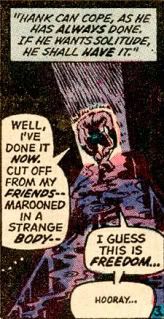 If the central theme of the X-Men — of people with special and terrifying genetic attributes protecting a world that hates and fears them — was to function, this had to change. And so Steve Englehart wrote the 7-issue story arc in Amazing Adventures that turned Hank McCoy into the bouncing blue ape with Wolverine hair that readers would come to know quite well over the next few decades. In those issues, as Hank adjusted to his new appearance, he was very clearly alone in the world, and was immediately feared by everyone he encountered, bringing the public negative reaction to mutants to the forefront. Though he was cut off from the X-Men, the reader was able to feel, through Hank's angst and experiences, the alienation that had been missing in the core mutant book.
Through the years, Hank had periodic fits of angst about his furry blue exterior. He wondered if any woman would ever be able to love him; he wondered if he was really a man at all, or if he was just a "beast." But, after that first story, the effects of Hank's mutation on his psyche were never fully explored. Soon after, Hank joined the Avengers, where he found himself beloved by the public and swamped by women desperate to sleep with him, fur and all. Even in the X-related books, women from Trish Tilby to Cecelia Reyes expressed interest in him. Everyone loved the Beast, and if he happened to find himself around the few who didn't, the click of the button on an image inducer was enough to render his strangeness invisible. And his animalistic body didn't seem to hinder anything he wanted to accomplish physically — he retained opposable thumbs and a voice box, and could still hang upside down and perform other feats of acrobatic elegance. What did he have to complain about?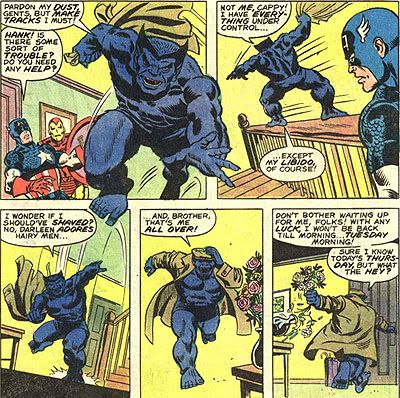 The X-Men, meanwhile, gained other characters who didn't look visibly "normal" — most notably Nightcrawler and the Morlocks — but they were still, for the most part, a group of pretty (if no longer quite so WASPy) young heroes, not at all visually threatening to the general public. The alienation metaphor was getting lost again, and even began to seem a bit hypocritical. We can write about difference, the writers seemed to be saying, as long as the characters are all homogenous comic book pin-up girls and boys.
And then came Grant Morrison.
I'm not really a Morrison fan, and there's a lot I dislike about his New X-Men. But the one thing I love is his insistence — later carried forward by Joss Whedon in Astonishing X-Men — on presenting mutants who weren't generically pretty. Mutants whose mutations hurt them, alienated them, and generally made their lives more difficult, like half-chicken Beak and his fly-like girlfriend Angel. For the first time, we could believe that the public would be afraid of these people more than they feared, say, the Fantastic Four, and we believed that these mutants would be torn between loving themselves for what they were and wishing they could get rid of their mutations altogether.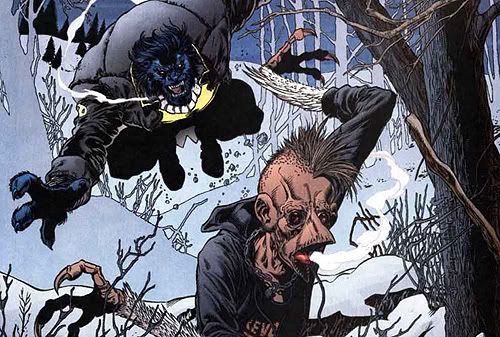 Of course, Morrison had still inherited a cast of pretty people from many years of X-Men continuity. He couldn't mutate them all, and they were, by default, his main characters. And so he made the wise — in fact, the brilliant — decision to mutate Hank McCoy. Hank, who had a history of horrifying physical mutation. Hank, who everyone loved, and whose pain and alienation everyone, characters and readers alike, would be affected by. Hank, who had spent the last few decades as a fun-loving playboy, his physical appearance no barrier to his emotional fulfillment.
So Morrison turned him into a cat.
I'm not going to defend the scientifically suspect concept of cats being the step before apes on the evolutionary chain. Frankly, if I cared about believable evolutionary science, I wouldn't be reading X-Men comics. But what I will defend is the story logic of imposing these physical consequences on Hank McCoy. Of giving him back his fear of becoming a beast in more than name, and losing his higher brain functions. Of giving him physical limitations, like a lack of thumbs, that adversely affected his quality of life. And of making his girlfriend, Trish Tilby, suddenly afraid of the public reaction to their physical relationship — and her own sexual reaction to it. Unbelievable as it was, many women were canonically attracted to the blue monkey version of Hank's mutation. But by changing him into a cat, Morrison was able to change the level of attraction, and he wisely chose to point out that, in all likelihood, being a giant cat wouldn't bring a guy all that many sexual offers. And Morrison achieved all of this by choosing a character design that would still look like Hank, despite the major change.
Beyond his metaphorical usefulness to the X-Men at large, Hank McCoy simply works best as a character when he's struggling with the contrast between his beastly outward appearance and his inward intelligence and gentility. It's the contrast that motivated Hank for much of Morrison's run, and continues to motivate him to this day. "I'm so scared I'll wake up some day like Gregor Samsa in his bed and find I've mutated into a bug or a virus. What use would a virus have for art and music and poetry?" he wondered, in one of the first few issues of Morrison's run. And yet, in many ways, Hank had already become Franz Kafka's tragic hero. Earlier on the same page, Hank had lamented to Jean, "I used to have fingers! You knew me when I could play the guitar!" He may not have been an insect, but he had already found himself in a body which was incapable of making music—an art so fundamentally human that Kafka's Metamorphosis is compelled to ask, of Gregor, "Was he an animal, that music could move him so?"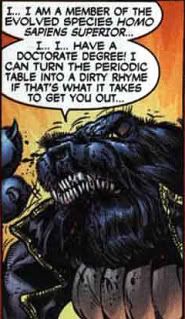 Hank is a scientist, an intellectual, and an aesthete — the most learned and cultured of all the X-Men — and yet in many physical ways he's less than human. The cat mutation allows the readers to see just how horrible this psychological contrast is, in a way that had been impossible in all the years of public acceptance of Hank's ape look. Hank's cat mutation may be important for the overall alienation metaphor of the X-Men, but its effect on his character, and the emotional conflict it creates (drawn most expressively in his confrontations with Cassandra Nova in Morrison's run and Astonishing X-Men, and during the Astonishing Cure plot), is perhaps even more important.
Were Hank to revert to his ape form now, the X-Men would lose one of their most valuable assets: an emotionally conflicted, complex character who embodies the theme of alienation that permeates the comics. Sure, he could use his thumbs again, and he could date women who aren't half-aliens like Agent Brand. He could have a more consistent character design between artists (a reasonable complaint I've heard), and he'd look more like the Beast everyone in my generation remembers from the 90s cartoon. But in my opinion, the X-Men books, and Hank's characterization, would be much poorer for it.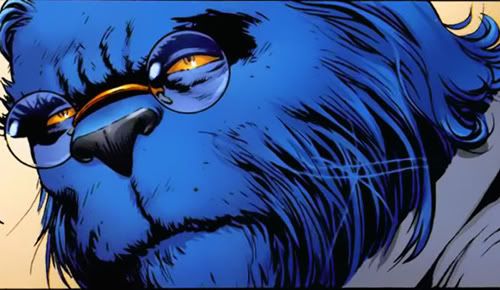 E-mail: Jennfer@fantasticfangirls.org
Twitter: throughthebrush