Everyone that knows me knows how much I love Captain America.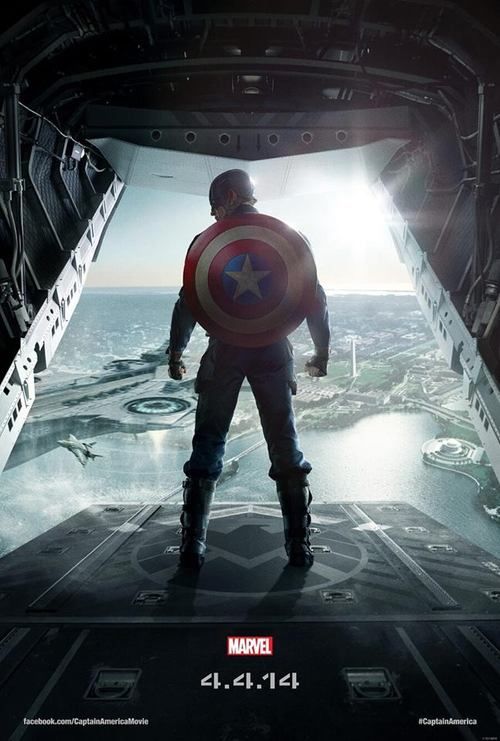 Everyone that knows me sent me a text, tweet, or Facebook message on Thursday, informing me that the Captain America: Winter Soldier trailer had officially dropped. I was in a medical-school induced haze and had no idea it was being released that day.
Let me begin this skipping to conclusions by saying the following. OH MY SWEET NORSE GODS, I AM SO FREAKING EXCITED FOR THIS MOVIE.
There, now that I got that out of the way, we can begin the professional portion of this post.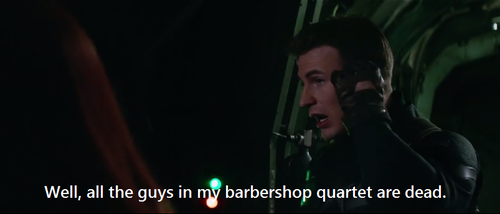 How pleased was I when I saw Cap and Natasha exchanging quips on the airship? Very, very pleased. The exchange, while short, spoke volumes about their relationship and how far Steve has come since the events of The Avengers. Steve was broody, reserved, and very uptight—not to say it wasn't warranted!. He was understandably uncomfortable, given the flash-bang of Tony the 21st Century.
This Cap is the Cap we met in Captain America: The First Avenger. Smart mouth, dry humor, and completely comfortable in battle situations. What is noticeably missing is his adorable shyness while talking to beautiful, dangerous women (PEGGYYYYYYYY).
Moving on: Cap and Natasha seem like bros. Which is MOST EXCELLENT. I loved their dynamics in The Avengers and when I heard that Scarlett Johansson was going to star in the second Captain America movie, I flipped out a little. And it looks like I flipped out with good reason!
After Cap nonchalantly throws himself out of the airship sans-parachute (how very Tony-like of you, Steve!), we cut to Washington D.C., where he is conversing with Robert Redford, aka Alexander Pierce of S.H.I.E.L.D. In the serious-toned scene, Pierce tells Cap that part of building a new world involves getting rid of the old one. Uh oh. Sounds a little World War II propaganda-like, doesn't it? Didn't you get the memo, Alex? Steve has been through that before. On the other side.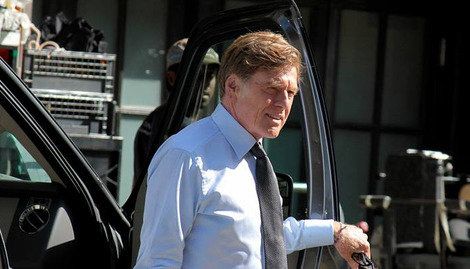 Pierce continues to say, "And that makes enemies." No way! I had no idea! Steve doesn't look very impressed. Maybe he's caught up on all the American history he missed while he was under the ice and realizes that the Western notion of interfering into other countries' affairs is both paternalistic and futile…Whoops, did I say all that?
(The question is, where was S.H.I.E.L.D. when all the terroristic events of Iron Man 3 were going down? My friends posit the hyper-realistic idea of a government sequester, LOL)
The next couple of scenes are flashes of Steve, Natasha, Antony Mackie playing Sam Wilson aka the Falcon, and Nick Fury in his natural habitat: surrounded by weapons and soldiers. The interesting part of this montage is the voice-over of Pierce spouting some pretty nonsensical (as of now, at least) words, "Are you ready? Ready for the world to see you as you really are? Look out the window, you know how the game works."
I for one have no idea of what Pierce is getting at, but it is very political-thriller-y, something that I would expect out of Captain America acclimating to the 21st Century.
At the 1:44 minute mark, we finally get what we've been waiting for: the first glance of the Winter Soldier.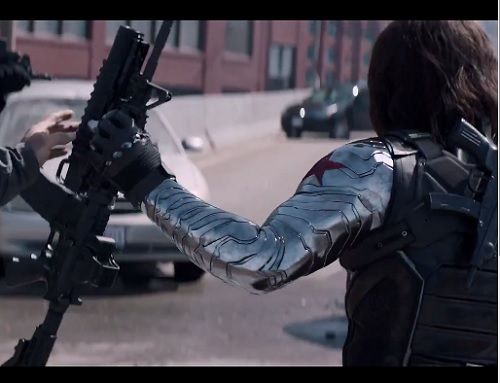 Spoiler central, guys. The next part is a discussion of the storyline not presented in the trailer. So, if you are ignorant of the plotline of this movie and wish to remain that way, please turn back now. For everyone else, after you.
.
.
.
.
.
.
.
.
.
.
BUCKY BARNES EVERYONE. I'VE BEEN WAITING FOR THIS ANGST AND PAIN EVER SINCE THE FIRST CAPTAIN AMERICA MOVIE.
On Tumblr, I caught a glimpse of an excited Supernatural fan's post the day that the show returned for its most recent season. The post read, "It's like excitedly waiting four months for a punch in the face."
Couldn't be a more accurate description of all us Cap fans that know the Ed Brubaker take on Bucky Barnes, Steve's best friend. In The First Avenger, we see Bucky falling to his death off a train going through some snow capped mountain ranges. Any comic book fan knows better than to accept a death without a body (and sometimes despite the body)!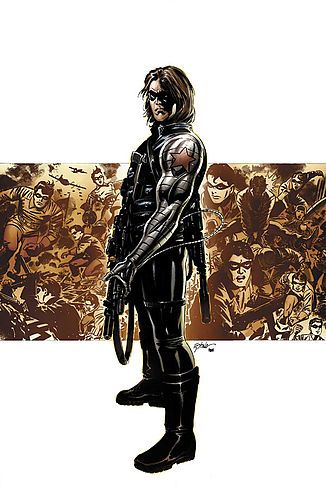 In short, Bucky (in the comics), lost an arm, but survived, only to be saved and brainwashed by Soviet government forces that sent him on every large Cold War mission in history. Or so the story goes. Also in some versions of this tale is the idea that the Winter Soldier had a hand in training the Black Widow — our very own Natasha. Rumor has it that they had a thing. Yeah, one of those things.
To be completely honest, I have no idea of what they are doing with the Winter Soldier mythos. The fact that this movie features a lot of Natasha tells me that Bucky might be tied to her past and that mysterious red in her ledger. Another big question is who the hell is Alexander Pierce and can he be trusted? In the comics, he's one of Fury's most loyal operatives. Here, who knows?
Wait, why isn't it April 4th, 2014 yet?