In Q & A, a weekly feature of Fantastic Fangirls, we ask our staff to tackle a simple question — then open the floor to comments.
Who is your favorite non-superhero character in a superhero book?
Anika
Well, Alfred Pennyworth, of course. But I've babbled about him already. So I'll choose another favorite: Mary-Jane Watson (formerly Parker). She's cute, she's spunky and basically she's who I would be in a superhero comic: the opinionated girl next door who never quite makes it as an actress, gets into plenty of trouble, and can talk circles around anyone (even Tony Stark). I think this picture says it all:
The fangirl who gets the boy! What's not to love?
Caroline
Irene Merryweather has the toughest job in the Marvel Universe.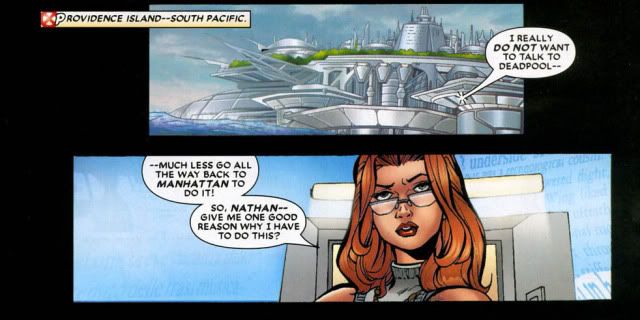 She trained as a newspaper reporter at the Daily Bugle, where J. Jonah Jameson wasn't exactly the world's most easygoing boss. But that was nothing compared to her next, and most important employer: Nathan Dayspring Askani'son Summers, the time-traveling mutant super-soldier, prophet, and sometime head of state known as Cable.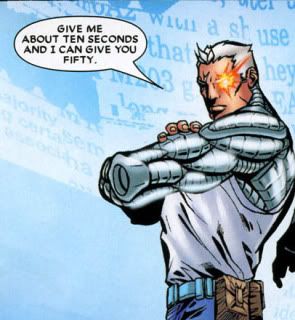 It's just not that Nate can be tough to work for — what with constantly bodysliding in the middle of conversations, disappearing for months or years at a time, exploring new heights and depths of pouch-related fashion, and setting you up on dates with insane mercenaries. All of those things have happened to Irene in her years as Cable's not-quite-love interest, not-quite sidekick. But what I've always found most interesting is Irene's official role as Chronicler of Cable's many deeds. She is, in other words, the one person in the universe who is actually charged with keeping track of Cable's backstory. That may not technically be a superpower, but a quick glance at Cable's wikipedia entry suggests it's a full-time job. ("Apocalypse mistakenly believed that Nathan's telekinetic powers had successfully eliminated the Techno Organic virus, which had been Apocalypse's intention when infecting the infant in the first place." — Do you think Irene knows what that means? Do you think Cable makes Irene take regular quizzes, just to be sure?)
On the surface, it's pretty obvious why I'm a fan of Irene. Writer-chick with glasses, has entirely too much information about the Summers family at her disposal? Yeah, I relate to that a little. But beyond that, I'm intrigued by her relationship with Nate, especially in the late/lamented/insane series Cable & Deadpool. Maybe the best shorthand I can give is that they're a bit like Tony Stark and Pepper Potts in the Iron Man movie, if everybody involved in making the movie was taking a lot of hallucinogenic drugs and didn't care who knew it. (Seriously. They live on a metal island. Made out of a spaceship.) Cable is an egomaniac who thinks he can save the world. Irene is smart enough to see him for what he is, but she also has enough faith to believe he just might be able to do it.
Jennifer
In my last post, I included scans of two characters many readers might not recognize. They were Bernie Rosenthal, Captain America's girlfriend in the early 1980s, and Arnie Roth, his childhood best friend with whom he reconnected during the same period. And they are, despite their relative obscurity, my favorite civilian characters in all of comics.
Spotlighted during J.M. DeMatteis' run on the title (and, in Arnie's case, created during it), these characters were the backbone of Steve Rogers' non-superhero life. Bernie, a glassblower and former activist from Brooklyn, was a free spirit with a lively, carefree personality, and, as the scans in my last post indicate, she brought out Steve's goofy side. She managed to figure out by herself that Steve was Captain America, and she still chose to date him afterward — in fact, she wouldn't even consider the alternative, and refused to let Steve use that cliched "it's too dangerous for me to be with you!" excuse for a breakup. The couple even got engaged at one point, and it was headstrong, stubborn Bernie who popped the question. Eventually, the engagement was called off, but, in a rarity for comic book relationships, it wasn't because of any big argument or tragedy or betrayal or act of infidelity. Their relationship had become strained from the lack of free time Steve had to spend with Bernie, and Bernie simply decided that she needed the time and space to be alone, and do bigger and better things with her life. She went off to law school and became a lawyer, and she's appeared from time to time in the years since to offer legal services. The relationship was realistic — neither idealized nor melodramatic — and Bernie herself was nothing less than three-dimensional in all of her appearances, with strength and wit to spare.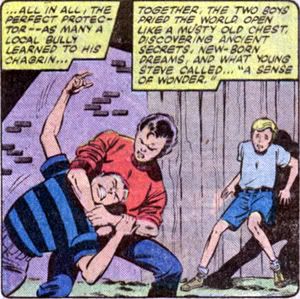 And then there's Arnie. Arnie Roth was Steve's childhood best friend. On the rough and tumble streets of the Lower East Side where Steve and Arnie grew up, it was Arnie who protected scrawny, sensitive Steve from the bullies, and Steve had many dinners at the Roths' house when his sickly, overworked mother was too busy. They grew apart as teenagerhood set in, but when Arnie joined the Navy and saw a newsreel of Captain America for the first time, he recognized his old friend. Years later, he found Steve again, and confessed that he knew his secret identity — and that he needed Captain America's help. Arnie, it seemed, had gotten in some gambling trouble, and as a result his boyfriend had been kidnapped. And yes, I said boyfriend. The other remarkable thing about Arnie is that he was one of the first — if not the first — gay characters in Marvel comics. The words "gay" and "boyfriend" were never actually used, but the intent couldn't have been clearer, and Steve consistently equated Arnie's love for his boyfriend (who later died) with Steve's own love for Bernie. This was very progressive for the early 1980s (and happily showcased Steve's own lack of prejudice, as did the presence of Arnie's — and Bernie's — Jewish faith). But it was even more remarkable that Arnie was never used as a stereotype or an "issue" character. He was a person, with flaws and strengths, and his sexuality was just one part of his personality. He also served a very important function — the function of a character who knew Steve before he was Cap, and therefore wasn't so blinded by the symbol that he couldn't call Steve out when he did something stupid. Unfortunately, as the years pass, fewer and fewer characters from Steve's youth can reasonably still be alive (Arnie himself died of bone cancer in the 90s), but when they do exist, they're a hugely important part of Steve's characterization, and history.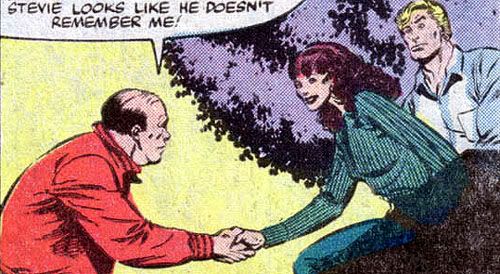 So there you have it — two civilian characters who helped to define who Steve Rogers was as a person, and also existed as interesting, fully-realized characters in their own right. When it comes to non-superhero characters in superhero books, I couldn't ask for more.
Sigrid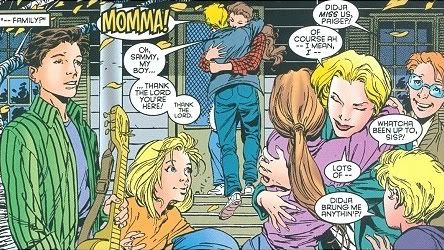 Lucinda Guthrie. Of her ten children, Sam, Paige, Jay, Jeb, and Mel are or were mutants. Half her children caught up in a series of wars for survival, half her children considered criminals or monsters, half her children heroes. Some, like Sam — Cannonball — and Paige — Husk — have chosen to be soldiers, to throw themselves into Xavier's dream with all their incredibly stubborn will. Lucinda's children are proud, they are willful, they are smart, they are strong. They care, passionately and deeply, for family and people — whether that be coal miners, mutants, Guthries, Americans, or all humanity. The Guthrie kids had to get it from someone. Since their father died when Sam, the oldest, was just a boy, odds are they got it from Lucinda.
She taught her kids strength. She taught her kids honor. She taught them pride and compassion. I think the new mutant base in San Francisco should fly Lucinda Guthrie in to raise up the next generation. She certainly wouldn't do any worse than what the school has done so far, and I think she might well do better.
What about you? Who is your favorite non-superhero character in a superhero book?