In Q & A, a weekly feature of Fantastic Fangirls, we ask our staff to tackle a simple question — then open the floor to comments.
Valentine's Day! What's your favorite comic book Valentine moment? Invent one, if none exist!
---
ANIKA
Beware, I'm going to be gushy. I (Heart) Marvel #1 Starring Spider-Man and Mary Jane. ♥ ♥ ♥ Valentine's Day is coming up and our Peter doesn't know what to get his wife. She always gets him exactly the right gift and he wants to do the same for her, just this once. Now this comic includes so many wonderful moments and touches — Peter getting a cookie out of the Iron Man cookie jar while Aunt May and Jarvis do dishes together; MJ, Tony, Luke and Steve watching the ball game; Spidey playing pranks on Johnny Storm; Luke Cage being goofy cute about his Jessica; and Tony's Cheezit obsession for example. But the best moment, the reason I get all gushy and girly about this silly little side-story comic is when Peter gives Mary Jane her gift: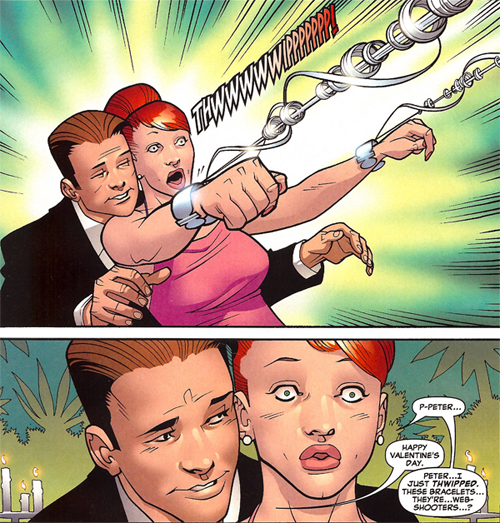 His original web-shooters, modified by Tony Stark for Spider-Wife. I ADORE this story right down to the little pink hearts that fly up to the moon while our couple … on the roof.
---
GABBY
It may sound weird, but for me, celebrating Valentine's Day was a family affair. I remember my parents used to invite their one single friend (who is like an uncle to me) to have brunch on V-Day. I'd spend the entire previous day with my mom in the kitchen, the one time a year we would bake together (my mom hates baking). In the morning I would wake up to a white-draped table sprinkled with red, heart-shaped confetti and stocked with delicious food. We'd spend the day exchanging chocolate boxes and I remember my mother telling me that Valentine's Day was a day to tell everyone in your life that you loved them.
Therefore, I would love to see Luke Cage, Jessica Jones and baby Dany, my favorite comic family, celebrating Valentine's Day together. It could be at brunch, but it could also be a day at the park, or any other quiet moment where they would tell each other that they appreciate the other's presence and love. I think that would be very nice.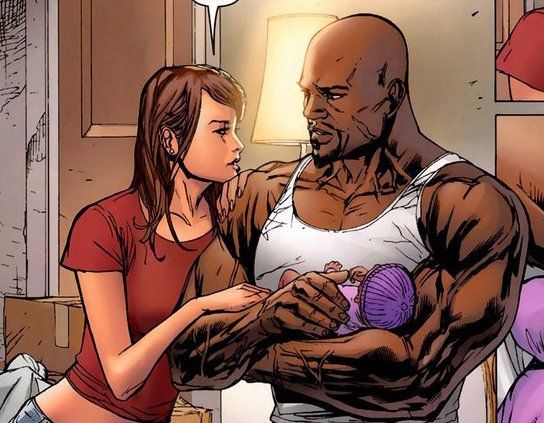 ---
SAM
As a perpetually single anti-capitalist who is a member of a an oppressed and underrepresented sexual minority, I am not the biggest fan of the heterocentric, couplecentric, commercialized holiday that is Valentine's Day. But in the past few years I've learned that the best way to pass my time on that day – because, like Christmas, it's impossible to ignore now – is to spend it with a person or people whom I platonically love.
I'm not sure if that's ever happened in comics. It's entirely possible. There are some really fantastic friendships in the realm of comics, and I would read about any of them spending a platonic Valentine's day together. The team of Young Justice meets up in Central Park during the afternoon and plays baseball together again, this time for fun, and there's no drama (except for when Bart steals home). Ollie Queen and Hal Jordan go fishing, even if neither of them like to fish, to just hang out and drink some beers together and catch up. Karen Starr and Helena Wayne fly to a remote island in the pacific and sip fruity drinks and sun tan (for as long as Helena can sit still). Carol Danvers and Jess Jones-Cage go to a dinner and a movie (for as long as Carol can sit still).
So platonic love. I think it transcends your run of the mill friendship. There's a lot of platonic love in comics, which makes sense considering they constantly rely on each other for their lives, but these are a few of my favorites.
---
So what about you? Valentine's Day! What's your favorite comic book Valentine moment? Invent one, if none exist!