Ali and Caroline really like Jean Grey. Like, really really. So when they read the latest issue of Brian Michael Bendis and Stuart Immonen's All-New X-Men they had, what's called in internet parlance, ALL OF THE FEELS. And now the ladies will share their FEELS with you.
---
Let's drive in with the big stuff!
ALI
Oh Jean! I just… I miss this lady so much. I mean look at all that awesome. She's such a rich and fantastic character, and in a double page spread BOOM Immonen captures all of that. And all of my feels. ALL OF MY FEELS.
CAROLINE
First of all– just for the record and may we never speak of it again — I object on principle to the word "feels." "Feelings" only has three more letters, it's an actual English-language noun, and (unlike "feels") it doesn't sound like a medical condition you could get from drinking contaminated water.
However,, if anything was going to reduce me to a giggling squealing fangirl running around the Internet talking about my "feels," I have to say — this Stuart Immonen page would be it. Every single one of those images speaks to a significant moment in Jean Grey's history. Jean is an iconic character who has been referenced plenty of times over the last decade, but it usually boils down to a few big moments. Usually, she's dying. Seeing a creative team display such affection for the character and awareness of her history is a great sign for the new era of X-Men.
ALI
When it comes to the X-Men, I have absolutely no problem talking like a LOLcat.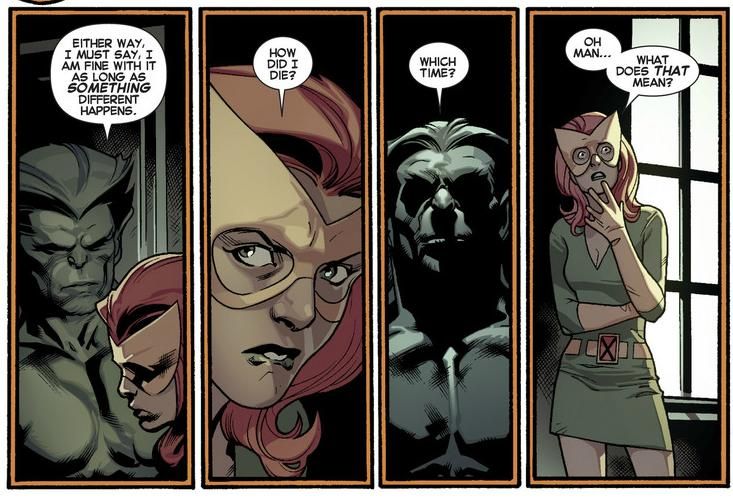 ALI
I just really loved this bit is all.
CAROLINE
This series of panels illustrates why Bendis and Immonen are one of my favorite writer/artist team-ups in comics. I like a lot of Bendis's work, but pairing his words up with Immonen's art creates some kind of quantum leap in my (oh, okay, I'll say it, shut up) feels. I think it's because Immonen is such a master of visual "acting" — through gesture or, like here, facial expression, that it complements Bendis's character-focused work perfectly.
---
And there's the whole Jean and Logan thing…

ALI
This is such a brilliant little moment. Six lines of dialog and Bendis freaking nails the whole Jean/Logan dynamic. These two! I can't even.
But let's all remember, folks. This is 16-year-old Jean. SIX. TEEN.
CAROLINE
OK, look, I'm of two minds about this. On the one hand, I think, "What a brilliant way to bring Jean into current continuity without making it all about whether she screws Wolverine. Make her too young to be his love interest!" And then my other mind is like, "Wait, how young is she? I mean maybe Bobby is sixteen but I always thought Jean and Scott were older, can't Jean and Logan make out just a little???"
---
And there's then the whole Scott and Logan thing…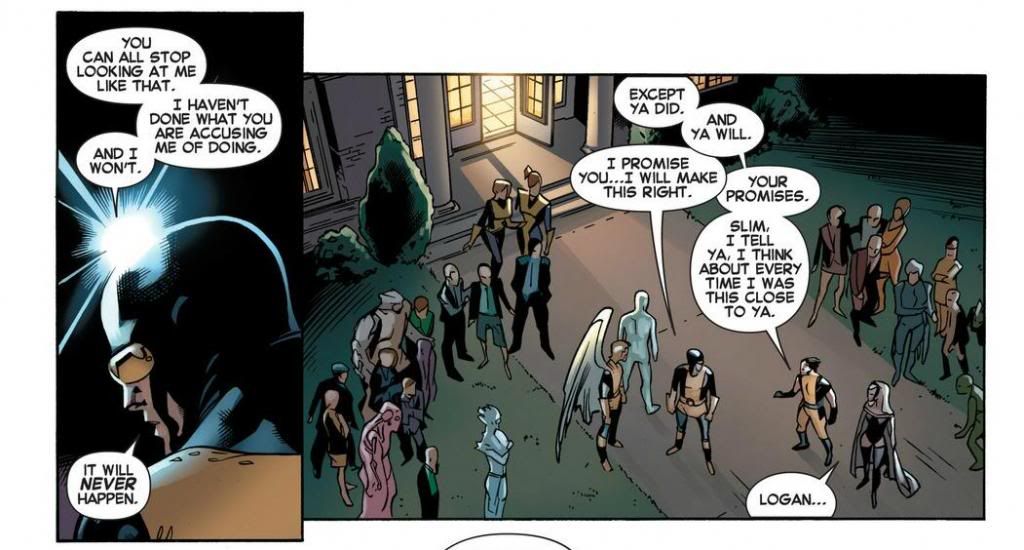 ALI
Past Scott breaks my heart. This poor kid. Everybody hates him. And Logan wants to kill him. Which is pretty much the usual for Logan, Past Scott just doesn't know that yet.
CAROLINE
Wait, Logan wants to kill him? Is that what, "When I think about all the times I was close to you" means? Because that would maybe not be my interpretation. Maybe we should just move on.
ALI
Yeah, in the very next panel (not pictured) Logan says he could just pop a claw in Past Scott's head right now and fix everything. It's kinda scary actually.
---
Meanwhile, this is what present Scott is up to…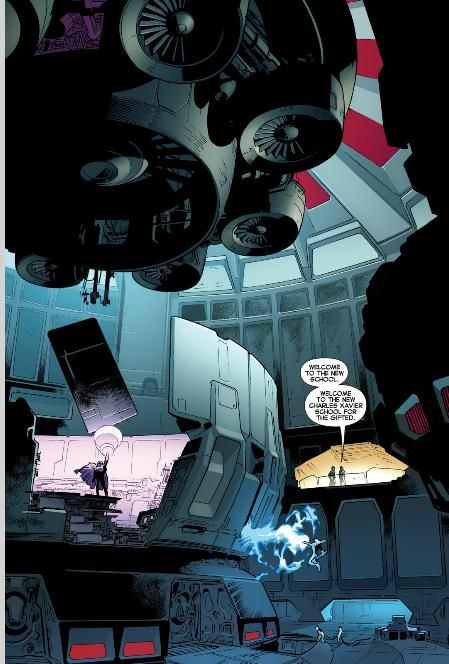 ALI
Um… seriously, Scott? That's what you're calling your little movement? Seriously. Seriously. *facepalm*
CAROLINE
OK, I haven't totally been top of all the X-Men stuff but didn't Scott kill Xavier? Well, maybe Magneto insisted.
---
Professor K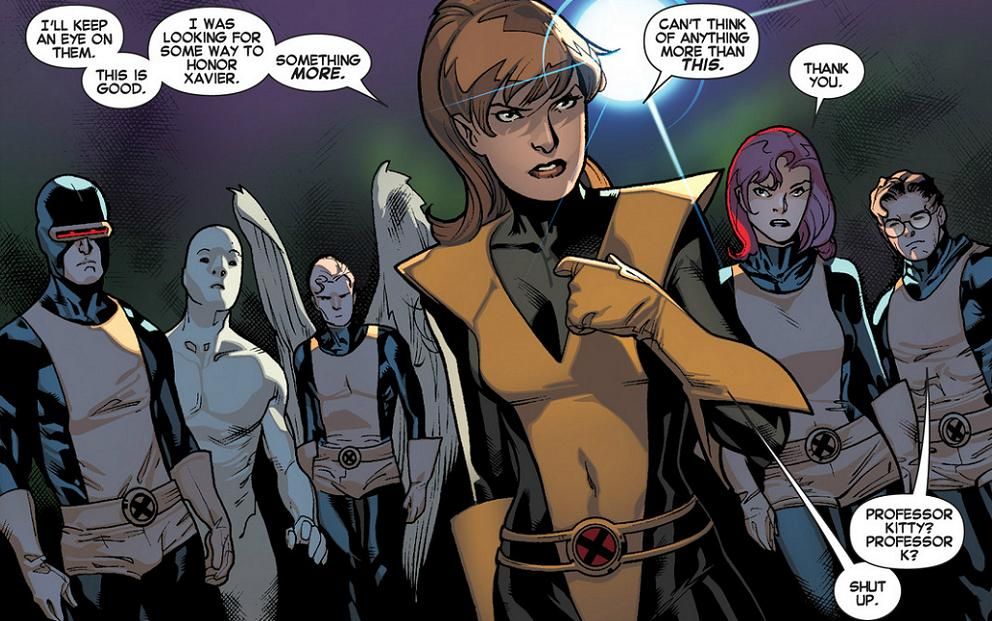 ALI
Fuck. Yeah. Kitty Pryde.
CAROLINE
Dammit, I do not have "feels" but. . .okay, when I realized Kitty Pryde was going to be babysitting the time traveling teen X-Men, I literally did a seal clap. KITTY! Now all we need is Kitty's BFF Rachel Summers-Grey, who is Scott and Jean's kid from the future only, if I'm not mistaken, is now significantly older than Scott and Jean. And once that reunion gets going, obviously Scott's future time-traveling clone kind Cable has to come and Cable is hanging out with Hope who is apparently not Jean but might be the same age as her. And don't forget Wanda Maximoff, who is finally back with the Avengers again and who was Jean's BFF when they were teenagers and, I'm sorry, there will be no time for the X-Men to fight supervillains for the next 478 issues because all the redhead BFF's will need to be having heart-warming adventures.
OK, that's probably not what's going to happen. But I'm going to enjoy it for now.
ALI
If that "XX" comic Marvel's been teasing isn't about what you just described I'm going to be seriously sad.
---
How about you guys? Do you have X-Men feels?