This Post Contains Spoilers.
by Marie
All houses have secrets. The "Keyhouse" featured in Joe Hill's Locke and Key series is certainly no exception.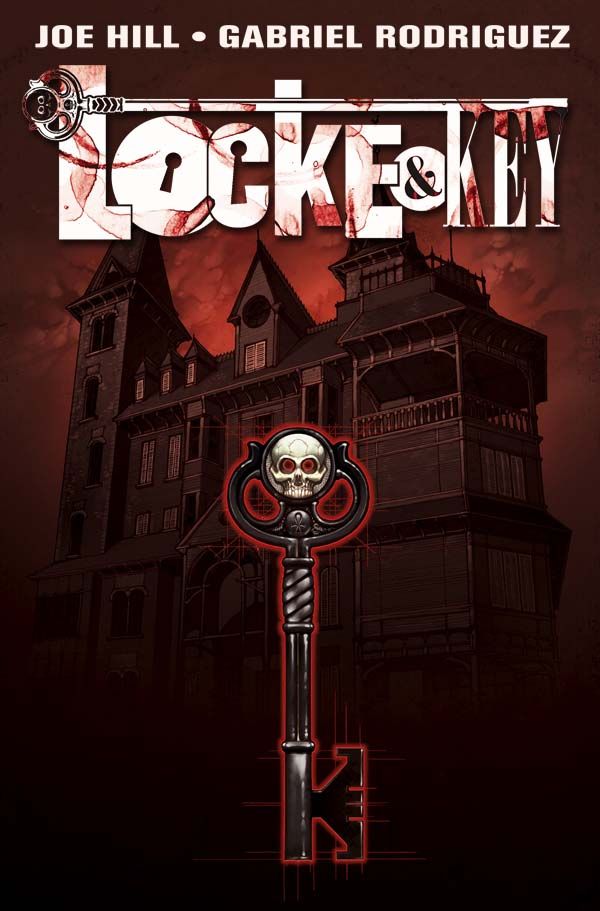 Located in the fictional town of Lovecraft, Massachusetts, this old Victorian mansion becomes the home of the Locke family. Wounded by a tragic loss, the Lockes settle into their new lives with the hope of starting over. But their past isn't finished with them yet, and they soon discover that the house is more than a threshold to a new beginning: it is a threshold to worlds beyond their darkest imaginings.
The story revolves around the three Locke children: Tyler, his younger sister Kinsey, and their kid brother, Bode. Over the summer, they witness the gruesome murder of their father, Rendell "Renny" Locke, at the hands of Sam Lesser, a deranged and emotionally disturbed student from their high school.
You may be familiar with some of Joe Hill's work. His novels, Heart-Shaped Box and Horns along with his short story collection, 20th Century Ghosts contain the same haunting pitch that echoes throughout Locke and Key. If none of these ring a bell, then I would highly recommend
adding them to your reading queue, especially if you're a fan of dark fantasy or supernatural fiction.
You also might be more familiar with the work of Hill's father, Stephen King, whose novels and achievements are too numerous to list, but have nonetheless made their indelible mark on the horror genre. It would be easy to say that the apple doesn't fall far from the tree, but rest
assured that that is not the case here. Hill is his own writer; the emotional resonance and in-depth characterization he infuses in each of his stories is organic, breathtaking, and startlingly unique.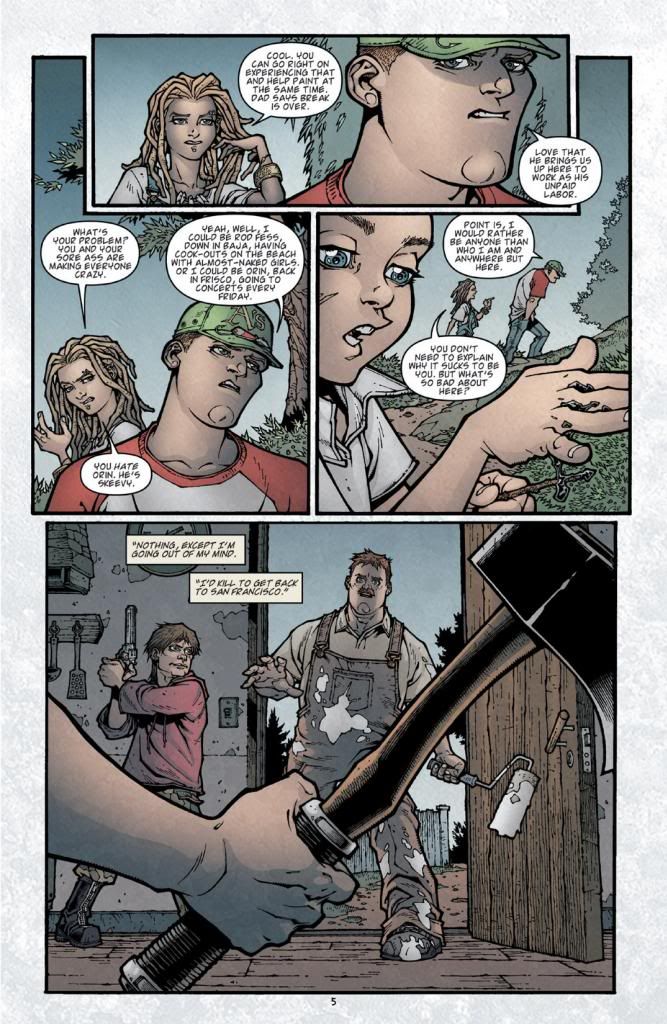 Take for his example, Hill's rendering of the Locke family.
Hill does a good job of emotionally unpacking how the Locke family copes with their loss: Tyler tries to overcome feelings of deep-seated guilt, his thoughts bordering on suicide; Kinsey attempts to re-invent her look in time for the new school year, but refers to her new reflection as
someone she doesn't recognize; Bode, while the youngest, is plagued by nightmares of his father while being the first to unravel the mysteries surrounding his new home.
That's not to say that the fantastical elements are overshadowed.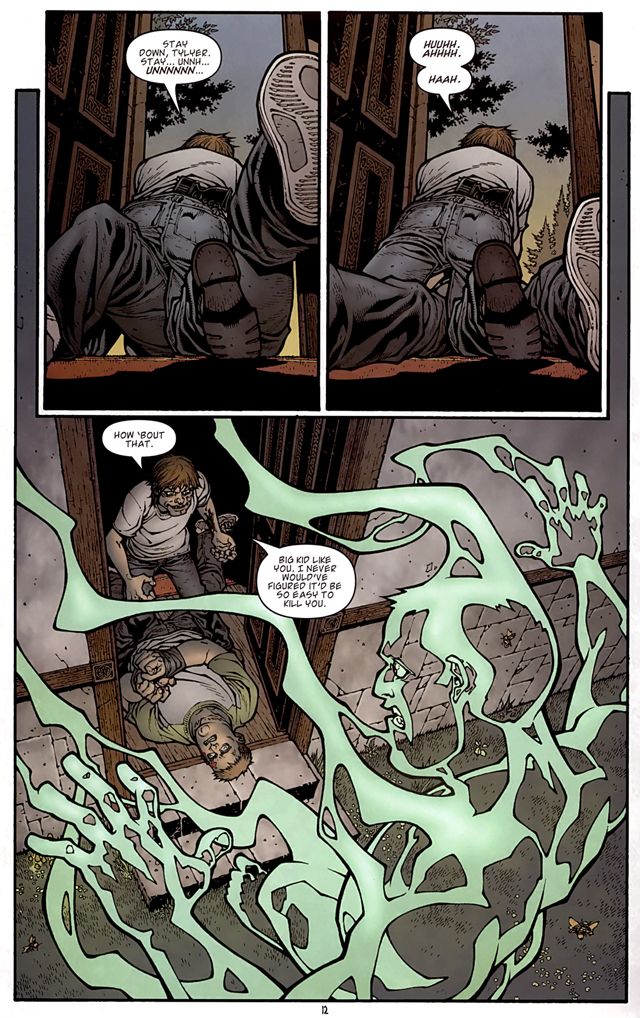 Bode soon happens upon an entity trapped in a well behind the Keyhouse. Whether this entity is a spirit or a demon remains unknown. It calls itself an "Echo" and is apparently very familiar with Bode's family, particularly his father. Later, the Echo reveals that Bode's father was the one who was responsible for its imprisonment. The only way for it to be set free is through the possession of two keys: a golden key called the "Anywhere Key," which can transport a person anywhere in the world just by thinking, and an obsidian key, which can transform a person into
a ghost after unlocking the right door. Bode is already in possession of the latter, having found it on one the first day the Lockes moved in. Although Bode comes to distrust the Echo, dire circumstances force him to deliver the keys and unwittingly start a chain of events that lead him
and his siblings to other keys lying in wait inside the house.
While it becomes evident that the Lockes have a family history that is inextricably linked to the Keyhouse, its secrets can only be revealed to children—the memories of which will fade once they become adults. This would explain why neither the Locke children's father nor their uncle,
Duncan (who currently owns the house), mentions the Echo.
"Welcome to Lovecraft" is a true testimony to Hill's versatility. The story that he crafts is detailed, suspenseful, and has heartrending moments that are made all the more profound by their subtlety. For example, when Bode tries to understand his father's death, he compares his father's body to an "empty sock." Furthermore, the art by Gabriel Rodriguez matches Hill's rich grittiness.
Additionally, Hill leaves room for his readers to further explore his characters. He gives the impression that we have only scratched the surface, and that there is more to the Locke children than meets the eye. Even villains, like Sam Lesser, seem compelling.
All in all, I'm excited to see what the Joe Hill "unlocks" next.