This month's episode of the Fantastic Fangirls podcast is the Newbies Show! New writers Ali, Sam, Sara, and Marie got together to talk about their love for Board Games! We did not make Anika watch Blade Runner… yet.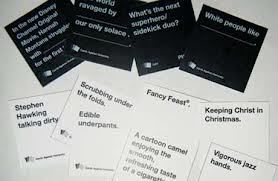 In the show we discuss games like Fluxx, Apples-to-Apples, Cards Against Humanity, Battlestar Galactica, Circle of Death/Kings and the classic Trivial Pursuit, as well as gaming groups, our favorite gaming memories and being competitive.
After gaming, we gush about what we're currently loving right now: like "Justice League Unlimited," "Chicago Fire," "Boston Legal," "Hawkeye," and Sentinels of the Multiverse. It wouldn't be a podcast without digressions, so we wrap up the show with a Lightning Round question: What fictional character do you want to sleep with the most?
You can check out the About Us page to find Ali, Sam, Sara, and Marie on the interwebz.
[Editor note: Sorry this one was a little late — we were going to post at the start of November, but we had delays because of weather, technical difficulties and everything else you can think of. We did get this in under the wire though — hope you enjoy! Also, there's a bit of static toward the end of this episode, but it clears up quickly.]
Podcast: Play in new window | Download