In Q & A, a weekly feature of Fantastic Fangirls, we ask our staff to tackle a simple question — then open the floor to comments.
Recurring Q&A: What is a comic you are currently enjoying?
---
ALI
What comic am I NOT currently enjoying is probably a better question, because I'm pretty much in love with everything I've been reading lately. Always on top of my to-read pile are: Daredevil, The Flash, Fury Max, Hawkeye, Journey into Mystery, Mind the Gap, Rachel Rising, Saga, The Sixth Gun, Uncanny X-Force, Uncanny X-Men, Wolverine and the X-Men, and Wonder Woman. I know, that's a lot of titles. But seriously, they are all really fantastic and you should check them out if you're not already reading them.
I was planning on gushing about Hawkeye because it's just the coolest damn comic ever, but Sam gives it some well-deserved love below. So instead I'm going to gush about Wonder Woman.
The thing with Wonder Woman is, not only is it SO FREAKING GOOD (because it totally is), but it's also the first time the title has been this good since I've been reading comics. So as I Wonder Woman fangirl, this is like the best thing ever for me. I do a happy dance every time I read it.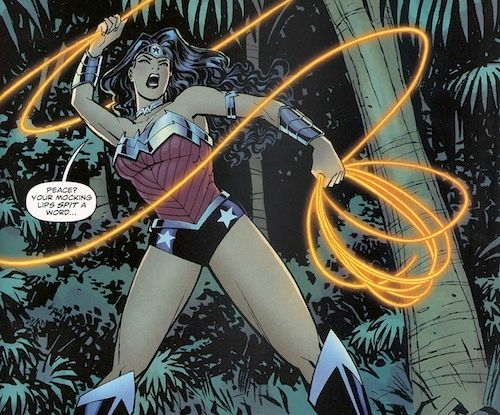 Aside from that, this comic is SO FREAKING GOOD (see above). And not just for a Wonder Woman comic. For all comics. While he is sort of telling an origin story for Diana, Brian Azzarello is doing this amazing, effed up crime family drama with the Greek gods. And the designs Cliff Chiang has done for the entire pantheon, on top of the his stellar sequential art in the book, is just completely out of this world. I can't even… he's just so freaking fantastic. Matt Wilson's colors are always jaw-droppingly gorgeous. And Tony Atkins is brilliant when he's "filling in" on pencils. The book is beautiful, is what I'm saying. On top of that it's just SO FREAKING GOOD!!!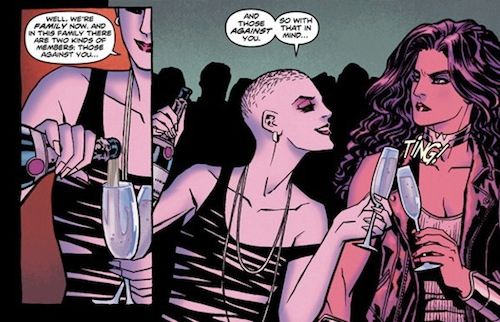 ---
CAROLINE
I'm basically the anti-Ali right now.
It's not that I'm not enjoying any comics, but I'm at one of those stages in the enthusiasm cycle when let them pile up on the table for a week or so. When I finally get to them, I'm more likely to react with, "That's kind of neat," and file it away, rather than run to Twitter crying, "Oh my God, everybody, check this out!" I'm digging X-Factor and Hawkeye and Captain Marvel and Batwoman, among others, but I haven't done much shouting from the rooftops lately.
Let me grab a rooftop, then, to mention the Vertigo book Fairest, a spinoff of Fables. I have an on-and-off relationship with the Fables franchise. I didn't pick up Fairest when it first came out, so I only have a vague idea of what the premise of the series is suppost to be (something about princesses?) However, I discovered that the current arc is being written by Lauren Beukes, the author of Zoo City, a novel I very much enjoyed.
Beukes's arc stars Rapunzel, and sends her on a mission to Japan. The story touches on common elements that connect European folktales to their Eastern counterparts. Beukes gives Rapunzel a compelling mission, while artist Inaki Miranda's vibrant layouts and Eve De La Cruz's brilliant colors create a unique fusion of modern and mythological worlds.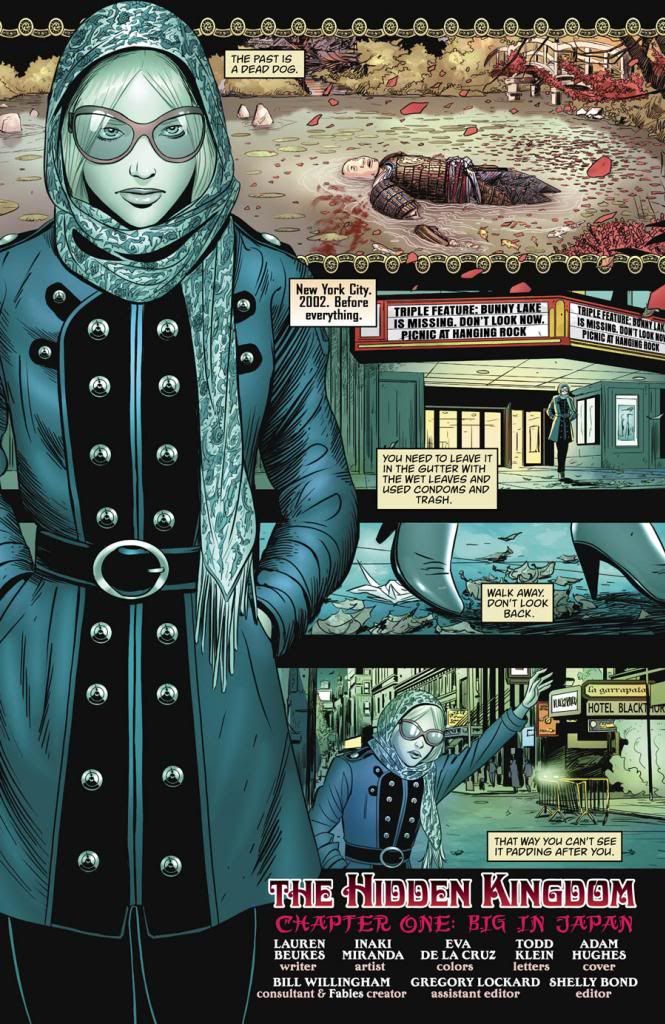 Whether or not you're a regular Fables reader, this story stands nicely and memorably on its own. I'm not sure if I'll stick with Fairest when Beukes's run is over, but it's nice to discover something genuinely new to me, and remember what it feels like to say, "Hey, you've got to read this."
---
SAM
I'm actually enjoying quite a few titles out of DC right now, including Justice League and Earth 2. This is kind of a surprise for me, as I've never really been a fan of team books in the past. But the biggest surprise for me is Hawkeye. I really love Matt Fraction's Hawkeye. Like. In a passionate, I would recommend this book to my non-comic reading friends sort of way.
The thing is… I've never liked Hawkeye. I'm a Green Arrow fan; I like my archers emerald. I've always found Clint's attitude pretty off-putting, and I groaned when he was added as a character to The Avengers movie. Like. Literally groaned. (I remained unimpressed, but I don't really get the Jeremy Renner thing.)
But I kept hearing good things about Hawkeye, so I finally gave in and got it and OH MAN IT'S GREAT. The art makes it seem like a 70s pulp/exploitation/grindhouse film and it works so well with the story Fraction is telling, and the particular Hawkeye he's writing. And that Hawkeye is a self-deprecating, grizzled veteran of superheroing, who's totally aware that he's an ass.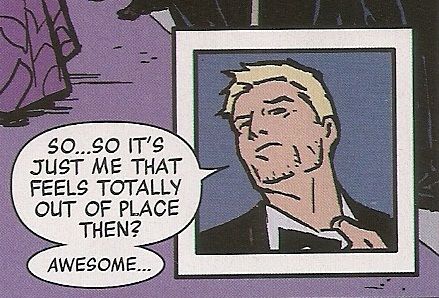 I'm anxiously awaiting future Hawkguy issues, and that's something I never thought I'd say.
---
So what about you? Recurring Q&A: What is a comic you are currently enjoying?