In Q & A, a weekly feature of Fantastic Fangirls, we ask our staff to tackle a simple question — then open the floor to comments.
Create a recipe based on a favorite comic book character.
---
ANIKA
Some nine days ago I signed a birthday card for Spider-Man dressed as Pinkie Pie the My Little Pony.
Aside: Pinkie Pie and Peter Parker have a lot in common.
danger sense
alliterative names
bossy friends with the initials T.S.
Think about it.
Some 2700 other people signed the card but you know it wouldn't be a birthday party without Pinkie Pie. WITH Pinkie Pie the only thing missing was: cupcakes!
PINKIE PIE'S AMAZING SPIDER-PRETZEL CUPCAKES! (aka the recipe so easy anypony, even Peter Parker, can follow it)
What You Need
a bag of mini-pretzels
a bag of Hershey's Kisses
a large bag of M&Ms
Your Favorite Frosting
Your Favorite Cake Mix
the ingredients needed to make Your Favorite Cake Mix (listed on the back of the box)
(1) Follow the directions on the box of Your Favorite Cake Mix to make Your Favorite Cake Mix cupcakes. Set them aside to cool.
(2) Preheat the oven to 300 degrees.
(3) Place mini-pretzels in rows on an ungreased cookie sheet.
(4) Place a Hershey's Kiss on each mini-pretzel.
(5) Place the cookie sheet in the oven for 3 minutes.
(6) Use an M&M to smoosh the tip of each chocolate Kiss creating Amazing Spider-Pretzels.
(7) Frost Your Favorite Cake Mix cupcakes with Your Favorite Frosting.
(8) Place an Amazing Spider-Pretzel on each cupcake.
(9) Enjoy!
---
GABBY
Loki is angsty. Loki feels lonely. Loki is a frost giant.
I think Loki needs some ice cream.
Ok, so he's a little bit evil and wants to kill people and become master of the Universe and and and… But I like to think of him as a villain with a twist. So I'll be making him mint ice cream with lemon zest.
For best results, use an ice cream maker. Here are some instructions for those of you who don't have this piece of machinery.
Ingredients
– 2 cups 2% milk
– 2 cups heavy cream
– 1 cup sugar
– ½ teaspoon salt
– 1 teaspoon vanilla extract
– 2 teaspoon mint extract
– 3 drops of green food coloring (optional – but it is very Loki)
– Zest from one lemon
Directions
1. Pour all the ingredients in a large bowl, and stir them all together until the sugar has dissolved. Color with the food coloring.
2. Pour the mixture into your ice cream maker, and freeze according to the instructions of the machine, or follow the "at home" method.
And voilà! A fresh, zingy, cold treat for my (second) favorite Asgardian (because Lady Sif is first, duh).
NOTE: I didn't actually try this recipe because I'm a broke student. But I did follow and tweak a legit recipe so I'm not poisoning you or anything. Loki would, but not me.
---
SAM
I'm going to skip Ollie Queen, because it's my opinion that he'd be a glass of bourbon on the rocks, and that's not much of a recipe.
So instead, the Bart Allen! Impulse version. It's also a bit simple, but IMO the best drinks are.
2 parts cranberry juice
1 part orange juice
3 parts Red Bull
If you want the alcoholic version, add a shot of AfterShock. I suppose you could do sugar free Red Bull, but that sort of defeats the purpose of drinking the liquid version of Bart Allen.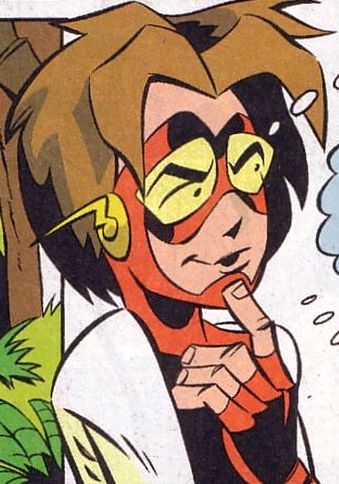 ---
SARA
When I saw this prompt for our weekly Q&A, the comic book character that I thought of immediately was Jaime Reyes, aka Blue Beetle. People who know me know that Jaime is my precious baby boy and I love him to death (and I love him even more after Sam pointed out that he should be played by Tyler Posey in the Justice League fancast Q&A a couple of months ago). He's so sweet and funny and adorable, I have a hard time not hugging my screen when he's on it—let's be real, though, I totally do it every time.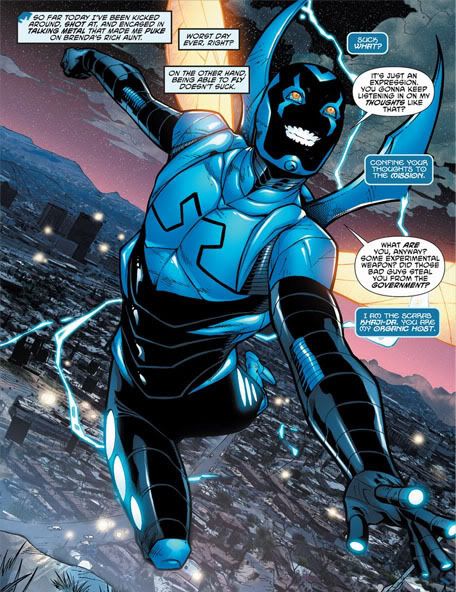 The reason I picked Jaime though, over any of my other adored characters was I knew that this prompt elicited a response that involved families. Food is the greatest way that people in my culture come together and I know it's true of a lot of other ethnicities as well. People can't yell or argue if their mouth is full (otherwise beware the wooden spoon of death!) and it's become a means of survival and familial bonding.
So why Jaime? Simple. So much of Jaime's character comes from the strength and love afforded to him by his family and I love that about him.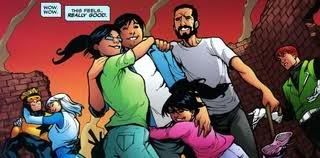 Given that I figured out who I was going to write about, I spent some time thinking about the perfect recipe (thanks to Mikayla and Mikayla's friend for all your help, by the way!). After some soul-searching and wracking my brain, I remembered an event I had forgotten for years. My best friend in elementary school was a girl named Angelica. Angelica was Mexican and I was Syrian and we truly bonded over our shared love of DA from the Magic School Bus. Anyway, one day, Angelica invited me over for dinner and I gladly went. We had her mom's world famous chorizo tamales and I went nuts. They were so good.
My reason behind picking tamales as a recipe to represent Jaime is two-fold: 1) the corn husk mimics the hard shell of a beetle and protects the (delicious) tender interior (and who more tender than my precious ball of sunshi—ok, ok, I'll stop) and 2) Tamale making is a family event. When they are made, they are made in HUGE quantities. So, kids and adults alike get their butts into the kitchen to assemble those tasty pieces of corn heaven. This is a tradition I can see the Reyes family take part in and it's why I chose it.
So, without further ado, below is a recipe for chorizo tamales adapted from Epicurious. Why adapted? Well, because of the retconning of the Blue Beetle mythos and origin story, the scarab that provides Jaime with his powers is of alien origin. I decided to incorporate that into the recipe by adding spices and flavors alien to traditional Mexican cuisine. Additions in bold, so if you would like to be less risky in this culinary undertaking, just disregard them!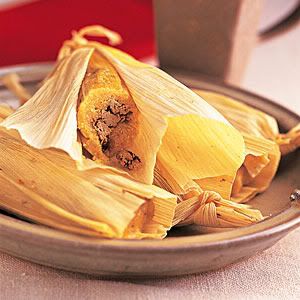 Chorizo Tamales
36 dried corn husks
2 cups frozen corn
2 tablespoons olive oil
2 tablespoons pomegranate paste
3 teaspoons salt
2 chipotle chilies
2 tablespoons adobo sauce
2 tablespoons sumac powder
1/2 pound ground chorizo sausage
2 pounds finely ground cornmeal
1 tablespoon baking powder
3/4 cup vegetable shortening, melted and cooled
1 to 3 cups chicken stock
1. Soak 24 of the husks in warm water for 1 hour. Tear 2 husks lengthwise into 24 (1/2-inch-wide) strings.
2. Toss the frozen corn with the oil, pomegranate paste, and 1 teaspoon of the salt, then spread it over a cookie sheet.
3. Roast in a 400°F oven until golden brown, about 20 minutes.
4. Puree the chilies with the adobo sauce and sumac. In a small bowl, combine the chorizo and chili puree.
5. In a large bowl, combine the cornmeal, baking powder, and the remaining salt. Add the shortening, chorizo mixture, and corn. Stir in the stock gradually until the mixture has the consistency of mashed potatoes.
6. Spoon 1/4 cup of the filling into the center of each husk. Roll to form a cylinder, fold the ends over, and tie with the husk strings.
7. Line a steamer with some of the remaining husks, add the tamales, and cover with more husks and the lid. Steam until tender, 1 to 1 1/2 hours.
Also, bonus drink! Because Jaime often teams up with Booster Gold, I thought to myself, "Why not add tequila to the mix?" So, if you are over the age of 21, try this on for size!
The Booster Gold
1 ounce José Cuervo Gold Tequila
1 splash of lime juice
Fill to top of glass with orange juice
Garnish with lime wedge
Enjoy!
---
So what about you? Create a recipe based on a favorite comic book character.