In Q & A, a weekly feature of Fantastic Fangirls, we ask our staff to tackle a simple question — then open the floor to comments.
What is your favorite comic book character's costume?
Anika
My husband is an artist and in fact a costume designer. Which means I look at costumes with a somewhat more critical eye than the casual observer. I think, "what does this SAY about the character? how does it fit into this person's reality? could this outfit actually be achieved in real life? could she do THAT insane thing she just did and have an intact uniform at the end of it?" And perhaps because the answer to those last two questions is so often "no" and the answer to those first two questions is so often confused at best… I nitpick pretty much every costume out there. And while "favorite" is something other than "best," it is still hard for me to pinpoint one I even really really like.
But there is one costume that has stood out in my mind since the first time I saw the page:
Sandman's Delirium, as I am certain surprises no one, is my favorite of the Endless. I love her impossible to mimic hair and her broken down baby doll style. I love the way she gains and loses color with her moods. I love her endless supply of quirky props. And in the above scan from The Wake everything comes together perfectly. The pink dress that's just that bit too small makes me think of a birthday party and the fairy wings make me think of both Heaven and Halloween. For the story of her brother's funeral and introduction, that is a deliriously consummate combination.
Caroline
Some Q & A's I can ramble on and on about, some are quick and easy. Jean Grey's classic Phoenix costume is the best costume. It's the jaunty and completely nonfunctional sash that makes the ensemble. Some people will tell you differently. They are wrong.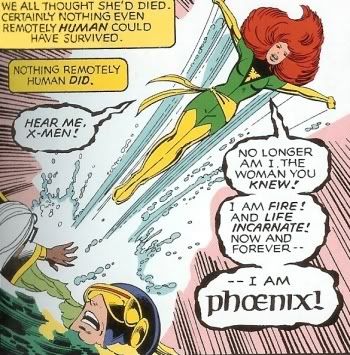 Jennifer
The actual definition of Wanda Maximoff's mutant power has become more and more muddled with time: Does she just cause bad luck and misfortune, or are her hex bolts more powerful than that? Does she actually use magic, or is everything tied to her mutation? Can her hexes go so far as to rewrite reality itself?
But to me, the answer is obvious. Wanda Maximoff's mutant power has nothing to do with magic or hex bolts. It is, rather, the uncanny ability to make red and purple-pink work together in the same outfit.
I love Wanda's costume. I love it from its simplest incarnations, just a bathing suit with boots and gloves and cape and a crazy headpiece that looks like she cut it out of cardboard, to the more complicated skirts and corsets of her modern looks. I love the way her headpieces sit in her auburn curls, I love the way the colors balance each other, and I love the long, swirling cape. Is the costume practical? Not in the slightest. But it fits her powers and personality, it's striking and iconic, and if I had the guts and the looks, I'd wear it myself.
Sigrid
Oh, god.
I tell people that my fashion sense was formed by John Romita, Jr.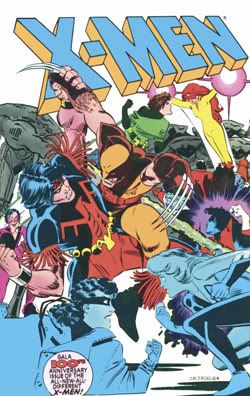 I tell people that my fashion sense was locked down in 1982. I tell people this, and they look at me in my jeans and my t-shirts and my button-downs and they don't get it, because that's not how I dress. I tell people, and they don't understand.
That's not what I wear. No. It's more shameful than that. That's what I think is attractive on women. And my favorite costumes are probably Rogue's ever-changing 1980s-wear.
I mean, who honestly thinks a full-body leotard and a half-jacket are hot? Who honestly thinks that a long-tailed mohawk is the height of fashion? Who, WHO thinks that those cuffed gloves and, and rolled-cuffed boots are sexy? And let's not even ask who thinks those ripped-out sweatshirts look good on everybody.
Me, apparently. That would be me.
What about you? What is your favorite comic book character's costume?