by Sigrid
Spoilers! This essay contains spoilers for Villains United, the Secret Six limited series, and the ongoing Secret Six title.
Not everybody gets to create a cultural trope. But in March of 1999, Gail Simone put up the Women in Refrigerators website in order to publicly discuss a concept talked about among her friends, and a comics industry folk term was born. "Women in Refrigerators," or WiR, was and is used to explain, justify, browbeat, defend, or even merely discuss a number of feminist issues in superhero comics. It's a hot button term, it's a conversational framing device, it's true, it's false — all of these things and none of them. It's 2009 as I write this. The WiR trope has shaped my adult consumption of comics. I have spent years looking for, waiting for, the times to change. I think, finally, they have. I think Women in Refrigerators can no longer be presumed to be a default fate of female characters in comics disproportionate to their numbers. And I think Ms. Simone put the headstone on her trope when she created The Secret Six. Beginning with the publication of Villains United and continuing through the Secret Six limited series and into today's ongoing Secret Six title, Gail Simone has made a team that treats women and men the same. This tattered group of villains exemplifies gender equality in comics.
I don't have data or graphs or charts. I don't have percentages of "women killed pointlessly in graphic ways" vs. "men killed, ditto." What I have to bolster my belief is an assertion I made in 1993. Sitting at a table in the Macalester College Student Union, smoking and waving my hands while playing endless games of Hearts with my compatriots, I remember declaiming that "I'll know queers are accepted by mainstream culture when movies stop treating us as so damn precious." It was 1993 and the politics of ACT-UP and Queer Nation were all the rage at Macalester, along with pop culture, media studies, homegrown grunge bands, and getting laid. Going to see the latest GLBT films and then critiquing them in front of women I wanted to get to know better was practically my major. But my comic book roots always assert themselves. I went on to say, "and it's not just gays and it's not just movies. We need more strong women characters in comic books. I want to see a lesbian villain! Who's not white! When minority groups are treated in comics as if they were the same as white guys, that's how I'll know I'm not a fringe element anymore."
I've held to that view. I've held to it and refined it. I don't want the exact same numbers of men and women in comics — I want the sex of a character to be appropriate to the story at hand. I don't want all the women to be saints, or all the women to be smart, or all the women to be strong. I want women in comics to be scattered across the range of ability, ethics, and character. I want women to be hurt and killed about as often as the men are, in comics, and for reasons that are important to the plot at hand. Superhero comics tell violent tales. Everybody gets punched in the face, everybody gets their costume shredded. What I wanted in 1993, and what I want now, is for the costumes of men and women to get shredded for similar reasons and with similar values of cheesecake, sex, vulnerability, and objectification.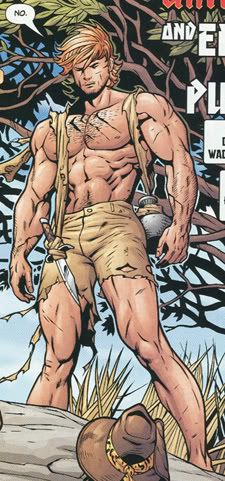 In DC Comics' Secret Six, Gail Simone has done this. One of the most common measures of objectification is nudity. In this comic devoted to the exploits of a team of supervillains, the re-imagined and very buff Catman loses his clothes about as often as any of the female characters. Certainly more than Scandal, the daughter of Vandal Savage, does, even though her outfit is mid-riff baring to begin with. But Catman — oh, my. He's portrayed slouching around in semi-tight cotton jersey gym shorts and nothing else, for no real reason other than he's a hot, sexy, nearly-naked man. Scandal, at least, gets naked for plot reasons or to have sex with her girlfriend-and-former-Fury, Knockout.
And let's talk about the sexuality of the Six. It's long, long been a "truth" of comics that heroes kiss for love or romance, villains kiss to threaten and own, and black sheep or redeemable rogues kiss because they like kissing. In Secret Six, our villains just like sex. And the kinds of things that turn them on are . . . varied. The sort of thing one might find in a Savage Love column. This, according to the Super Sekrit Code Of Sexual Desire and Bad Guys means that they are villains. Good Guys are not fetishists. Good Guys, in comics, do not form erotic attachments to hats. Or surgery. But both the men and women are portrayed as actively pursuing their sexual satisfaction. Everybody in the Secret Six wants to get laid, my friends. Everybody.
Conversely, both the men and women of the Six succumb to romance. Scandal and Knockout are deeply in love. But former-Bat-villain Bane has a perverse and deeply romantic (possessive, stalker-y, over-controlling) love for Scandal. Deadshot has a family. Catman keeps falling for the women he works with, in addition to wanting to knock boots with the nominal good guys — Huntress catches his eye, for instance. And both the men and women are devoted, unfaithful, bitchy, sweet, and homicidally jealous in turn. When Deadshot sleeps with Knockout, Scandal tries to take him out.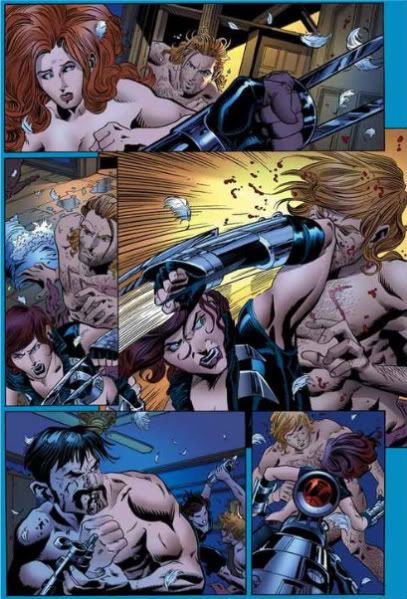 Note, if you will, that Deadshot, Knockout, and the intervening Catman are all naked. Scandal is clothed, armed, and smashing both Deadshot and Catman in the face. It begs the question as to what, precisely, the audience is supposed to objectify in the scene. The naked men? The naked woman? Or the clothed, vengeful, murderous Scandal Savage?
When it comes to death and maiming the Secret Six are also gender-balanced. The Mad Hatter is "killed," for the usual comic-book-main-character value of killed. So is Knockout. Deadshot's family is threatened. The whole team is poisoned. Everyone double-crosses everyone else. Bane is tortured.
Bane is tortured, interestingly, to further Ragdoll's storyline. This, this is the traditional complaint of those who rightly point out that WiR plots are demeaning and dismissive of women — that the women who are hurt and killed are injured merely to make a male character's story move forward. In the current arc of Secret Six (the ongoing title, not the six-issue limited series,) Bane is kidnapped, crucified, and tortured in order to blackmail the team — but also, and especially, to get to Ragdoll. Both Bane and Ragdoll are male. The instigator of the torture is an enigmatic villain know as Junior.
Junior, it turns out, is Ragdoll's sister. Yes. Sister.
Secret Six has it all, then. Equal objectification of men and women. Violence, death, and maiming in equal measure. Gorgeous female antagonists, like Cheshire, and hideous ones such as Junior. Scheming male antagonists like Lex Luthor and weak, mad ones like the Hatter. When I, in 1993, envisioned feminist portrayals of women in popular culture, I must admit . . . this is just about what I had in mind. Variety. Good and bad, strong and weak, gorgeous and hideous, all in equal measure. Women as protagonists of their own stories in balance with supporting roles in the stories of others.
This is activism. Whether Ms. Simone wrote this in a deliberate attempt to foster gender equality or not — and, listening to interviews with her it's not clear to me what her intentions were (other than to get Nicola Scott to draw a naked Catman) — really doesn't matter. Activism, changing the world is not always done through manifestos and declamation. One can raise a question, one can take a stand, but once people agree that change is needed — well, people need to then make the change. Secret Six is, for my money, one of the best examples of a feminist vision of equality in mainstream superhero comics today. Script by script, panel by panel, Gail Simone is ending the dominant, hegemonic position of the Women in Refrigerators trope. This, this is how you kill a refrigerator.
Email: sigrid @ fantasticfangirls.org
Twitter: sigridellis