This post contains spoilers for Christopher Nolan's Batman trilogy.
Anika: I had low to no expectations going into this film. I love Batman Begins but I have a lot of issues with The Dark Knight and nothing about the previews enticed me. I don't like Catwoman and I worried about a lot of superfluous characters getting in the way of the story I wanted to watch: The Revenge of Talia al Ghul. I spent most of the build up to the premiere trying to convince myself that I didn't care, but two days before the movie opened I realized it wasn't working. I really, really, really wanted to watch The Revenge of Talia al Ghul.
In that, I'm happy. Her plot could have been handled better — simply introducing Miranda Tate in the second film would have helped — but her characterization was spot on. Plus I actually loved Anne Hathaway's Selina, none of the many characters came off superfluous, and watching this third installment made me appreciate the trilogy more. Especially what it has to say about Bruce Wayne, and about Batman. I loved the ending. But I'm still processing my thoughts and feelings about all the rest.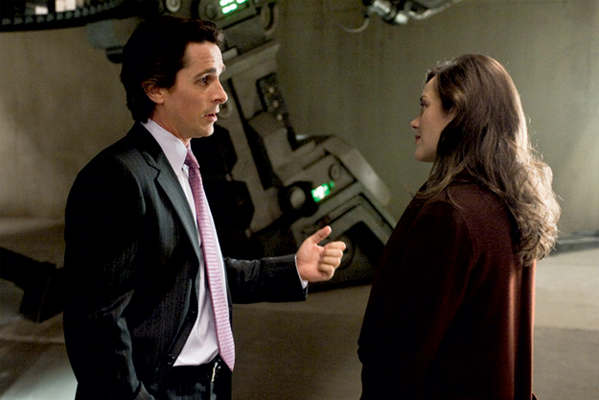 Caroline: I'm not sure what I was expecting going into The Dark Knight Rises. . .and I'm still not sure what I watched, so I guess that's fitting.
I've been thinking a lot about the recent wave of superhero movies. I recently dug up the journal I was keeping when I first watched Batman Begins, and it reminded me how completely fresh and original that movie felt in 2005. It was a superhero story, but in a very back-to-basics way where it was less about gadgets and effects than the evolution of this single character. When Marvel made Iron Man in 2008, I think they were scrambling to keep up, and were trying to make a movie in the mold of Christopher Nolan's Batman franchise.
But then Nolan went and put out The Dark Knight and changed the game. Now I'm not saying Nolan improved the game. Iron Man is one of my favorite movies, and God knows there's a good argument that The Dark Knight has been overpraised. But Nolan jumped from a focused origin story to a sprawling movie about an entire society. The movie is driven by the Joker and Harvey Dent and Jim Gordon and the people of Gotham. Sometimes Batman hardly seemed to be in it at all. I have some very specific issues with TDK — the death of Rachel Dawes is embarrassing, and I still have no idea what that showdown over Gordon's son is supposed to accomplish — but there's still so much in the movie that I like. I love that it's a story about the systems that keep a city going, and I'm fascinated by the exploration of what happens to those systems when you throw a chaotic force like the Joker into them.
So that brings us to The Dark Knight Rises. I was expecting Nolan to put all the pieces together, but I suppose I was expecting more continuation of The Dark Knight. Instead, it feels like a return to Batman Begins. That shouldn't bother me, because I liked that movie, too, but — I don't know. In Bane, we've got an antagonist who echoes the Joker's methods, but R'as al Ghul's goals. And I literally had to go back to the first movie to figure out what R'as's goals were (and honestly I'm still not sure.) The end result, I think, is to retroactively diminish the Joker's impact as an antagonist, without bringing anything new to the table.
I could be missing something, though. Anika, you've been plotting Talia's revenge for the past seven years. What do you think she and Bane are after? Or am I asking the wrong question?
Anika: Balance. Balance is what they are all after. Ra's and Talia say it explicitly; Talia even did so under the guise of Miranda, which I appreciated. I wasn't looking to be surprised by a Talia reveal, I wanted her to be clearly Ra's's daughter throughout and she was. I did have a secret hope that she was also Rachel Dawes — Marion Cotillard resembles Maggie Gyllenhaal enough for this to be plausible to me — that Ra's had planned the whole thing from their childhood, planting a cuckoo… But I love that Talia's backstory ends up being a mirror of Bruce's. She was born with nothing and gained her father, wealth, and power, and he was born with everything and loses it all. Balance again.
But it extends beyond the League of Shadows. Harvey's character basically personified balance. The Joker and Bane encouraged the masses to take control so everyone is counted in the same way. Thomas Wayne wanted to raise the whole city up closer to his level. Selina went on about the imbalances between the rich and poor. Rachel shouted that "Justice is about harmony" and it sent Bruce running for seven years.
Bane wanted to follow Talia and Talia wanted to exact revenge and finish what her father started, and if we're to believe Alfred, it's what the Joker wanted, too. Talia wanted to watch Gotham burn. Her goal was to level everything so it may rise again, stronger, from the ashes, like she did.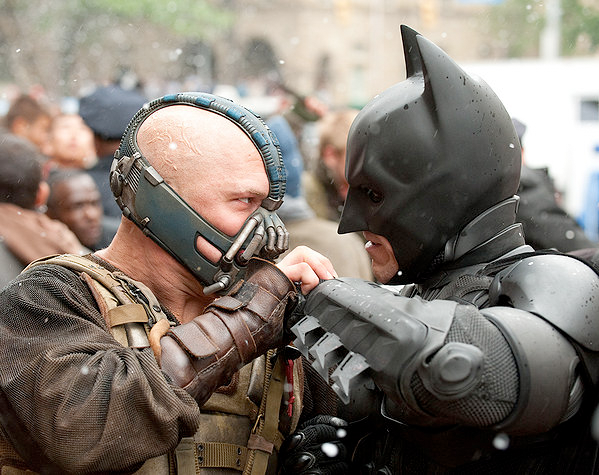 The disconnect I have is with the street brawl between Gotham's finest and Bane's army of miscreants. In The Dark Knight the Joker sets up the average people of Gotham with prisoners and both sides choose not to kill anyone. Not to fight. But in The Dark Knight Rises we get the GCPD plus Batman and Catwoman beating down a mob made up of a guerrilla version of the League of Shadows, a bunch of prisoners that were mistreated by the legal system under the Harvey Dent Law (whatever that is), and quite possibly some random Gothamites who decided to answer Bane's call sometime in the five months they were under siege. And Gordon, the best of Gotham's police force, admits to Blake that even he has been corrupted. So it's a brawl between a spectrum of grey characters and it makes me extremely uncomfortable. Which could very well be the point and lends credence to the al Ghul goals but I don't like it.
I think I'm just too much of an idealist for the Nolanverse.
Caroline: You know, I have to agree with you about that, which I wouldn't have said after The Dark Knight. I'm not that much of an idealist for one thing. But even if I had been, I didn't think that The Dark Knight was a fundamentally cynical movie. It was quite a big point in that film that the Joker is sometimes right about people, but sometimes — important times — he's also wrong.
Here, like you say, the cops and the convicts become rival gangs, everybody trying to work within the system is tarnished, and the tarnishing is treated as justification for Robin Blake going outside of it at the ending. That frustrates me because I like the idea of Gordon as a good cop making the best choices he can in a corrupt system. Here he ends up being basically shamed and apologizing for what seems like an understandable lie. What difference does it make to Gotham how Harvey Dent died? If the Dent Act is supposed to represent some corruption of due process that allowed Gotham to clean up its streets at the price of Gordon's integrity — well, it seems like the problem is the law, not the lie. There was a lot of that kind of thing, where the movie's moral compass seemed to be just a bit off. Though on the other hand, I appreciated Alfred's apology for hiding Rachel's letter almost enough to forgive him for doing it.
Now, speaking of Rachel — I love the idea of revealing a connection between her and Talia, but that wasn't to be. I've come to appreciate Rachel's role in the first film, particularly, more and more on repeated viewings. I wonder if John Blake is here in part to fill the role that Rachel did in the first film. He's an original-to-the-movieverse character who serves to ground Bruce and remind him where he came from. I admit I was distracted by his early scenes, wondering why his function couldn't have been filled by Renee Montoya, the best-known uniform officer turned detective in the Batman universe. But even putting that aside, I couldn't quite figure out where to slot him.
What did you think of Blake's character? Good idea, bad idea? Does he do anything to fill the idealist quota for the film? (Don't worry. Once we get done with him we can talk about Catwoman.)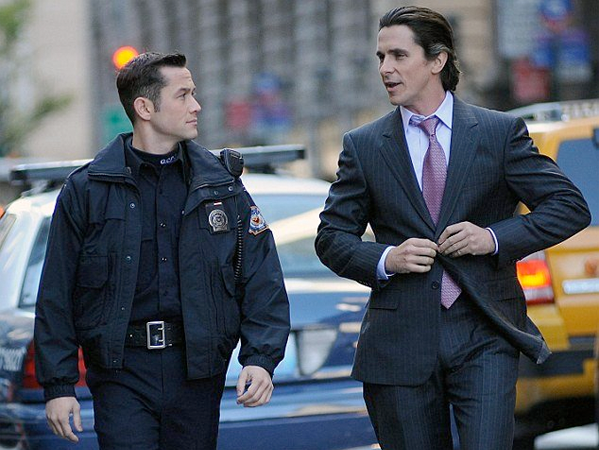 Anika: I liked Blake. As soon as Bruce said "anyone can be Batman" I knew Blake was going to end up in the suit but I liked to watch his journey to it. And I think you're right. He does fill that same purpose as Rachel, and yes he is idealistic. Seeing that it bugs me that Rachel is killed off by harsh reality and Blake is set up to fight it. But Blake's character is driven by (and possibly consists of) his relationship to Bruce, and to Gordon, so he isn't necessarily better served than her.
I was honestly a bit dumbstruck when Joseph Gordon-Levitt launched into a monologue to describe how he knew Bruce Wayne was Batman (how anyone didn't know, I'm not sure since Bruce and Bats both disappeared and reappeared from public sight at the exact same time?). But by the end of that exchange I was interested in the character. I wanted him to be Robin. So I vote good idea because John Blake has the potential to be "the hero that Gotham needs". He seems made of stronger stuff than Harvey Dent and he's not as removed as Bruce Wayne is. Bruce is such an introvert.
Caroline: You make a good point that it's hard to dislike Blake. He doesn't have any notable character flaws, but he's not obnoxious about it or unrealistically good at everything in way that makes people cry, "Gary Stu." He's set up to take over as Batman at the end, and he's much more well adjusted about it than Bruce. Which, well. . .
Is that what anybody wants to see? A well-adjusted Batman? I realize there's a point at which there's a risk of fetishizing a character's flaws, and I never get the point of bashing characters as boring just because they're well-adjusted. On the other hand, there's no point in denying that darkness is part of what draws people to Batman as a character. Blake hardly even exists as a person, except as a reflection of Bruce and Gordon. It's hard to imagine Blake as a hero in his own movie, since he doesn't have any apparent internal conflict — and hardly any external conflict really. He calls Bruce out on his identity and Gordon on his lie and the response is basically, "Gee, buddy, you're right. What can we say?" I don't see how you get even a 90 minute movie out of the guy, barring a personality transplant.
On the other hand, I'd watch an Anne Hathaway-as-Selina Kyle movie any time. Right now, can I get one right now? This doesn't come as any shock. Anne Hathaway is in my top tier of actresses, and I've loved Catwoman since the Michelle Pfeiffer movie, and Selina, along with the cops of Gotham Central, was my gateway drug into the DCU. Still, it's gratifying to see her getting such universal kudos (even from a certified nonfan of the character like you, Anika).
I might go so far to say that Hathaway's Selina already had her own movie, because every scene she was in seemed to have dropped in from a different, livelier universe. Batman Begins had its share of laugh lines — Bale even gets most of them — but The Dark Knight is almost universally dour. TDKR threatens to repeat that, except when Selina's on the screen. She still has her share of, "There's a storm coming," and "You should be as terrified of Bane as I am!" to say, but for the most part, she looks like the only person on screen allowing herself to have a good time. (I was particularly fond of the "Do those shoes hurt?" "I don't know, do they?" exchange, punctuated by Selina basically stabbing a dude with her spike heel.)
I wouldn't go so far to say she and Bale have chemistry, but then I keep straining to think of the last time Bale portrayed convincing sexual chemistry on screen. (For what it's worth, I keep coming up with Jack and David in Newsies.) It does seem to liven him up, though, to have a co-star with whom he can trade banter rather than ponderous speeches. In a world where everybody seems bound and determined to exposit their own life story, if not somebody else's, I liked that Selina's past and circumstances retained a bit of mystery.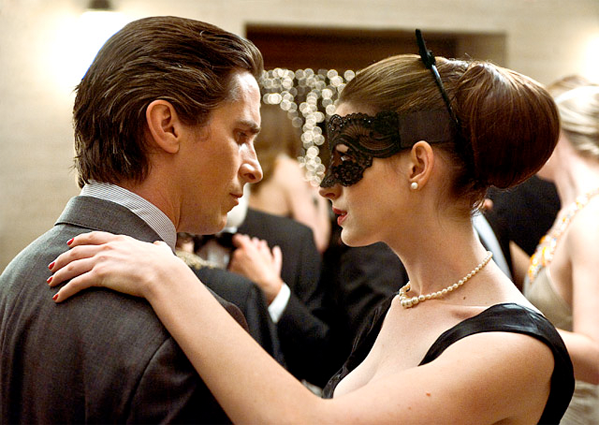 Anika: My husband and I came out of the movie saying "Anne Hathaway should be a superstar and if DC and WB had any sense they'd greenlight a Catwoman prequel right now". I have no evidence DC or WB has any sense but I did enjoy Selina. I especially liked that she was looking out for her own, for downtrodden young women, because that's something she does but not something that people know about her. My main problem with the character is how she's most often depicted as either one half of a One True Pairing (and it's not mine) or as a one note sex kitten bad girl with a heart of gold. Anne's Selina had more notes. And, this is crazy (but call me, maybe — wait, no, just kidding), but because of how Bruce was portrayed I actually like them ending up together. I like the idea that they can reinvent themselves and, well, be well-adjusted-ish. I… I think I ship it. I don't even know who I am anymore!
Except, I do. I'm the girl that likes Bruce Wayne more than Batman. I'm like Alfred so of course I can get behind Alfred's dream. Especially after Alfred's apology at the burial made me sob. Bruce Wayne is a control freak who thinks he knows what's best for everyone and it is wildly out of character for him to leave Gotham and all his toys to a kid. But I think I like it because of that. If Bruce can let himself have a happy ending, and acknowledge that the kid will be better at the job because he doesn't have all of Bruce's baggage, if Bruce can let go and move on and be okay — well, maybe the rest of us will be. Talia used the street brawl as a distraction, maybe Nolan did, too.
Caroline: Maybe. I wasn't sure about the ending — I liked the suggestion I read somewhere, that Selina and Bruce aren't a couple, he's just helping her plan a heist. For great justice, of course.
I did appreciate Alfred's dream for Bruce — when I wasn't getting distracted by how much it's like Ben Affleck's big emotional speech in Good Will Hunting –but I don't know how I feel about the movie expecting the audience to share it. It's not Batman or Bruce I care most about. It's Gotham, so Bruce outside of Gotham is something I greet with a shrug. (Though I'd totally watch a movie starring Christian Bale and Anne Hathaway as ambiguously involved international jewel thieves, staging capers for great justice. Get on that, Hollywood!)
On the other hand, I don't know what kind of ending I would have wanted. How do you put the cap on a franchise about a character whose story has been told and retold, with infinite variations, for over sixty years? If I came out of this film feeling like Batman's story was over, then I would be disappointed.
Now. Time to start counting down to the reboot.