In Q & A, a weekly feature of Fantastic Fangirls, we ask our staff to tackle a simple question — then open the floor to comments.
What does a favorite character/team do to escape the summer heat?
---
Anika
I am pretty certain that under the Superhuman Registration Act all superhumans with any variety of "ice" or "cold" or related abilities were required to sign a separate document stipulating they be on special duty during heat waves or related incidents (natural or supervillain created). While the Act itself was rescinded these contracts are handled separately, extended and given to anyone who hadn't signed up the first time, and still in effect during the legal battle to have them overturned. It's a long process because this thing called Summer happens every year and the city is sweltering…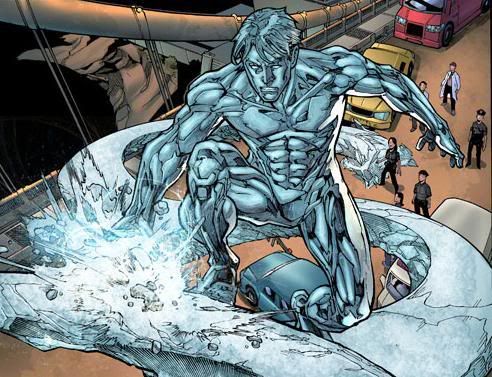 ---
Caroline
I'm imagining the crew of X Factor Investigations in their New York City office with a busted air conditioner. Lorna, Monet, Theresa and Layla are all stripped to short shorts and bikini tops. (Guido would really like to make a remark about it but he knows better when he sees the look M is giving him.) Rahne, with her wolf metabolism, is not hot and so carries on as usual.
Pip the Troll advocates that Madrox create enough dupes to serve as cabana boys, fetch drinks, and fan off each of the other members of the team. Monet and Lorna like this idea, especially. Havok does not.
Layla, who knows stuff, looks at the weather forecast claiming the heat wave will break tomorrow and says, "Don't count on it." Longshot, however, insists that
Nobody knows where Rictor and Shatterstar went.
---
Jennifer
Jennifer is currently on hiatus.
---
Sigrid
I like to think that Carrie Stetko, from Greg Rucka and Steve Lieber's comic Whiteout, doesn't bother escaping the heat. When I think of her, I think of her on an enforced leave while her paperwork is sorted out and the agency figures out what to do with her, sitting on the beach in front of a cabin somewhere in the Carolina islands. It's over a hundred degrees and the humidity makes the air liquid, thick enough for all manner of health advisories and warnings. But I see Stetko sitting in a canvas chair, swimsuit on and sandals on the ground, sipping a beverage.
Nothing to remind a person of Antarctica, except for the unending ocean view.
Maybe Carrie turns her chair around to face the cabin. Maybe she doesn't. It probably varies from day to day.
---
So what about you? What does a favorite character/team do to escape the summer heat?