Posted by Anika
Carol Danvers has a cat. This being comics the cat is half-magic, a holdover from the House of M reality where The Scarlet Witch gave everyone their heart's desire. Carol was the most famous, most popular, most powerful, most special, most loved superhero in the land. She was called Captain Marvel and she had a cat. Soon after her return to the main continuity, an identical cat adopted her. If she never shows up in another panel I will still always imagine her sleeping on Carol's bed.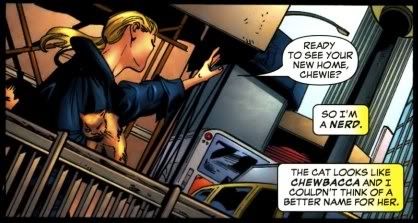 Of course Carol Danvers loves Han Solo. Carol Danvers is Han Solo. She's an ace pilot. She's a space cowboy. She's a hot shot with something to prove. She's not religious or traditional but she can be sentimental. She doesn't shoot first but she probably wants to. She plays things close to the chest, but she's furiously loyal. She's a flirt. She's a hero.
And as of Avenging Spider-Man #9, she has her own bucket of bolts.
Intentional or not, it's an implicit Star Wars reference (aside: and could also be read as a Firefly reference but Mal Reynolds is himself a throwback to Han Solo) in the comic that contains her first appearance as Captain Marvel**. Go back up to the first paragraph to be reminded what that name represents. And Peter Parker is cast as Luke Skywalker.
Peter Parker is an orphan who was raised by his aunt and uncle. He's bright and hard-working but dreams of something a lot more exciting than the life he has — and then he gets it. But it comes at the cost of his mentor, Ben. He's naive and impatient. Reckless. But he is destined to be great and determined to accept the responsibility. He's overprotective. He's insecure. He's a knight.

And their friendship is a perfect example of why I read comic books.
Avenging Spider-Man is the Marvel comics equivalent to the DCAU's Batman: The Brave and Bold in that each story is a team-up between Spidey and an Avenger. I feel this works better with your friendly neighborhood Spider-Man than the dark knight detective. It can't be overstated how much I approve of this particular team-up; I have a tumblr dedicated to Petrol (Peter and Carol). I'm also a big fan of both creators (w: Kelly Sue DeConnick; p: Terry Dodson). My opinion is so biased I'm not going to review the issues beyond saying: you should pick this up and read it for yourself.
Addendum: An argument could be made that Peter is both Luke AND Leia. Leia is better at quips! But how's about this idea: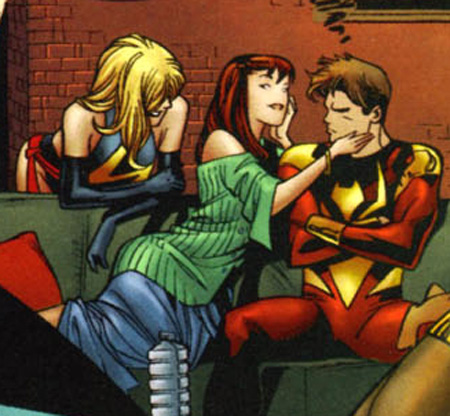 *It's crazy but I wrote part of this essay as a list started in December of 2009 and I'm not the only one who thinks this way!
**Captain Marvel (Deconnick/Soy) is out this Wednesday!
–
Posted by Anika
email: anika@fantasticfangirls.org
twitter: magnetgirl