In Q & A, a weekly feature of Fantastic Fangirls, we ask our staff to tackle a simple question — then open the floor to comments.
Tell us about villains!
---
Anika
Last week my family watched all five of the lead up films to Marvel's The Avengers to get excited for the film. We watched Captain America on Thursday, just a few hours before the midnight Avengers (aside: that should be a team. The Midnight Avengers!), and I had an incredibly bipolar reaction to the film. If the heroes were on screen, particularly Bucky, I was riveted. When it was just the villains, I was bored. When Aeris wanted a drink in the middle of the Steve and Erskine on cots scene I paused the movie; when I wanted a drink a few scenes later I got up and left the room, my brother asked if he should pause it and I answered, "No, I've seen it. It's the villains. I don't care."
I want to care about the villains. I want them to be complicated. The Red Skull and Hydra are just pure evil. Literally faceless. I don't care. And then I don't really care that Captain America defeats them. It diminishes my attachment to the story and the hero.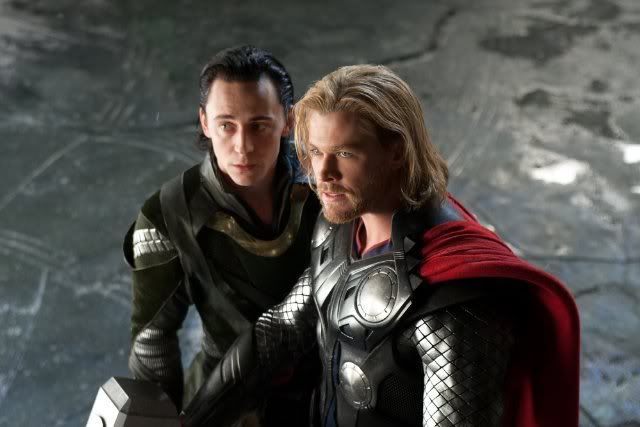 And that's why I like Thor best. Nothing in Thor tops my love for Pepper and Tony, for example, but Thor has one thing none of the other five do: Loki. Thor has a villain I care about it. Stane from the first Iron Man film is next best because he has the prior relationship to Tony, but Loki has a relationship to Thor AND a motive I relate to AND a character arc of his own. I'm not rooting for Loki to win, but I am rooting for Loki.
---
Caroline
My favorite villain from the recent wave of superhero movies has to be Justin Hammer, as played by Sam Rockwell in Iron Man 2.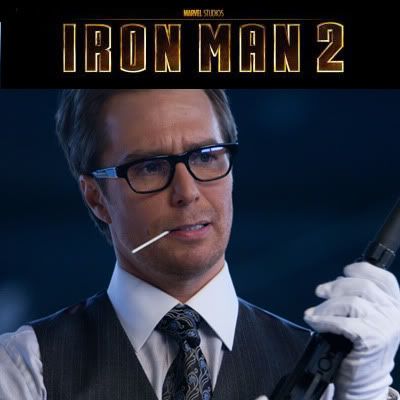 That might be an odd choice because Hammer, on the grand scale of things, is not all that villainous. Sure, he'll resort to violence — against people and property and parrots — to get what he wants. He has a secret lair, and a quirky wardrobe, and a collection of weird habits, as though he's making a, "Who Wants to Be a Supervillain?" audition film, but his heart's not really in it. At the time the movie came out, I joked that Hammer could just as easily be auditioning to replace Michael Scott on The Office as bidding to take over the world.
Hammer is a compelling antagonist for Tony Stark because he comes out of the corporate world where Tony lives much of his life. The every day evil Hammer embodies doesn't see itself as carrying out a sinister agenda. Hammer just wants to get ahead, and anything else is collateral damage. Since Iron Man 2 is largely concerned with situations where Tony's selfish recklessness causes harm to other people, Hammer serves as a compelling mirror of what Stark could be if he loses sight of his heroic mission.
Plus, I really like those ridiculous suits.
---
Jennifer
I'm not a big fan of villains. I'm attracted to heroism, especially the undiluted heroism of characters like Captain America, and villains are the opposite of that. Villains are about selfishness rather than selflessness, jealousy and greed rather than magnanimity. Villains are everything I fear inside of myself, but never want to let myself be — characters who embody the violation of my inner moral code. I don't get visceral pleasure out of watching villains, the way I gather other people do, because to me they represent everything I most fear: misdirected passions, selfish justifications, blind rage that pays no attention to collateral damage, and the dismissal of that little voice in your head that says, "No, you don't want to snap at that person who cut in front of you on line, or steal that pack of gum from the drug store, or hog an extra bus seat for your backpack, or do any of the million other self-serving things you could probably get away with if you didn't care about social cohesion and karma and fairness."
This may be why my favorite stories tend to be villainless — or, if absolutely necessary, dependent on faceless, silly, and/or purely-evil villains whose motivations you don't have to think too hard about. I like survival narratives, or stories about interpersonal conflict where each person is a little bit in the wrong but no one is malicious, or battles against Nazis or robots or alien invasions or MODOK. I like mind-control narratives that result in blameless havoc, or stories about coping with the unavoidable.
It's possible I've chosen the wrong genre to be a fan of if I feel this way. But as long as comics keep giving me the heroes I love, I'll put up with the villains I don't.
---
Sigrid
I believe that the strongest heroism is found in people who understand how close they are to being villains.
Now, I understand that there are models of heroism that do not share this. Steve Rogers as Captain America is a good example of a clean sort of hero. But I am drawn more to the Magneto, Huntress, Stephanie Brown, Emma Frost sorts of heroes.
Reformed villains make the best heroes. They know evil because they have done evil. They know it from the inside out. And, somehow, they have found the strength to walk away from it.
Villains are my favorite heroes.
---
So what about you? Tell us about villains!