In Q & A, a weekly feature of Fantastic Fangirls, we ask our staff to tackle a simple question — then open the floor to comments.
If you could give one character a comic book series with the longevity of Superman or Batman, who would you choose?
---
Anika
I would choose not to.

I prefer a rotating spotlight. Everybody gets a moment and then they move to supporting status as someone else steps up. It's probably why I like team books best. So I choose more limited series, that are designed and announced as limited not turned into limited when they're cancelled 5 issues in. And as long as we are talking about my ideal I'd have all the action and plot take place in the team and event books and have these rotating limited series be about what they do when they are not fighting (or committing) crimes.
---
Caroline
I interpret this question as, "Who is a character that should always have a book, no matter what, and will be able to sustain relevance even as the world changes?" I have to go with Natasha Romanova, Marvel's Black Widow. Natasha is a skilled spy, whose abilities are as adaptable as her loyalties. She has also (last time I checked?) been given the Nick Fury anti-aging treatment so that she both has an excuse for staying young and spry for the foreseeable future, and has a potential for flashback stories set in any era that rivals Wolverine's or Winter Soldier's.
In reality, Natasha has mostly been used as a supporting character, doesn't have that many 'iconic' storylines (and those are mostly interactions in other characters' books), and doesn't even have a particularly well-developed personality. (Based on a Google image search, her best-known trait seems to be 'doesn't zip her top up all the way.')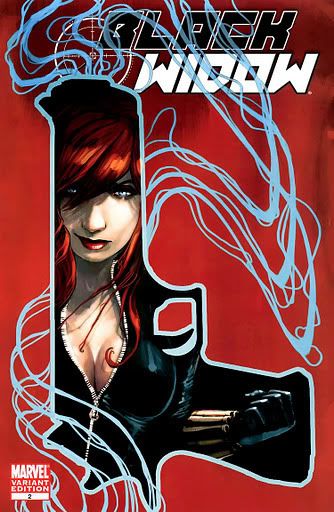 It would be great if we could have a Black Widow book that would stick around.
---
Jennifer
My interpretation of this question is a little different from Caroline's. For me, "longevity" means that the character would have had a book from the 1930s consistently to the present day, and be at something like issue 900 at this point in time. The reason Superman and Batman are such huge cultural icons is that they've been around for so long, their adventures consistently on the shelves and replicated in other media. So if I could wave a magic wand and give someone else that status (or, at the very least, the status of a Silver Age-created solo hero like Spider-Man), who would I choose?
For me, the answer would have to be a character who would break the mold of the white men who (with very few exceptions) dominated the earliest ages of comics and crafted the restrictive cultural image of what a "superhero" should be. While my personal, fannish instinct points me toward She-Hulk as the breaker of this mold, I think a more significant choice would be Storm. She's never had that many solo adventures, but her character is full of fascinating back story and intriguing narrative possibilities (particularly in terms of an expanded supporting cast), and I, personally, would love to live in a world where she found a natural place beside Superman and Batman, blew people away with countless tornadoes and lightning bolts, and served over the decades to change the hearts and minds of comic book readers.
If this is impossible, though, I'd settle for a more consistent and popular publication of Wonder Woman over the decades. It doesn't hurt to dream.
---
Sigrid
Using Caroline's definition, the character I want to always have a long-running title is Jessica Jones. Jess is currently on New Avengers, and I don't know what's going to happen to her in the year's coming Avengers-related shake-ups. I don't know whether she'll be written by someone other than Brian Bendis. But I can think of a wide range of titles featuring Jessica Jones that I would find acceptable.
Jessica Jones as a private detective, continuing her investigative career
Jessica Jones as a bodyguard
Jessica Jones as a mother and partner, dealing with the craziness the superhero life brings
Jessica Jones as mentor and counselor to the next generation of heroes
Soap opera, slice-of-life, crime, superhero, or any blend of these things all sound good to me.
---
So what about you? If you could give one character a comic book series with the longevity of Superman or Batman, who would you choose?