In Q & A, a weekly feature of Fantastic Fangirls, we ask our staff to tackle a simple question — then open the floor to comments.
Who is your favorite non-canon couple in comics?
---

Anika
I thought Carol Danvers (Ms. Marvel) and Peter Parker (Spider-Man) going on a date was downright silly when it was first previewed. But they are legitimately my One True Pairing in all of comics.
So much so that I could provide an annotated gallery of panels that clearly show their relationship actually is canon. In which case my answer is Batman/Superman.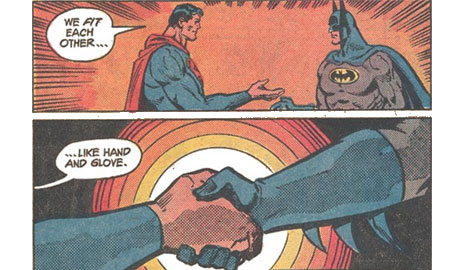 ---

Caroline
Rikki Barnes (Nomad) and Anya Sofia Corazon (currently Spider-Girl).
When I read them together in the short-lived, much-lamented Young Allies series, and then heard that Anya was getting her own solo series, I was convinced they would end up as a couple. The friendship and affection between these two teenage heroes seemed natural as the basis for a budding same-sex relationship.
Alas, it was not to be, with Rikki being — dissolved into an energy mass who possibly never existed, during the Onslaught Unleashed miniseries. I don't expect Rikki to stay dead (or gone, or dissolved, or whatever) so I do have hopes that she will return. Maybe one day, we'll have a "Nomad and Spider-Girl Prom Issue." Until then, I'll just have to keep that one up in my imagination.
---

Jennifer
I've always had a soft spot for She-Hulk and Hawkeye. They've been flirting since the day they met (when Hawkeye was bitter that a girl who could beat him up was going to be on the Avengers instead of him), but despite a kiss or two and an admission of feelings during Dan Slott's She-Hulk run, they've never actually dated. Don't get me wrong – I love Hawkeye with Mockingbird, and She-Hulk has had a lot of great love interests over the years. But I've always wanted to see what would happen if Clint and Jen could give it a shot. It would be full of bickering and light violence, but it could be a ton of fun.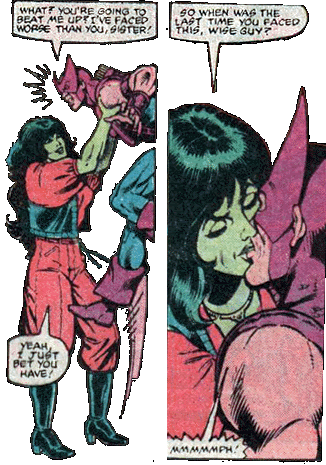 ---

Sigrid
I am taking non-canon to mean the relationship that I perceive to be a romantic couple, despite no confirmation of this fact by the authorized writers of the comic. I have two; Barbara Gordon and Dinah Laurel Lance, and Kitty Pryde and Rachel Summers.
Babs and Dinah: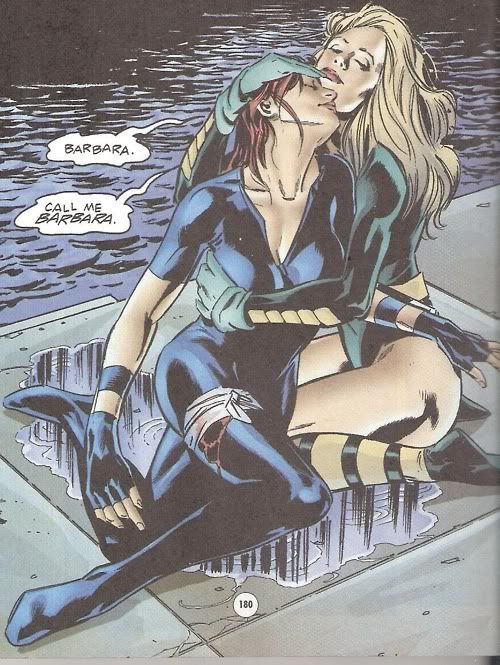 Kitty and Rachel:

Neither of these couples have dated. Barbara and Dinah have had their heterosexuality reinforced many times in canon. Kitty is only canonically bisexual when Claremont is writing her, and Rachel is straight, for a value of straight which seems to include not really liking the men she sleeps with very much. There is no textual validation for my reading of these relationships as queer.
But, oh, Gentle Reader, look at those images.
---
So what about you? Who is your favorite non-canon couple in comics?