Posted by Anika
Long ago I wanted to be a singer/songwriter. And in that years long time my husband said two things to me I will always remember. The first was in reference to the then new video for Britney Spears' Hit Me Baby One More Time. He said, "I saw this girl's video, and she's stealing your act." So that gives you an idea of how I wanted to present myself. I wanted to be a living doll.
The second thing he told me was later, after I'd started and stopped and never gotten anywhere because I didn't know how to really try and used that as an excuse not to. He said, "Your brothers and their friends write songs and record albums and perform wherever they can because they love to make music. And they don't care if it makes money, because it doesn't. They don't even care if anyone or no one is listening."
I didn't read Fear Itself. I don't know the story or what happens or how it ends or why it was important to the Marvel Universe. I don't know and I don't care. It's not relevant to my life. It's only relevant to this discussion because the following panel was taken from Fear Itself 7.1 (I don't even know what the .1 means) :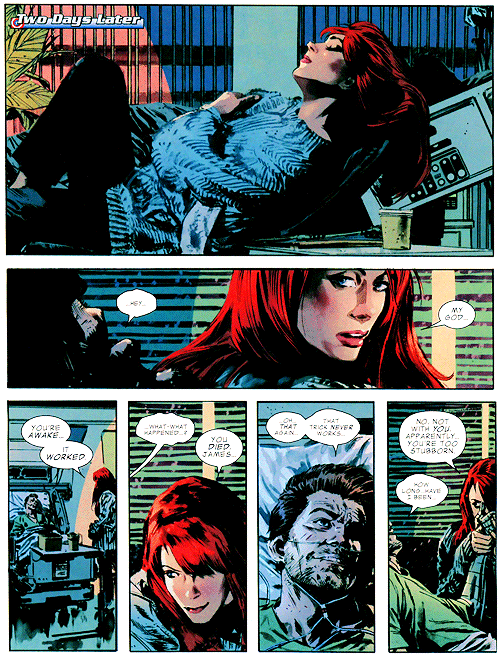 This picture came across my tumblr dashboard and I felt happy. I immediately commented to more than one friend that "Natasha asleep in Bucky's hospital room is the most precious thing I have ever seen in a comic book." That's why I read comics. For those moments.
Even out of context there is a lot to love here. She's wearing pants and a big cozy sweater — in other words, she is realistically styled for hanging out in the hospital. She is curled up in a space clearly not made for stay over visitors which I take to mean she's there because everyone is too afraid to ask her to leave. Wouldn't that be a cute scene?
—
Dr. Carter (I always envision Dr. Carter when I imagine random hospital scenes because Noah Wyle was such a cutie on ER):
Visiting hours are over.
Natasha:
Ignores
Dr. Carter:
So. . . you have to leave.
Natasha:
Raises an eyebrow
Dr. Carter:
Um. Well. Are you . . . family?
Natasha:
Sits
Dr. Carter:
Right. Okay. I'll . . .check in with you later.
—
Cute! And all I needed to imagine it was this picture.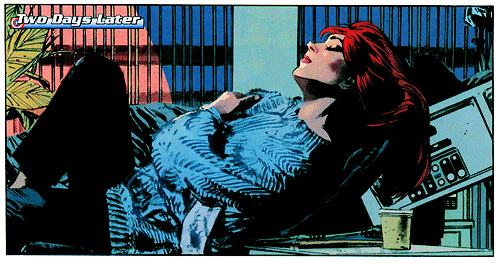 In context, this plot point means James and Natasha have what I like to call a Real Relationship. This panel isn't about male fantasy. There is nothing sexy about a hospital vigil. No way is this a hook for the stereotypical man-child whose idea of commitment is knowing the name of his favorite Victoria's Secret Angel (aside: that stereotype is just as bad as the "feminazi" ones, but you get my point) aka the alleged audience of choice for comic books. Actually? A hospital vigil is an overused plot in romance novels and chick flicks. You know, stuff that is marketed to women.
Which brings me to my point. It's up to us.
I can be mad that I'm not Britney Spears or I can sing because I love to sing.
Britney, like Marvel, and like Disney, is a brand. To sell records/comics/movies/whatever — to make a profit — that brand has to cater to its largest and most visible audience. This is called capitalism. It sucks (aside: go tell Fox News I said so, I am more than willing to appear on their shows and chat about it). As a thirtysomething, female, bisexual, married mother of two girls, comic book fan whose favorite superheroes include Ms. Marvel, Spider-Girl, the other Spider-Girl, and Black Widow aka Women Who Used to Have Their Own Title, and the Scarlet Witch and Jean Grey aka Women Who Are Generally Dead Or Dragged Up to Serve As Plot Points and/or Deus-ex-Machina: it REALLY sucks.
However, I also love Spider-Man. And just like we always say white heterosexual men don't need their superheroes to be white heterosexual men in order to like them, I don't need my superheroes to be just like me to like them. It's great when it happens and it certainly is our collective responsibility to feature characters of all kinds. And, in the middle of a horribly awful economy in our capitalist country, it is fair for the machine to say if the titles don't sell we can't afford to keep them. Is this shortsighted and unimaginative? Absolutely. But it's not a vendetta against women (or other minorities).
And to the idea that Disney should step in and take over marketing comic books to girls I say (a) marketing a line of well-established fairy tale princesses to the audience that basically their company created and marketing a line of superheroines that even the core comic book fandom doesn't know/love well enough to keep their books afloat to an audience that is probably not the same one that they sell Cinderella to are two very distinct ideas; and (b) remember when Disney first bought Marvel and everyone freaked out that they were going to princessify everything? If I were Brevoort/Marvel/Disney I'd be feeling pretty damned if I do, damned if I don't right about now. And that is a very, very bad place for anyone with any authority to be in. Bad for us.
I said Tuesday that DC doesn't care about me as a customer and is not writing comics for me. Marvel also does not care about me as a customer. But Marvel is writing comics for me. New Avengers had one issue all about hiring a nanny. Avengers Academy is like the CW Starfleet Academy series I always wanted. I didn't read Fear Itself but (after I'd seen it on tumblr) I bought the comic that has this picture: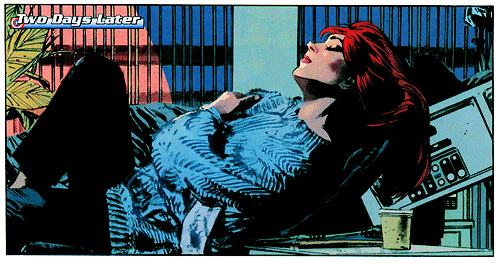 It means something to me. It makes me happy. That's why I read comics. Not because someone or other wants me to or tells me to. I don't want to be a living doll anymore. And I don't want to be a marketing statistic. Maybe the very best comics are the ones made by people who don't care if they're paid or if anyone reads it (aside: do we really think the creators who write even the most mainstream of comics are in it for the money?). But, I love to listen to Britney Spears, too.
Posted by Anika
email: anika@fantasticfangirls.org
twitter: magnetgirl