Posted by Anika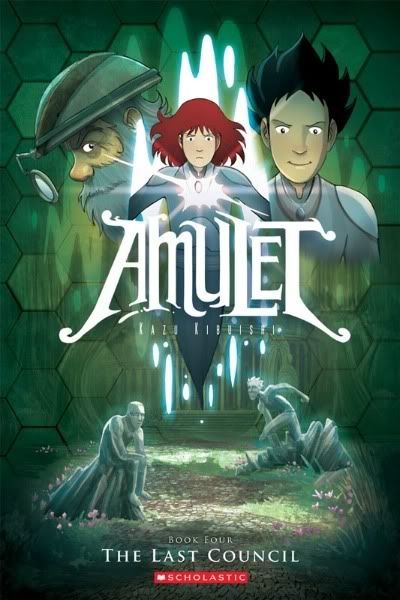 The Amulet series by Kazu Kibuchi is not being made into a film by Studio Ghibli (it is apparently being made into a film starring Willow and Jaden Smith!) but it resembles those stories: a plucky young heroine who stumbles into a magical world. It's a little bit Spiderwick, a little bit Narnia, a little bit Nintendo. But I am generally of the opinion that being referential helps a story and in this case — where it is directed to the tween age group that embraces Ghibli, Spiderwick, Narnia, Nintendo — it elevates it in some ways. Starting with personal tragedy and moving quickly into a personal quest, we readers already know how to connect with and root for Emily, our plucky heroine.
Kibuchi's writing is tight but it is his art that allows the story to take flight, and become something more than referential. It almost doesn't need the words, the lines and colors tell us just as much or more. I'd recommend giving it a read through for that alone. I don't want to say too much about what Emily and her little brother encounter because I think it is stronger if you read it yourself, but I do have to mention that there are robots in this story. Robots!
As I have said before, I love Young Adult Fiction. Probably more than my young adult daughter does. But I have handed off Amulet to her because I am always looking for something we can share. Kiki tends to like heroes where I like anti-hereoes, fantasy where I like sci-fi, and manga where I like superhero comics. Amulet is aimed a bit younger than her but it is closer to what Kiki tends to like, and I did like it, so I gave it to her. And we have five copies of the latest book in the series, The Last Council, to give five of you. All you have to do to enter is comment here with your favorite book when you were fifteen. To make it clear this is a judgement free zone, here is my answer: The Pandora Principle by Carolyn Clowes. It is a STAR TREK (TOS) novel that centers on Saavik, the young half-Vulcan, half-Romulan introduced in Star Trek II. I still, now, read it about once a year. My other favorite was (and is) Rilla of Ingleside, the last of the Anne Shirley books by L. M. Montgomery (Rilla is Anne's youngest daughter).
So, as we say for Q&A, what about you? When you were fifteen what was your favorite book? Or if you are fifteen or younger, what is your favorite book now? Make sure to leave your name (or handle) and an email address I can contact you with if you win.

Prizes courtesy of Scholastic, Inc.
—
Posted by Anika
email: anika@fantasticfangirls.org
twitter: magnetgirl