The Academy Award nominations were announced yesterday. In theory, I love the Oscars. The pageantry and the overlong ceremony, the gossip and the chatter, the betting pools and the fashion, the tributes and even the awards. In theory, it's fun. I remember when I was twelve I went into the city (Manhattan) with my mother to watch the Oscars with a "real actress". We went for the weekend. Had tea at the Plaza. Visited FAO Shwartz, where I got a huge Mickey Mouse dressed in a tuxedo. Bought a hair crimping iron so I could be dolled up for the ceremony — it was all very exciting. Until the show began — I was bored out of my mind. Empire of the Sun won nearly everything. I hadn't seen it. I still haven't seen it. All I know about the movie is 1. Steven Spielberg directed it; 2. Christian Bale was in it; and 3. it swept the Oscars.
Except it didn't. It was nominated. But The Last Emperor won.
This little anecdote is meant to illustrate a few simple things. First, the Academy Awards are generally more exciting in theory than practice. Second, twelve year old girls usually have not seen the movies nominated for Oscars. And third, I prefer movies that feature Christian Bale. It's this last point that may be most relevant to this discussion. I've mentioned my love of the film The Dark Knight a few times, going so far as to say it was my favorite comic book moment of 2008. And up until the nominations were announced there was some speculation that it could sneak into the Best Picture race, a feat basically unheard of in the realm of Hollywood's elite awards. It did not garner a Best Picture nomination; as I have not seen any of the five films that did, I won't say it should have, but I will admit to a slight, if not unexpected disappointment.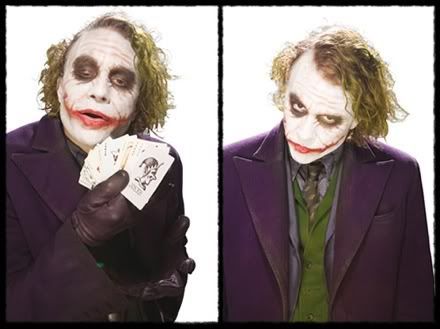 Heath Ledger's performance as the Joker did receive a nomination for Best Supporting Actor and I honestly believe he has a very good chance at a posthumous win. Robert Downey Junior also received a Best Supporting Actor nomination, for Tropic Thunder which is a boon for both Downey (a nice cap to his phenomenal comeback year) and Ben Stiller (whoever thought Tropic Thunder would get to have 'Oscar Nominated' on it's dvd re-release?) though admittedly another expected disappoint for me. I prefer Downey's performance in Iron Man — it may not be as showy (which is a pretty amazing statement considering he plays a man who dresses up and flies around in a bright red and gold super suit) but it is pitch perfect and deeply nuanced. Robert Downey Jr. IS Tony Stark and he's ninety percent of why I love that movie. To me that is the definition of Best Actor in a Leading Role. Sadly, I don't get a vote.
Which brings us back to the Oscars being more fun in theory than practice. The whole race has become so political, with studios sitting on films for months in order to position them best for the awards — which leaves the audience stuck watching bad movies more of the year or more to the point watching movies the aforementioned Hollywood elite imagine to be bad. Somewhere around the first Spiderman film, after the Lord of the Rings trilogy broke through and actually made it to the Academy Awards, the people making 'comic book movies' decided to make Oscar caliber comic book movies. They may not get nominated but Spiderman 2, Iron Man and both of Nolan's Batman films are, in my opinion, on par with the films that are. Stuck in genre-land they may never get the recognition they deserve but in the end, for me, it matters more that the films are being made as if they could.
Iron Man was nominated for Achievement in Sound Editing, and Visual Effects. The Dark Knight was nominated for Achievement in Art Direction, Cinematography, Film Editing, Make-Up, Sound Editing, Sound Mixing, Visual Effects and as previously stated, Achievement by an Actor in a Supporting Role. It's that last that is most significant, of course, though the first three are actually notable for an 'action' film. Heath Ledger was a brilliant talent and his portrayal of the Joker is most certainly worthy of recognition. No one wants to speculate if it comes at the cost of his life. But in the end the tragedy is not found in wondering if Ledger had to die in order for his performance as a comic book character (and an over the top crazy one at that) to be honored with an Academy Award, in wondering if he might not have been nominated were he alive today. The tragedy is that we will never know.
Posted by Anika
email: anika@fantasticfangirls.org
twitter: magnetgirl