In Q & A, a weekly feature of Fantastic Fangirls, we ask our staff to tackle a simple question — then open the floor to comments.
What character from comic books would you like to see as President of the United States?
Anika
In 2004 John Kerry was criticized for being too intellectual. In 2008 Barack Obama was likewise disapproved of. [Disclaimer: I am extremely liberal and I would not have voted for George W. Bush (either time) if someone paid me $100,000.] I do not understand this argument. See, the number one thing I want out of a president is someone who is intelligent. I don't want to go drinking with or to the barbeque with my president. I don't want someone to be my buddy. I want my president to be presidential. But setting even that aside, it's really very simple: I want my president to be smarter than me and in fact smarter than everyone I know. I want the intellectual.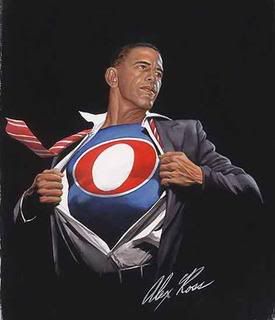 In comics, this one criterion gives us a number of options. Unfortunately all the intellectuals are also, to put it bluntly, insane. Reed Richards would drive the country into the ground in a week (with all the very best of intentions); Bruce Wayne's ideals would get my vote but his mental instability makes me pause; Bruce Banner would be a good president but we wouldn't like him when he's angry; Norman Osborn and Lex Luthor are, well, EVIL, and Tony Stark, though pro-regulation, is too much of a capitalist Republican for me. This leaves me with two options.
Sue Storm, whose only significant failing is her determination to stand by her man.
And Barack Obama.
Caroline
This is kind of a no-brainer since I've already talked about my love for Brian K. Vaughan and Tony Harris's great political comic Ex Machina. Mitchell Hundred, the book's civil engineer turned superhero turned Mayor of New York is one of my favorite fictional characters, and he is canonically considering a run at the presidency. And I really would vote for the guy, and not just in a "well, he's better than Lex Luthor or Norman Osborn" kind of way. Hundred is the kind of leader who gets things done. Explaining his approach to governance to a more idealistic deputy mayor, Hundred says, "I'm not a liberal or a conservative. Engineers are taught to care about facts, not ideology."
In most comics, that kind of statement would probably mark Hundred as a cold-hearted bastard who needs to be taught a lesson. But in Ex Machina, it really means that he's a politician focused on accomplishing things that matter, and finding the best way to accomplish them. Re-reading the first volume of the series last night, I realized that I'd heard an accidental echo of Hundred's credo in President Obama's address earlier that day: "The question we now ask of government is not if it is too big or too small, but if it works." It's the right message for our time, and one that has resonance beyond the world of comics.
If I had a second choice, though, it would totally be Cable.
Jennifer
I know what everyone is expecting me to say. After all, my favorite superhero is the most patriotic of them all, the symbol of everything that's good about America. As President, he would make decisions I would agree with, and inspire hope in everyone across the land. Heck, I even have the campaign t-shirt.
But I don't really want Captain America to be President, for much the same reason that he himself turned down a potential nomination in issue #250 of his comic. Captain America needs to do the job he's already doing (or would be, were he alive): using his fighting skills to keep our world safe while simultaneously inspiring us with his ideals. When my friends and I discuss fictional presidents we would vote for, I always argue, passionately, against the choice of Harrison Ford, because Harrison Ford can't be wasting his time signing bills and talking with advisers and posing for photo-ops. He needs to be out there beating people up. He needs to be the Secretary of Ass-Kicking. And so (in a slightly more polite way) does Cap. I don't want Captain America as my President. I want him to beat up the bad guys, and save the world.
So who do I want as President instead? I want someone smart and idealistic, someone who has witnessed oppression and hardship firsthand and risen above it. I want someone willing to fight the good fight, but also willing to look at options that don't include throwing punches. I want someone with an iron will and clever ideas, someone with the capacity for diplomacy and the purest, most determiend desire to help the world. And I want someone with the power to avoid the piercing of any potential bullet, because, as a Jewish female mutant, she' be a big, and potentially controversial, change from the status quo.
In case it isn't already obvious, I'm talking about the woman Chris Claremont wisely placed in the Oval Office, in his X-Men: The End: the one and only Kitty Pryde.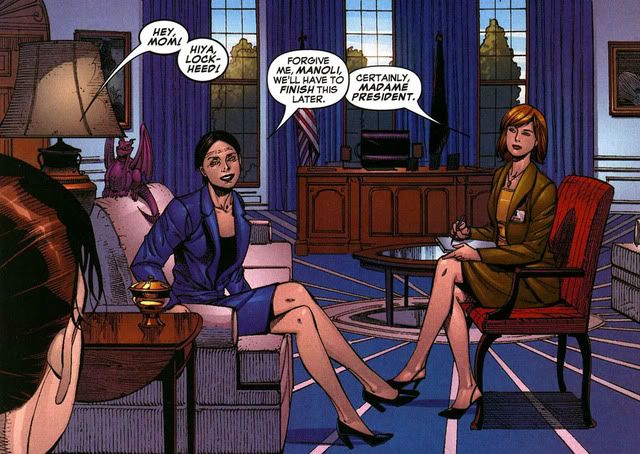 Come on. Tell me you wouldn't vote for her.
Sigrid
I have a great deal of trouble with this question because fictional characters are frequently tragically-flawed. It's part of the story, obviously. And, do I want a President who is tragically flawed? Um, no. But Presidents are also . . . well, we hope they are not too flawed, of course, but think about it — it takes a certain sort of character to even want to be President, let alone survive what one has to do to get there. Maybe those traits aren't flaws, but they aren't precisely normal, run-of-the-mill, either. So perhaps I should be looking for fictional characters who are flawed in the right ways.
Who, then, has the burning motivation, the ability to hold their tongue when necessary, the ability to lie down with strange bedfellows, the raw need to change the world, the hubris to think that they are the person to do it? And not stone-damn-crazy? I mean, Magneto would make a great President. Some of the time, and excepting his pesky methods problem. The Scarlet Witch has the hubris and the need. Tony Stark has the vision and the intellect. Beast has the intellect but not the drive or vision. Cannonball has the strength of character but not the hubris. I can only think of one person. She would need advisors, because she doesn't know much about running a country. And I'm certain in my bones that she would die in office. But one character I love (that wasn't already claimed by another Fangirl in this post) has proven to have the arrogance, thoughtfulness, charisma, and strength of will to lead.
Jean Grey.