Posted by Anika
Today's Fangirl is an old friend of the site who, in my head, was interchangeable with Barbara Gordon for at least the first three months after I met her (this is a compliment, I assure you). She's my go-to girl for DCU trivia (who doesn't mind when I text her randomly to ask "what's Roy Harper's day job?") and I wish she was my kids' librarian. Fantastic Fans, meet Margot!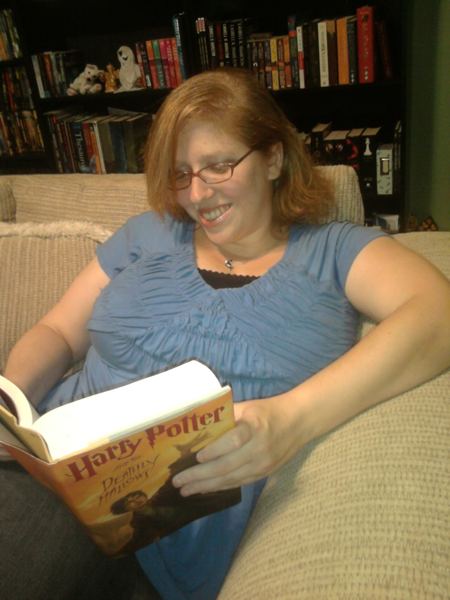 Name: Margot
Age: 26
Where do you live? Georgia
Tell me about your family: My parents, my younger brother, and a cat. My dad has been reading/collecting comics since the early 1960s, and one day I am going to steal his collection, once I can figure out how to transport it from NY to Georgia. Dad and I are the only ones into comics, though. Most of my reading habits were picked up from him. (Most of my tv watching habits as well.)

How long have you been reading comics? Since I was about 8 or 9. Dad always had comics around the house, but I wasn't interested until Batman: The Animated Series and X-Men: The Animated Series. Dad basically handed me the comics and told me that since I liked Robin and Jubilee so much, I could read more about them. And I enjoyed them, but I didn't really imprint on anything until I started reading Generation X and Chuck Dixon's runs on Nightwing, Robin and Birds of Prey. That was when I really connected with comics.
This continued for a while, until I was 16 and Dad introduced me to the people who worked at his LCBS. I knew more about Batman then the manager did, so she hired me, and I worked there until I finished high school.

Nice! What's your current job? I'm a library tech at a university. I have an B.A. in history (with a concentration in medieval history), half a Master's degree in education, and I'm one semester away from finishing my MLIS. Eventually, I'm going to be a teen librarian so I can help tweens and teens find the books that they can connect with, and hopefully get more of them reading.
What a great goal. What are some of your favorite tween and teen titles or series? My favorites are mostly fantasy/scifi based – I love anything Tamora Pierce has ever written. For a younger audience, I'll always recommend Bruce Coville. Susan Collins, who wrote The Hunger Games, also has a middle grade series called The Underland Chronicles which was amazing.
The Ranger's Apprentice series is a lot of fun, and I'm eagerly awaiting the newest book in Rick Riordan's Kane Chronicles. Megan Whalen Turner's Thief series is fantastic. The Mysterious Benedict Society is another great middle grade series that didn't get as much attention as it should have.
There's simply so much wonderful YA fantasy coming out that I am pretty sure I'll never catch up on my to-read list – I'm rapidly approaching 2,000 titles on that.
What's your favorite thing about comics? Why do you read them? I love superheroes. I love the relationships between the characters, and the family formed by the different teams. That's why I love the various incarnations of the Titans so much – they're a family. They may not always like each other, but they always love each other, and they take care of their own. I love ridiculous crossovers, and I love the teamups.
Honestly, I just love the characters – if I wasn't so invested in them, comics wouldn't have the power to make me angry or upset. But just rereading ridiculous moments of Dick and Tim being brothers, or Wolverine and his adopted daughters (Seriously, why isn't there a Daughters of Wolverine comic? Kitty, Jubilee, Hisako, Laura and Pixie would be the best team ever) also makes me incredibly happy, so it balances out.
Do you have a favorite comic? The Wolfman-Perez run of New Teen Titans, followed very closely by Young Justice, Chuck Dixon's run on Nightwing, and Generation X.
A favorite character? My favorite characters are Dick Grayson, Barbara Gordon, and Jubilee. This hasn't changed since I was 8, and I highly doubt that it ever will. On the other hand, Stephanie Brown is trying very hard to make my list of permanent favorites, and considering how great Batgirl is, this will probably happen.
How about favorite creators? Marv Wolfman and George Perez, Peter David (who I will love forever for Supergirl and Young Justice), Gail Simone, Chuck Dixon, Bryan Q Miller, Matt Fraction and Jeff Parker. I'm sure I'm forgetting someone.
What comics are you currently reading? Not nearly as many comics as I used to. I'm down to pretty much Batgirl, Tiny Titans, and any comic that has Jubilee in it. This is partially because comics are really expensive and my LCBS is horrible, and also because I've gotten really frustrated with the direction of comics in the last few years. I don't particularly like grim and gritty, and so many of my favorite characters have been killed/depowered/are Roy Harper that it's hard to care. I only have so much energy to be upset about things, and comics were using up too much of it. So I've been trade waiting most things, or just waiting to find out from people I trust which comics I should be reading.
"Grim and gritty" is often sold as "realistic". Do you think realism has any place in comics? Realism definitely has a place in comics, I just don't think "and now everything is awful" is the only realistic thing. Why does every single superhero's backstory have to involve rape or the death of a loved one? Why can't we have the heroes who are just trying to do the right thing? Why does Barry Allen suddenly need to be motivated by his mother's murder?
And on a related note, why don't any of these characters actually like each other? Everyone remembers when the X-Men play baseball or the Titans go on a camping trip, but now I don't even know why these characters are friends, or even if they still are. It was the relationships that got me into the comics, and the destruction of the friendships that are making it harder to care.
Two very good considerations. Though I will say that while "just trying to do the right thing" is a motivation I can admire, it can make it harder for me to embrace that character. That said, layers of motivation don't have to start at rape and murder. I don't have a problem with other motivations, it's just that when pretty much every motivation is rape and murder that it bothers me. I mean, Dick Grayson is my favorite character, and his backstory is murdered parents. It's when they've changed that origin for everyone that it bothers me. Variety – not every superhero needs to just want to do the right thing, but not every one needs to have a horribly angsty past. There's no reason to retcon Ice's history, or Barry's.
All the favorite characters you've mentioned are legacy characters, do you think that's a coincidence? That's one of my favorite things about comics. I love the complicated continuity and the different generations of heroes, and how they build and change off the previous generations. I love the complicated relationships that the sidekicks have with their mentors, and watching the next generation embrace their roles. (My favorite Marvel superhero team is the Young Avengers, I'm sure you're shocked by that.)
What kind of fangirl activities do you do? Most of my fangirl activities are focused on Power Rangers these days. I run a recap blog, a fandom newsletter, and a discussion community for the current season. For comics, I reblog a lot of stuff on tumblr, and tweet occasionally, but Power Rangers is pretty much where my fannish brain is these days. I also write a lot of fanfic.
Then there are conventions, which I love. I've placed in comics trivia every year I've attended Dragon*Con, and usually I'm the only girl who does. It's annoying. Luckily, Caroline is coming to Dragon*Con this year, so I won't be alone.
How many girls enter the trivia contest? Sadly, not that many – I was one of a handful the first year I entered, the only one the second year I entered (but they only let finalists play that year) and last year I was one of two.
They restructure the trivia every year, and it's always a lot of fun. Hopefully next year I won't forget Bethany Cabe's name.

So — why Power Rangers? The short answer is "I like superheroes who are good people." The longer answer is that I like Power Rangers for the same reasons I like superhero comics – the relationships between the characters, the fights, the giant crossovers, and the teams themselves. We're currently on the 18th season. Some seasons are better than others – RPM, Space and Time Force are probably the best seasons, even if the first four seasons (Mighty Morphin + Zeo) will always be my favorites.
You still get a lot of the same things that comics have – people arguing about how do the powers work or where does this season that involved time travel fit in continuity, and is this still an alternate universe or does it count as main canon since it's been referenced in other places, etc. Good times.
I honestly had no idea there are 18 seasons of Power Rangers! I watched those early seasons, where everything masked was original Japanese footage. Are they still color coded? And it must be an entirely different cast, right? Are there legacy Rangers or is it all new continuity? The Japanese Super Sentai that Power Rangers is based on is on season 35 right now. It's about space pirates, and it's great. I can't wait for it to be adapted into season 20 of Power Rangers.
They are still color coded. This season's rangers are pink, yellow, blue, green and red. (The only colors that carry over to every season are red, blue and yellow.) Most of the fight scenes (and the villains) are all based off the super sentai, and this year's plot line is following very close to the Sentai original.
This season is samurai themed, and it's absolutely adorable. The cast is new, and most of them grew up watching the show – with one exception. Paul Schrier, who played Bulk on the original series, is back for his 8th season of the show. And his sidekick this season is Skull's son.
All of the seasons, with the possible exception of RPM are in the same universe. This allows for the once a season teamup with the previous ranger team. We also got two great anniversary specials which had multi-season teamups – the 10th anniversary special brought back 10 Red Rangers, and the 15th anniversary special just decided to bring in all of my favorites. And of course, Tommy (the original green Ranger) came back for season 12, just so he could pick up a fourth color.
What would make a good comic book crossover with Power Rangers? Batman. For two reasons. First, in a really early episode a character makes a reference to the Power Rangers doing to Angel Grove what Batman did for Gotham. Second, I want Carter Grayson of Lightspeed Rescue (season 8 ) to be related to Dick Grayson.
twitter: The2ndBatgirl
–
Thanks for being a part of this, Margot, there are some thoughtful responses here that I will be considering for a while. And my reading wishlist just went up, too.
Posted by Anika
email: anika@fantasticfangirls.org
twitter: magnetgirl