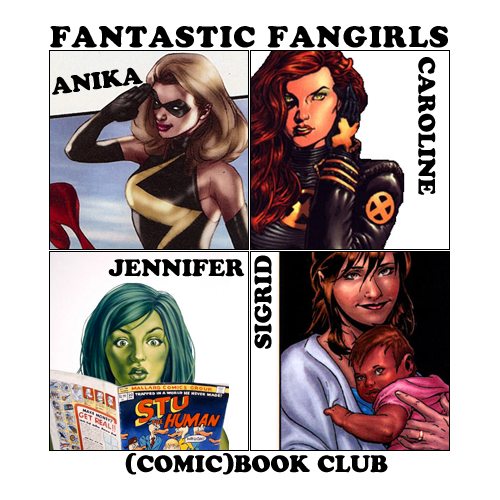 For the fifth installment of the Fantastic Fangirls (Comic) Book Club, the four of us decided to read Nana, Volume 1, the first book in a shoujo manga by series written and drawn by Ai Yazawa.
If you want to get a jump on our next book club, we'll be reading Neil Young's Greendale by Joshua Dysart and Cliff Chiang. We'll be discussing that sometime in April, and more details will be forthcoming.
Today, though, we're going to start our discussion of Nana by sharing an email exchange that took place among the Fantastic Fangirls staff. This is a starting point for whatever our readers would like to say about the book. In the comments, feel free to address any of the points that came up in our discussion, or raise a topic/question of your own. Enjoy!
Note: The first volume of Nana is divided into two parts. They are seemingly unconnected stories, each of which has a protagonist named "Nana." For sake of clarity, we're going to adopt the labels used by Johanna Draper Carlson in her excellent (though potentially spoilery for new readers) overview of the series and refer to the characters as "Naive Nana" and "Punk Nana"
Caroline: I'm going to go ahead and start this discussion with the most predictable thing I could possibly say: the first time I read Volume 1 of Nana, my favorite part was the guitars. I'm a big fan of electric guitars — I love the way they look almost as much as the way they sound — and the second chapter of this book shows off some pretty sweet-looking Fenders. There's a lot of photoreference in that section, and you can tell Ai Yazawa has a great eye for rock and roll photography.
Obviously, I'm zooming in on a very small part of the panel, so to speak. It wasn't just the look of Chapter Two that grabbed me, but the content of the story: Boys and girls in a band! Trying to make it! Taking off for the big city with just a guitar and cigarettes! I love pretty much every version of that story — or at the very least, I'm willing to love it, daring it to turn me off. Sure enough, this book (the "Punk Nana" story) had all the knotty group dynamics and eyeliner and skinny boys playing bass shirtless for no good reason that I could possibly have wanted.
All of this is to say that I ripped through the first ("Naive Nana") half of the book impatiently waiting for the kids with guitars to show up. That's also why I mentioned that I read this volume more than once. As I turned it over and reread it, I realized that both parts of the book were much richer and more layered than I had originally expected out of what is, essentially, a romance novel for teenage girls.
But I don't want to get ahead of myself. Does anyone else want to share first impressions?
Anika: I have read, watched, listened to, and otherwise experienced stories like this a million times. There are elements that are very "Japanese Pop Culture" and themes that are very "Girl-type Young Adult Fiction". I wouldn't call it predictable. More . . . familiar. And that is a hook for me.
Also a hook for me: girls who make all the wrong decisions about boys and especially boys who are too old for them. I really liked the first part. I liked how Naive Nana plotted to get where the boys are. I liked how she would seesaw between determination and desperation. I liked how she babbled. I liked how she kept trying to change and kept messing it up. I liked how she was her own worst enemy.
She was an idiot. Most 18 year olds are.
And I think I should take a page from Caroline and read the second part again. Because I read the whole thing in one sitting and I think Punk Nana suffered because, honestly, I lean more naive than punk. If I'd read the second part first (and there's no real reason one couldn't read it that way) I think I might've connected more to it.
Sigrid: I like manga melodrama and drama, I like stories about young women, I like stories about the complexities of friendship and found family. Moreover, I am on a kick right now of stories that happen because of who the characters are; character-driven plots that would not happen with different people in place. For that reason I really enjoyed both parts of Nana. This is a story that, so far, is generated from the choices Naive Nana and Punk Nana are making. They are choosing where to move based on their hopes for the future and their attachment to things (people, mostly) from their pasts. There is no plot without them. There's no space zombie attack or earthquake or mysterious hooded priest cult to move the plot forward. There are simply these two women, what they want and what they fear, and the consequences of their actions.
I liked the thing enough to go order the next few volumes used from Amazon. They haven't arrived yet, though!
Jennifer: I'm glad you guys all enjoyed this book, because that means your enthusiasm can carry the day and my negativity will exist only as a minor counterpoint. But for the sake of honest discourse, I have to confess that I really, really did not enjoy this book. I chalk this up primarily to a matter of taste — neither of these narratives particularly appeals to me. I spent the first half of the book struggling to keep myself from throwing it across the room in frustration, because Naive Nana's melodrama was so over-the-top that it failed to connect with me at all and mostly just made me want to hit her repeatedly. It didn't help that no one else in that story seemed to have a personality, and my intense dislike of teacher/student and other older male/naive young girl relationships made me completely unsympathetic to Nana's plight.
The second half wasn't as painful, partly because the characters had more personality and partly because Punk Nana wasn't nearly as obnoxious. But I don't have any particular attachment to kids-in-a-band narratives, and there just wasn't enough there to grab me. If I spent the first half of the book angry, I spent the second half merely bored. And I really feel that the English adaptation hurt both halves of the book — seeing 21st century teenagers saying "bummed" and "ain't" took me completely out of the story. As with most translated works, I'm sure this is much, much better in its original language, especially with the proper cultural context, of which I'm admittedly totally ignorant.
But I will say that I thought the art, especially on the second half, was quite good — and reading backwards wasn't nearly as difficult as I'd expected. So I did get something out of it!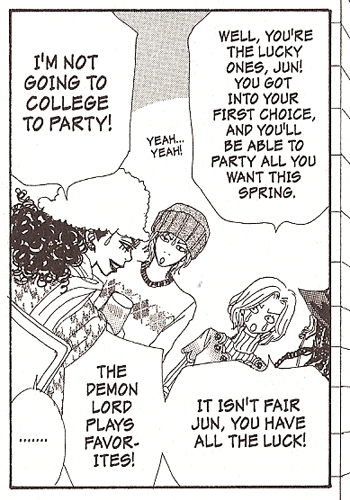 Caroline: Hey, thanks for the counterpoint, Jennifer! I'm curious if you can get past the emotional reaction to break down more about what didn't work for you, because I hardly think you will be alone in that. I will say I found the translation kind of rough — not just the "ain't"s but all the references to "axes" and "shredding" in the music sections made me laugh and laugh.
I do suspect, this may be related to it being a first volume of a book that started coming out in English in 2005. I've read a fair amount of manga and this was the one of the clunkier translations I've encountered. I've only read a bit of the second book but I didn't run into the same bumps. Maybe somebody who's read further in the series can comment on whether this changes. I would also love to have cultural notes on this, which is something I understand some manga have.
I think it's more than fair to point to these potential obstacles to getting into the book. I do want to circle back and talk about the characters, though. Jennifer had a strong negative reaction to Naive Nana, and I admit I had a similar impression as well. She just makes so much out of every little moment. I was so damn relieved to get to the second part of the book and see Ren and Punk Nana's relationship which felt so easy, assured and grown up. (And then. . .sob sob. . . but we'll get to that.)
The second time through the first part, though, I started to notice different things about Naive Nana. Sigrid noted that the characters' choices drive the narrative of this story, and many of the choices Naive Nana is making are, in an abstract sense, positive choices. As Anika said, she knows what kind of people she wants to meet and she figures out where to find them. She's never had a platonic male friend, so she does her best to make that friend. The execution of these choices leaves a lot to be desired, but, then, "Poor Life Decision Theater" is something that I often enjoy watching. I think it helps to know that this book is a prologue to a longer series, that it's going to be about the two Nanas going off to the city and meeting up. Now I kind of expect them to be like the Dashwood sisters in Sense and Sensibility, with Punk Nana as level-headed Elinor and Naive Nana as put-it-all-out-there Marianne.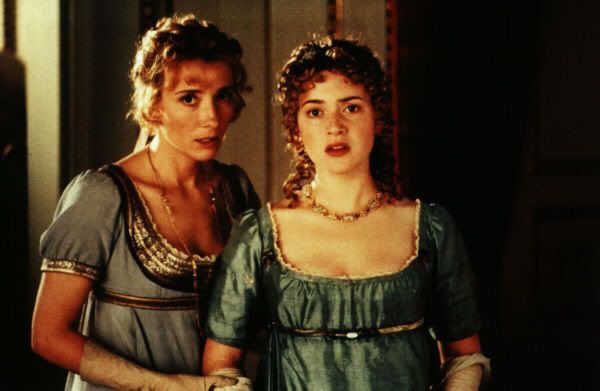 Did anybody else have thoughts about how the two stories bounce off each other?
Jennifer: I think the Austen comparison is interesting, because I hadn't thought of that as an early example of two people's individual narratives intertwining. What the premise of Nana recalled for me, structurally, is a recent YA novel by John Green and David Levithan called Will Grayson, Will Grayson, about two teenage boys from the Chicago suburbs who share a name and who meet up by pure coincidence one day, resulting in their stories intertwining and then spinning out. Reading the description of Nana immediately put that novel in my mind, and since I loved that book I was looking forward to that aspect and was sad when it didn't immediately present itself in this volume. The two Will Graysons, like the two Nanas, meet when they both visit the big city and could not be more different from each other — and, like Nana, I definitely liked one of them much more than the other, so it's not a phenomenon limited to shoujo manga.
I definitely see the potential for an examination of these two very different characters contrasted and connected to each other. I think both could serve to learn a lot from each other, too — I've always liked the contrast between "feels too deeply/openly" characters and "puts up a cool facade" characters, both of whom are extremes that could be tempered through interaction. (It makes me think of Rob Thomas' song "Could I Be You," which I reference to prove just how uncool and lacking in taste I actually am, in case anyone was wondering.) Punk Nana is a bit more mature than that second archetype, but I could still see it working that way. I don't plan to read more of this series, but if I was, that promise would be my hook.
Sigrid: I think the strength of the story is almost entirely in the compare and contrast between the two characters. Either story on its own is … Well, it's interesting if it's your best friend and they are telling you about it, but not so much for a work of fiction that you are taking time to read, you know? But together, together the stories intersect in a way that is not un-Austonian. There's the seemingly meek Naive Nana and the seemingly assertive Punk Nana, but, BUT — but manga is rife with the trope relationship of the girl who at first appears totally together, but is fragile, and the girl who appears shy and weak but has untapped resources and a will of steel, and the relationship between them. I have not yet read volume 2 (a pox on you, Amazon Marketplace!) but I am expecting that this will be a factor. In much the same way that Charlotte reveals herself to have a steely-eyed practicality that Elizabeth Bennet might learn something from.
Tomorrow, we'll continue our discussion of Nana, along with some musing on reading manga in general. Meanwhile, we invite readers to chime in with their own thoughts — about Nana or about any of the storytelling issues that we've raised!
[ETA: Day Two post is here.]