by Sigrid
The Umbrella Academy, volume one, by Gerard Way and Gabriel Ba is a good comic. "Apocalypse Suite" is a good story. But in order to tell you why, I have to take you on a short autobiographical detour through Xavier's School for Gifted Youngsters. Because it started out as Chris Claremont's fault.
The sheer number of things in my life that begin with the X-Men really doesn't bear scrutiny. There I was, maybe fourteen years old — probably just under that. Strolling the library shelves, looking for that elusive Something New That Is Just Like Everything I Love, Except I've Never Read It Before. You know the thing I mean. There, at the end of the shelf, was the small area where the some of the mass-market paperbacks rested on the spinners. I never understood what divine- or infernally-inspired system determined which books went on the shelf, where they were findable, and which went into the morass of the spinner racks.
But there was the cover. A dark cover with a young girl on the front, fire behind her, her red hair streaming out as if in a high wind. "She looks like Jean Grey," I thought. I picked the book up, flipped it over. Huh. It was about people with powers. On the run from the government. "Sure," I thought. "Why not."
The book was, of course, Firestarter, by Stephen King. The cover was the post-movie one, with a child Drew Barrymore staring out at the reader as the pyrokinetic Charlie McGee. I picked the book up because it reminded me of The Phoenix, loved the book to death and promptly became a Stephen King fan. (I also promptly began daydreaming in excruciating detail a story in which Xavier's school gets a troubled new student named Charlie.) What grabbed me about the book, though, was the way it stood in contrast to the X-Men. This, I was certain, was how things would really go. This is how it would happen. No school, no safe harbor. Just people — like Emma Frost and the Hellfire Club — wanting to use kids — like Kitty Pryde and Angelica Jones — for their own nefarious purposes. And as I read The Umbrella Academy, I thought of nothing quite so much as Firestarter.
Well, Firestarter to start. I couldn't help pondering other works that deal with the central problem of The Umbrella Academy. The fictional country of Valdemar in the works of Mercedes Lackey deals with this problem, as do the people of the Talents Universe in Anne McCaffrey's books. Heck, take a glance at the Harry Potter books of J.K. Rowling. Or the classic 1953 Jerome Bixby short story, It's a Good Life. The problem — or situation, or opportunity, call it what you will — is simple: What do you do with superpowered kids?
Kids or young adults or teenagers — the ages in the stories can vary. The problem does not. if some people are intrinsically able to do things far beyond the capacities of everyone else, what does a society do? Do you leave them alone? Do they need protecting from the mob? Do normal people need protecting from them? Are their powers controllable, trainable, malleable? What about the personalities? In many, if not all, of the tales dealing with these issues the people with powers are adolescents or young adults. They have some agency and control — or at the least, they have a will and some ability to act.
This is not the case in Way's The Umbrella Academy. Here we have infants. Defenseless and helpless infants. Raised by the mysterious Sir Reginald Hargreeves, the infants are given numbers, not names. They are raised to be parts of Hargreeves' plan to save Earth, not raised to be functional human beings. They are not functional alone, not autonomous. While the adult Academians could certainly stop a zeppelin crash, save a puppy from a fire, or disarm a bomb, not a one of them can identify or articulate what they want or how they feel. It's not that they are broken — it's that they were never whole.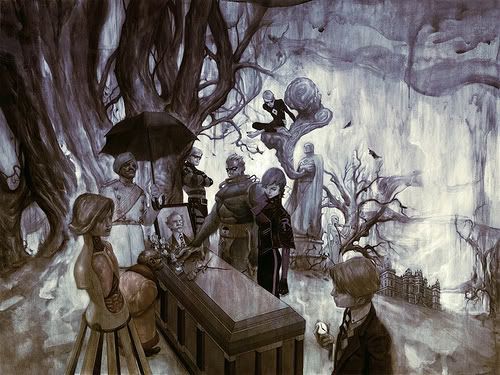 How whole, honestly, do you think any of the X-Men are? For simplicity's sake, let's just look at the original five. Taken as teenagers by a mysterious mentor who brought them together to fight evil mutants, the X-Men are frequently in a position of world-saving. Much like the Hargreeves children. The X-Men do pretty well when they are in a fight or a desperate situation. But when given some down time, some time to think and reflect, the X-Men largely either act-out inappropriately or they sink into morose depression. Or, you know, they're dead.
In some ways, The Umbrella Academy has little that is truly original in this genre. But that's not a problem. Way hits all the expectations of the genre, and hits them with a twist. Sir Reginald Hargreeves raises the children to be heroes; but (as far as we know) he is neither altruist nor villain, but pragmatist. The seven children have the leader, the jealous second, the love interest, the sullen outsider, the sweet dead kid, and the outcast; they also have a lunatic prophet. The past of their deceased father raises more questions; but those questions aren't really relevant to the Big Bad.
Way uses the wall of prior stories in this subgenre to set our expectations and then mess with them. Watching him reveal the plot reminded me of watching Olympic figure skating — I know that at some point the skater will jump,there will be twists, there will be spins, and maybe someone will fall down. But watching each routine is a different experience. In the initial pages of the first issue Way sets us up with seven extraordinary infants adopted by a mysterious figure — when we next see them they are fighting villains. "Oh, good," we think. "They are being raised to be heroes." Yet Hargreeves is callous, nearly cruel to the children. "Ah-ha, he's actually a villain!".
Well, no. Well, yes. Well — you have to read the story.
If you haven't figured it out by now — and I wouldn't blame you, what with the digressions and circumlocutions and meandering course of text — I quite like "Apocalypse Suite." But I'm not at all certain I can recommend it for just anyone. You see, if it's the sort of thing you like, you'll like it a lot. And if it's not the sort of thing you favor, you'll read it and roll your eyes and say, "oh, right, another one of these."
It's a genre I love — kids/teens form superteam to fight bad guys. It's a version, a twist, I love — they are damaged by their upbringing, yet still struggle to do good. It's in a new and interesting science fiction world I've never seen, one that mirrors pulp science fiction of the past — talking chimps, robot nannies, bodies of apes with heads of men. And it's a character-driven story in which all that is good and all that is evil comes from the hearts and souls of characters — even the dead ones.
There are some genre books that set the gold standard. "Young teens brought together by mentor to fight evil" is, in comics, set more-or-less by the X-Men and the endless stream of subsequent young-teens-fight-evil titles. (New Mutants, X-Force, X-Terminators, Academy X, New X-Men (not the Morrison, the Yost,) Hellions, Young X-Men, and however many limiteds and spin-offs I am forgetting.) There are some genre books that twist the standard memorably. I would argue that the "Born in Fire" volume of Rising Stars does that. There are some books that are the standard's dark mirror — Gen13 for one, but more memorably, DV8. The Umbrella Academy, I feel, does not sufficiently warp the genre to make a new path. (At least, not yet. Way and Ba are in the midst of publishing the next story arc as I write this.) But it provides enough spin to give you that chimerical Something New That Is Just Like Everything I Love, Except I've Never Read It Before. If that's your cup of tea, go on and give The Umbrella Academy a chance.
Email: sigrid @ fantasticfangirls.org
Twitter: sigridellis