Posted by Jennifer
Next Wednesday, the trade paperback collection of Roger Stern's Captain America: Forever Allies hits stores. The story features fantastic art by Nick Dragotta and Marco Santucci and does some great things with the original Young Allies, a group of unpowered Golden Age characters who teamed up with Bucky and Toro to fight in World War II. It even manages to rehabilitate the astounding racism of the characters' 1940s depictions, and for that reason alone I would love to be able to recommend it wholeheartedly. But its villain plot is so full of uncritical replications of Yellow Peril tropes that the miniseries mostly serves as case study in how to get things both incredibly right and incredibly wrong when it comes to racial representation in comics.
Golden Age characters can be tricky to use in modern times, particularly those who were created with racial stereotypes firmly in mind. Such is the case with the Young Allies, a briefly-appearing, multi-ethnic group of non-powered characters (much like DC's Newsboy Legion, also created by Joe Simon and Jack Kirby) whose entire characterizations could be summed up as "the prissy rich kid," "the fat Jewish kid," "the angry Irish kid" and "the black kid." Of these, "Whitewash Jones," Marvel's first black character, suffered the worst, depicted as an ape-like racist caricature in his 1940s appearances. He didn't even get a real name.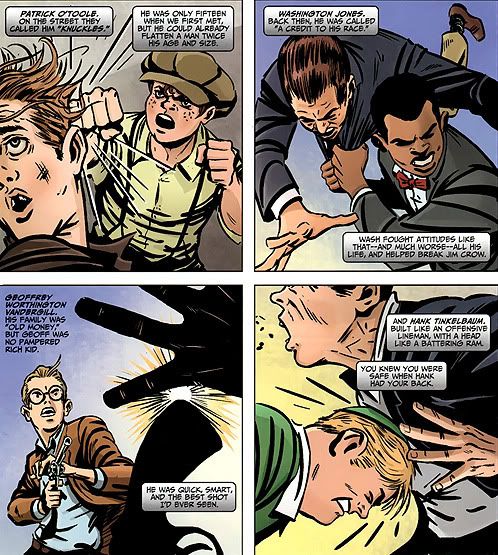 But Roger Stern, with Forever Allies (and his earlier "Young Allies" oneshot for the Timely 70th anniversary celebration) sought to cleverly retcon the characters' early appearances, finding ways to subvert the racism without pretending it never happened. In this new, updated tale, all of the characters have more realistic names and characterizations and are drawn to look like real human beings, and Jones in particular – now Washington Carver Jones – is reconceptualized as a Tuskegee Airman and later Civil Rights crusader. But the original caricatures do not disappear. Instead, Stern posits that the comics on the shelves in the real world 1940s were also the comics on the shelves within the Marvel U – unauthorized, offensive depictions of the "real" people. By reframing this history, Stern manages to acknowledge the problematic discourses in 1940s mass media while raising his actual characters above it, allowing them to be outraged by the injustice. When Toro burns down a blown-up poster of one of the offensive Young Allies covers, it's a victory for the characters and readers alike and a strong statement for Marvel's desire to rise above some of the more questionable parts of its past without denying them.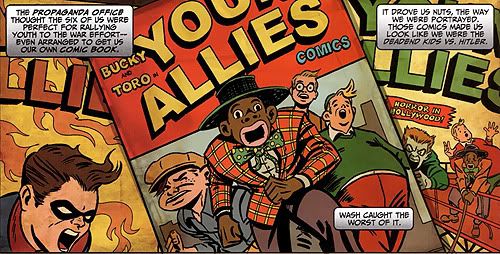 This sort of rehabilitation of Golden Age racism is important in an industry that thrives on nostalgia. Characters created in the past gain cultural cachet through their longevity, cachet that newer characters can never hope to match. Therefore, as a step toward a more diverse modern comic book landscape, highlighting and revitalizing the few characters of color who existed in the Golden Age is incredibly important, even if their origins are problematic. Given all of this, Stern's willingness to highlight Jones in particular within the ensemble of the Young Allies is laudable.
Unfortunately, racism did not disappear after World War II, and traces of 1940s attitudes remain in the present day. Such is the case with Lady Lotus, a villain created in 1979 by Don Glut as part of the Invaders series. Lady Lotus is a Dragon Lady in every conceivable way, a sexy, psychic World War II-era Japanese agent with mind-control powers and racist attitudes who formed a Nazi alliance called the "Super-Axis." That such a character was created, and retconned into Marvel's history, less than 35 years ago is disappointing in itself, but that she appears unaltered in Stern's 2010 comic is completely indefensible.
For the most part, Forever Allies follows Bucky, artificially youthful in the present day, as he remembers his past with the Young Allies and attends the funeral of the elderly Jones, the last surviving member of the group. Among his memories is the group's encounter with Lady Lotus, and Bucky soon discovers that Lotus is still around, still evil, still racist toward African-Americans, and still attempting to use her sex appeal (she, too, has been kept artificially young) and mind-control powers to wreak havoc. What's worse, though Nick Dragotta, artist of the 1940s sequences, goes to great pains to use his 1940s-inflected style in a way that renders the Young Allies themselves as full-fledged human beings, the Lady Lotus (and her male sidekick) in the 1940s scenes look just like 1940s Asian caricatures – even though they didn't even exist in real 1940s comics.
Given what a great job Stern did with Washington Jones, I continued to read the miniseries in the hope that it would somehow subvert the Dragon Lady/Yellow Peril tropes. But, beyond a brief reference to the struggles faced during the war by Golden Girl, a 1970s-created Japanese-American character similarly retconned into the past, the plot and the stereotypes on which it relied remained straightforward and predictable, with none of the nuance present in the depiction of the Young Allies characters. If anything, the depiction of Lady Lotus only got worse. In addition to being a stereotype in and of herself, Lady Lotus – the only other person of color in the book, beyond a brief appearance by the Falcon near the end – became the primary racist force toward Jones, and, as the only woman in the book, an example of sexism as well, with her "terrifying" powers of control over men. By the end of the series, as Lady Lotus met her defeat, I found myself demoralized, empty of all the joy I'd found in Stern's initial representational subversions.
Other writers have more successfully redeemed Yellow Peril characters and stories, most notably Jeff Parker in his Agents of Atlas. And the most recent team to take on the name "Young Allies," Sean McKeever's excellent short-lived series, featured a multi-ethnic, gender balanced cast with nary a stereotype in sight. If you're looking to expand your horizons with a comic book purchase this month, I highly recommend picking up the trade collections of either or both of those. But Forever Allies, whatever its achievements, is a series I can't in good conscience recommend to others. Stern's keen attention to the problem of African-American stereotypes is equaled by his blindness to the problem of Asian stereotypes, ultimately tainting the series. But its few shining moments leave me hopeful that another writer might take up the call, creating more past adventures for the smartly reconceptualized Young Allies – and perhaps finding a way to redeem the Asian characters of the 1940s at the same time.
By Jennifer Smith
E-mail: Jennifer@fantasticfangirls.org
Twitter: throughthebrush