In Q & A, a weekly feature of Fantastic Fangirls, we ask our staff to tackle a simple question — then open the floor to comments.
Who is your favorite comic book redhead?
---
Anika
I have a thing for superheroes. This is not news to anyone who reads this blog, but even in my offline life, if you know anything about me you know I have a thing for superheroes. But the funny part is that it's not about the superpowers. It's about the agency. Superheroes do what normal people only dream of. It's making that choice that so interests me. My favorite super-stories have very little to do with any extra special abilities and everything to do with the extra special attitude that one person trying makes all the difference.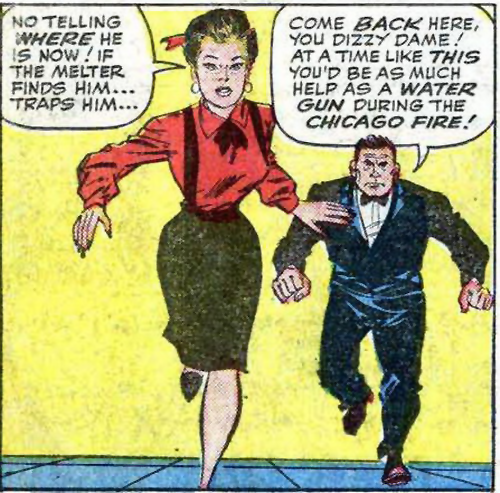 I love Rescue. I love everything about her, everything she has in common with Iron Man and everything that's different between them. I love her story and her voice and her name. But Pepper Potts is not my favorite because she now has a shiny suit and a snappy name and a membership card to the Association of Marvel Superheroines. Pepper Potts is my favorite because she doesn't need any of that to help save the day. And she never did.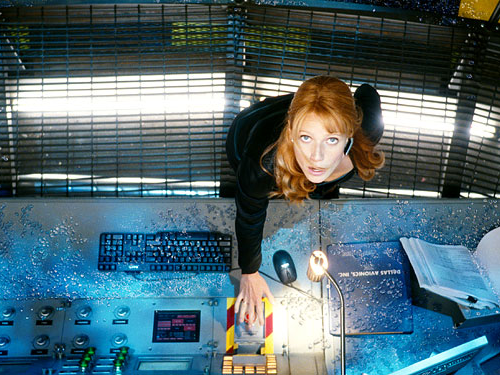 Potts.
Tony, are you okay?
Listen to me. We have to overload the arc reactor and blast the roof.
Well, how are you going to do that?
You're going to do it!
---
Caroline
If you've been reading this site for, literally, a week or more, you've seen me wax rhapsodic about various comic-book redheads on a regular basis. Yet while I do, in many particulars, want to be Batwoman when I grow up, the redhead of my heart is Jean Grey. The original Marvel Girl, of a sixties teen team that hardly knew what to do with her, she grew up to be a team leader, wife, sort-of mother and literal goddess. That's a hell of a resume, and keep in mind, this is the character that gave Twitter the catch phrases "not feeling very Marvel Girl" and "Jean Grey would not put up with this bullshit." The most important redhead, anyway, in the history of my Twitter account and my Photobucket, thank you very much.
Jean is not currently with us in comics, though (unless you count Ultimate X and since it hasn't come out for about six months, I think you don't). However, Jean does have a biological (if alternate universe-based) daughter, Rachel, who took on the Marvel Girl identity and was last seen floating around space with Havok and Polaris. Rachel has been part of some pretty damn great stories about discovering and coping with her mother's identity. Or she's been part of the start of some great stories, which then get forgotten about when she's sucked into space, or a different dimension, or college, or whatever. Basically, Rachel gets my vote for "redhead with most potential". As much as I'd like a story where she and Jean have a cup of coffee together and talk about legacy, I'd take a story where somebody figures out where Rachel is.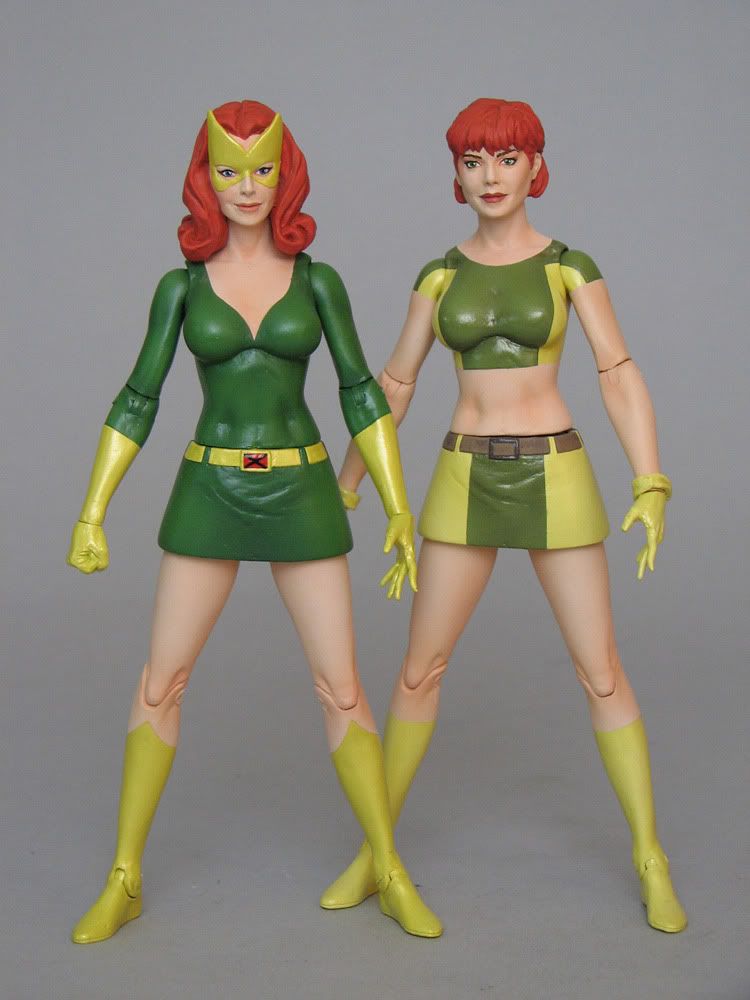 ---
Jennifer
There's a team of mutants in the Marvel Universe that exists far from Scott Summers' Utopia, where it seems the X-Men have X-iled almost every living and earthbound redhead (and Catholic, for that matter) that they have left. That team is known as X-Factor.
First there's Theresa Cassidy — Siryn, now Banshee — who has been a member of the team throughout the book's tenure. She's strong-willed and badass (she was on X-Force, after all!), with a voice that can shatter steel. She has her share of issues, from alcoholism to coping with her father's death to her — well, let's just call it a miscarriage. But even though she's clearly shaken, particularly in matters of faith, she remains competent and integral to the team. In the most recent issue of X-Factor, Jamie notes in his narration that she's probably the most natural leader of the group, and he's absolutely right.
Then there's Rahne Sinclair, recently returned to the team, a character who has grown from the timid, self-hating little girl she once was into a vibrant young woman. She, too, has her issues, and after her recent stint with X-Force, and the discovery of her ex-boyfriend's relationship with another man, she's not currently at her most stable, or noble. But I've always found inspiration in her ability to recover from an abusive childhood, as well as her religious faith, which she staunchly defends against all critics but doesn't push on others, and I have high hopes for her future.
Finally, we have Shatterstar, the second redhead that Rictor has dated (perhaps he has a type). Since Peter David brought him into X-Factor, he's grown leaps and bounds from his confusing, mulleted, Rob Liefeld origins. He's a young man raised in an alien culture obsessed with entertainment and violence, finally learning to be a human being, and a sexual being, in the modern Marvel U. He makes for great comic relief, especially when he hits on everything in sight, but he's also part of the most complex depiction of a male-male romantic relationship in Marvel history, and I can't wait to see where PAD takes him next.
Three awesome redheads. One team. Is it any wonder X-Factor is the best X-book on the stands?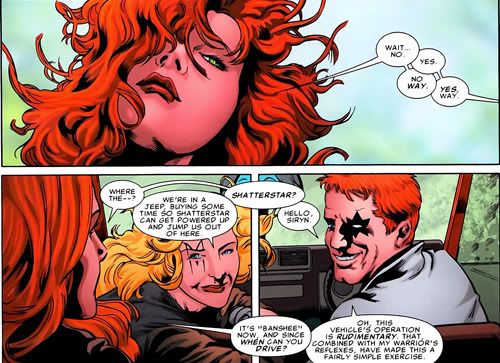 ---
Sigrid
Don't get me wrong; I will always, always love the Summers-Grey women. But my favorite single red-head in comics is Barbara Gordon.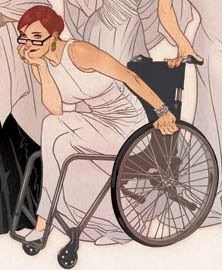 Babs is so many things. She's fiercely determined, unstoppably willful, she's arrogant but can also admit when she's wrong. She is oh-so-very intelligent. She is determined, she is a good leader. She is incredibly emotionally repressed. Barbara Gordon is, in short, exactly the kind of woman I have been falling for in fiction since forever.
But here's the thing — I'm not sure I ever want to meet her. She is often a bully, manipulating her closest friends and loved ones and then not really apologizing for it. She is a paranoid, spying on the people she loves. She is a great, great character and I adore her, but I don't think I have Dinah's strength of character to be Babs's friend.
But that's okay. Because I don't have to know her, or tell her what I think of her cunning plans. I get to read about her every month, and watch this brilliant woman refuse to give in to anything the world can throw at her.
Team Oracle, all the way.
---
So What about you? Who is your favorite comic book redhead?