In Q & A, a weekly feature of Fantastic Fangirls, we ask our staff to tackle a simple question — then open the floor to comments.
What's your favorite comics holiday moment?
Anika
Beware, I'm going to be gushy and as my moment is from one of the comics my husband calls "Marvel for Girls" I may also be girly. I (Heart) Marvel #1 Starring Spider-Man and Mary Jane (already, this is bittersweet, but it remains easily my favorite holiday moment in a comic book). Basically, Valentine's Day is coming up and our Peter doesn't know what to get his wife. She always gets him exactly the right gift and he wants to do the same for her, just this once. Now this comic includes so many wonderful moments and touches — Peter getting a cookie out of the Iron Man cookie jar while Aunt May and Jarvis do dishes together; MJ, Tony, Luke and Steve watching the ball game; Spidey playing pranks on Johnny Storm; Luke Cage being goofy cute about his Jessica; and Tony's Cheezit obsession for example. But the best moment, the reason I truly love this silly little side-story girly comic is when Peter gives Mary Jane her gift: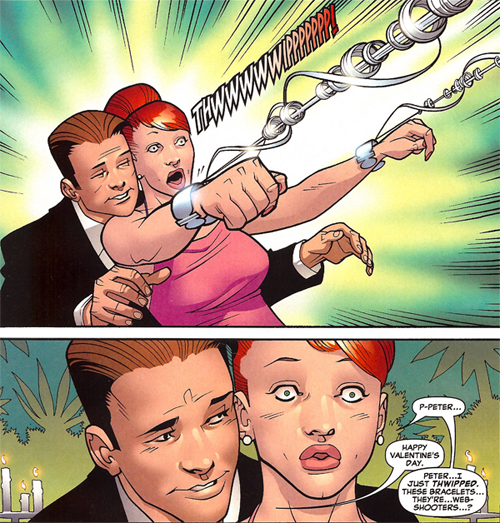 His original web-shooters, modified by Tony Stark for Spider-Wife. I don't own a single Spider-Man title but I adore this story right down to the little pink hearts that fly up to the moon while our couple…on the roof.
Caroline
It would be an understatement to say that I'm not very festive. That's not to say I hate Christmas, or any Scrooge-ish sentiment like that. But I don't decorate, I don't send cards, I don't play Christmas music or seek out Christmas-themed entertainment (aside from It's a Wonderful Life, but I'd watch that in July). It all just seems like a little much to me. All that pressure, all that build-up; the insistence on a miraculous payoff, because nothing else will do. My favorite holiday is actually Thanksgiving. At least in my family, the observations have always been pretty similar — you see family, you eat a good meal, but without the fuss around it. It's not about hoping something new and amazing will happen, but appreciating what's already there.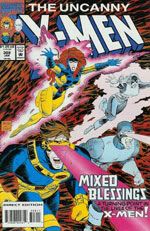 For a lot of the same reasons, I tend to gravitate toward Thanksgiving stories over Christmas ones. Not that there are a whole lot to choose from, but I do love the movie Home for the Holidays, and the sundry "very special" TV episodes that deal with this weird American institution. (Like that time on Buffy where Xander got funny-syphilis and Spike fought a bear. Who doesn't love that?)
And it's always made me happy that Uncanny X-Men #308, the issue where Scott Summers and Jean Grey get engaged, is a Thanksgiving issue. Somehow this feels like the perfect thing for them. It's a low-key story, the couple wandering through the autumn leaves reminiscing about the ups and downs of their relationship, while their friends play a vigorous game of touch football. The climax isn't high melodrama (of which they've had plenty over the years), but Jean's two simple words: "Marry me." Somehow it feels like the perfect moment for them, the affirmation that it's the right thing for them to be together, that it's been the right thing all along.
Jennifer
I love holidays as a rule, and Christmas is by far my favorite. Call it cliched, call it commerical, call it anything you want–I love all the trappings of Christmas, from the carols to the TV specials to the tree-decorating. (Ok, actually, decorating the tree is frustrating as anything, but I love how it looks when it's done.) But most of all, I love the spirit of joy, of hope and love and togetherness and giving. I love the idea of taking some time out of our busy lives to be kind to each other. And I love the focus on belief, and on nostalgia.
Consequently, I've always loved the stories in Marvel's annual holiday specials. But it was one particular story in the 2005 issue that made me especially happy. Called "Yes, Virginia, There is a Santron," the story tells the tale of a lonely and disturbed woman who never quite got over Santa not being real, and tries to make a robotic Santa to compensate. Unfortunately, she's guided in this mission by Ultron, who, sensing a willing partner, has taken over her mind, and this leads the newly-created "Santron" to come calling during the Avengers' annual Christmas party, held at Dr. Strange's house.
At the party, we see everything you'd expect, and more, from the New Avengers-era characters in that setting–Luke Cage in a Christmas sweater, baking cookies; Tony Stark and Hank Pym programming remote-control mistletoe to find its way over Jessica Drew's head; Peter Parker webbing up the carnivorous heads of Dr. Strange's very much still-alive Christmas "tree." The Christmasy spirit of friendship and caring pervades the story, making me wistful for the family atmosphere of those early New Avengers days, and there's even a subplot about the Rudolph-like acceptance (and heroism) of forgotten hero Gravity. But the best moment comes after the requisite battle, when Captain America delivers a modified, and very heartfelt, version of the "Yes, Virginia, There is a Santa Claus" speech.


Yes, Virginia, as sure as generosity and devotion exist to give life joy…there is a Santa Claus.
Excuse me. I think there's a little something in my eye.
Sigrid
Well, my favorite holiday moment in comics is simply the first holiday moment I encountered. I imprinted, like a baby duck, on Kitty Pryde fighting off some horrible monster on her own.


It's not particularly holiday-spirit-filled, but it's the one that always comes to mind.
What about you? What is your favorite comics holiday moment?