by Sigrid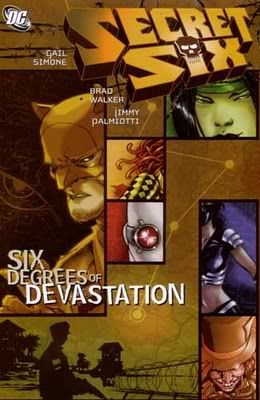 Gail Simone's Secret Six is one of those books that is so consistently good, so month-in and month-out at the head of the line, that I forget to talk about it. I take for granted that exquisite plotting, the intensely character-driven stories, the fantastic art, and the jaw-droppingly vile and hilarious dialog. Therefore, for this month's Revisit feature, I'm going to share my passionate opinions of this book. I re-read the Secret Six limited series, "Six Degrees of Devastation," written by Gail Simone, with Brad Walker on pencils, Jimmy Palmiotti on inks, and Paul Mounts doing a great job as colorist. This limited series was the sequel to Villains United in which Simone introduced us to the team. That title should give you a serious hint as to the nature of the Secret Six — they are villains. But let me briefly digress –
I hear calls on the internet for comics to be more "family-friendly" these days. I'm not sure what exactly that means. If comics were going to be "friendly" to my family, there would be far more characters of color and GLBT characters, as well as adoptive relationships that don't end in tragedy. Also, transforming rocket tanks that successfully explode death traps on the moon. (Meet my kids and you'll understand what I'm talking about.) But in lieu of that I'll take comics that show action, high stakes, and positive outcomes while skimping on the gore and give them to my kids. (This means my kids don't read any X-Men comics at the moment, I will have you note.) My kids read the new Batgirl, for instance.
Yet I do not think this means there is no place for adult comics. I'm not talking Lost Girls porn, or even the Wonderland series of comics. I mean adult comics. I treasure comics that are written for intelligent adults, comics like Stumptown and Scarlet, like Invincible Iron Man. Comics in which the characters are motivated by complex and contradictory motives stemming from adult relationships and conflicting desires. Comics in which adults swear, express lust and desire, and behave in ways that I do not want my children emulating over breakfast. Secret Six is that kind of comics and more.
At the start of the limited series, the Secret Six consist of Catman, Deadshot, Ragdoll, Knockout, and Scandal Savage. They invite Mad Hatter to assist them in defending themselves against Doctor Psycho's vendetta against the team. The plot of Six Degrees is straightforward — Doctor Psycho and Cheshire try to kill the team while inflicting the highest possible anguish and grief. This automatically makes the story intensely character-driven. Each assassination attempt is personal.
At this point our sympathy is with the Six. Scandal's lover, Knockout, is exploded and burned in front of her. Deadshot is forced to kill in front of his family. Catman's hitherto-unknown infant is at stake. But the Six, when threatened like this, well — they are villains. The opening of the second issue is a torture scene. And it's Scandal inflicting the torture. The entire series is like that — scenes in which we root for the Six followed immediately by scenes in which they shoot innocent bystanders or use civilians as body shields.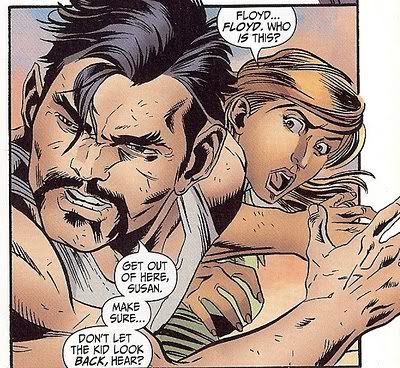 I won't recite the whole plot here. It's fairly straightforward, which is a strength — the clarity of the plot leaves room for the wonderful, rich character driven interludes. The spare plot leaves space for Simone to introduce us to the Six. And introduction it is — Simone created Scandal Savage, but the rest of the roster are B- and C-list characters (with the possible exception of Deadshot) with whom many readers will not be familiar. Here, in Secret Six, Simone writes the cast so well, so perfectly, that I have trouble remembering how little they appear outside of this title.
I've heard some refer to Secret Six as the rehabilitation of Catman. I don't know, I've never read anything about him before. But I can say that Catman — Thomas Blake — is one of my favorite things about the book. His vigilantism is this close to making him Batman, and he knows it. Yet he keeps falling short, or to the side of, the heroic mark.
Catman's friendship with Deadshot is one of those shortfalls. Deadshot — Floyd Lawton– is an absolute mercenary, unapologetic about his villain status. Yet even he possesses an internal code. This code does not make him one of the good guys, not even a romantic anti-hero. What it makes him is a solid villain whose ethical decisions are comprehensible. Blake appreciates this, and trusts it just as far as he thinks sensible. They are friends who would shoot or stab each other without hesitation, should circumstances arise.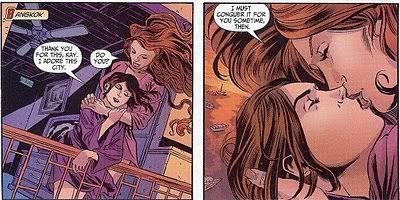 Knockout is alien, yet her love is entirely understandable. Scandal has a chip on her shoulder the size of her father, Vandal Savage, and is adorable if that is your type. Erm. Hatter is creepy and deranged, and far more alien than Knockout. And Ragdoll is an absolute delight. Ragdoll is uninhibited, unhinged, and brings more out-loud-laughs than any other character in the title. Okay, maybe that's just me. Maybe that says something about me that isn't the nicest thing. But Ragdoll is like a walking, skittering clothes horse for the id. And that brings some great humor to the story.
I love this title. I love Villains United, I love this mini, and I love the ongoing Secret Six title.
This is not for you if you don't like reading about villains. But this is for you if you want your villains to be interesting, complex characters to whom you can relate. If you like your villains to fall in love, to get drunk, to have kids, to miss their partners. This is the comic for people who like The Sopranos, Deadwood, and Oz. (The one about prison, not the one about Dorothy. Though I like both, for what that's worth.) This is a comic for adults who like to see adult characters acting like adults — making bad decisions and living with the consequences. Gail Simone's Secret Six is an outstanding comic, and I'm glad to re-visit it.
Email: sigrid @ fantasticfangirls.org
Twitter: sigridellis