Posted by Anika
For our Revisit Challenge I chose to re-read Civil War, by Mark Millar and Steve McNiven, because whenever it comes up, whatever the topic, I want to jump into the debate. I have Opinions (!) — about the set up, and the secret identity debate, and the Superhuman Registration Act, and the sides, and the characterizations, and the resolution, and the repercussions, and everything else — and I want to share them. I want to discuss them. But I often shy away from it because I worry that my Opinions (!) are based in something other than the material. In earlier debates and discussions, in later character arcs or storylines, in other stories I've read, or even in my own contrarian personality. Any of which are valid, but I'd like to know where my arguments came from and why they were formed before I argue them.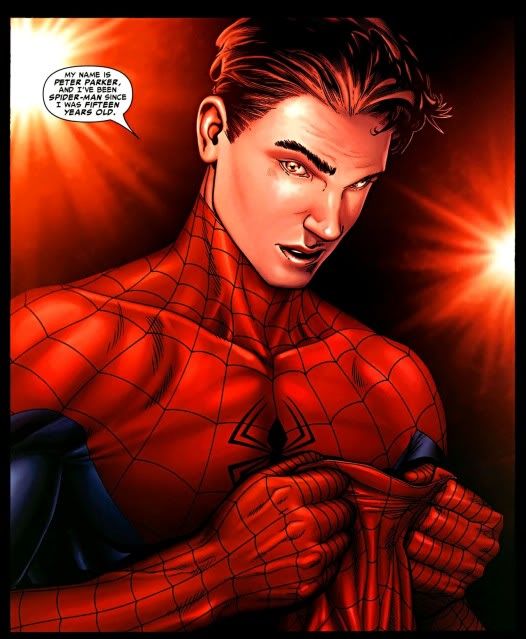 Iron Man and Captain America are the leaders in Civil War, but this is a story about Spider-Man.
On paper Civil War seems to be about blurring the line between hero and villain. There are heroes and villains on both sides and no matter who wins, everybody loses. But within the main argument — should super-humans be super-regulated or is that (to steal a line from X-Men) licensing them to live? — is the matter of responsibility. It is a throughline of the story. Here are some examples:
• Tony Stark makes a big show of taking ALL responsibility for EVERYTHING but isn't he really just taking control?
• Steve Rogers cries Freedom! and fights the Act because he believes he has a responsibility to protect the superhuman community's civil liberties. Then he surrenders because he realizes what he is actually responsible for.
• Reed Richards spends almost the entirety of Civil War ignoring or debating his responsibilities. Sue Storm abandons her responsibility to her children.
• Hank and Jan Pym are poster-children for failing to take responsibility; Hank's Get Out of Trouble Free card was maxed out years ago but Jan is always there to hand over a new one. They just have to show up to prove the point.  (And isn't this Skrull!Hank anyway?)
• The Punisher is a poster-child for taking responsibility when it may not be his right; his justice is the only justice. He also merely needs to be a part of it.
• And Peter Parker, THE poster-child for the concept of superpower responsibility, personifies the arc of accountability in Civil War. He proudly unmasks to the world, choosing to side with accountability over freedom because with great power comes great responsibility. But when it becomes clear that another well-known saying about power — that it corrupts — is equally as true he takes responsibility for his choice and his role in the corruption of superheroing and joins the revolution.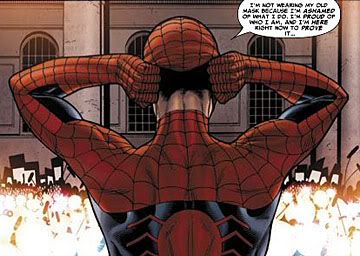 Peter spent years alone, being called a public menace as often as a public servant. Being Spider-Man was often a thankless job. It required a level of detachment that was hard on, sometimes deadly to, relationships. It kept him from pursuing other interests: his science, his photography, a family. And (to steal a line from The Incredibles) no matter how often he saved the city, it always required more saving.
Then he joined the Avengers – sorta kinda – and suddenly he had acceptance, mentoring, downtime, equipment he didn't have to make up and maintain in his living room, and most importantly a buffer between his life as Spider-Man and his reality as Peter Parker. Mary Jane wasn't his only respite, so their relationship wasn't as strained. He could relax. He could be himself.
Then the SHRA debate came up. On one side is a return to public distrust and anger, and living a double life in hiding, and on the other side is living and working within the law instead of above it, and public and (presumed) heroic approval. Revealing his secret identity seems an acceptable price when the reward is living up to Uncle Ben's philosophy about great responsibility. Not revealing it seems an unbearable cost if it means abandoning that philosophy.
I'm disappointed in you, Peter.
Not as disappointed as I am in myself.

- Tony Stark and Peter Parker; Civil War 5
But there is more to the equation. Responsibility does not end with making the choice to be responsible. That's just lip service. Though it takes years for everything to play out, this is where Tony loses and where Peter wins. Tony — and Reed, and Hank, and even Carol later with Mighty Avengers, all of them — had good ideas and ideals alongside the ridiculously bad ones like cloning Thor. Creating a structure for superhuman accountability is not an unreasonable concept. But the Registration Act was poorly conceived and rushed into. The 50 States Initiative was implemented too quickly. The number of rebels was underestimated and frankly, that should have given them pause. Letting known supervillains out of prison to round up known superheroes into prison was a BAD IDEA. The Pro-Registratoin Triumverate were (to steal a quote from Jurassic Park) so preoccupied with whether or not they could, they didn't stop to think if they should (In that same rant in the movie, Dr. Malcom accuses Hammond of not taking responsibility for what he's let loose on the world — i.e. bloodthirsty clones).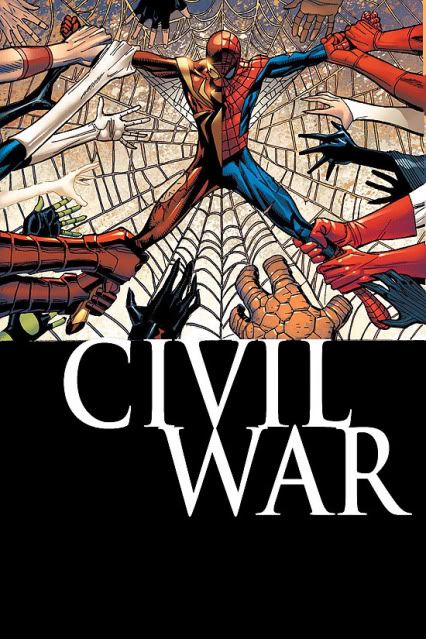 Peter saw this. What he signed up for is not what he got. He wasn't alone in that — there were a bunch of heroes on both sides who switched ships as the War went on — but his is the most revelatory. Cap has an arc and calls an end to the hostilities but he doesn't change his mind, he just gives in for the greater good. Reed and Sue have an arc but it has little to do with the underlying story. Most everyone else, including Tony, are caught up in the madness for better or worse (mostly worse). Peter is special. Peter's arc is very clear if you pay attention to his costume changes.
• He wears the Iron Spider suit in the initial set up. He is a team player.
• He wears his classic costume at the press conference when he reveals his secret identity. He is the poster-child for (great) responsibility.
• He wears his Iron Spider suit when fighting on Iron Man's side, and when he is beaten. Both messages are crystal clear.
• He wears his classic costume when fighting on Captain America's side. Still the poster-child despite the shift in loyalties.
• He wears his Black Spider suit in the last panels. He is neither the idealistic kid he was nor the shiny new hero he thought he was supposed to be. He has entered a dark time and we are all going with him.
There are a lot of things I could complain about in Civil War. But I don't read comics to complain about them. And I certainly don't re-read comics to complain about them. If anyone would like to discuss or debate a particular, I now feel ready. Otherwise I am content with my thesis that it is all about Spider-Man's clothes.
Posted by Anika
email: anika@fantasticfangirls.org
twitter: magnetgirl