In Q & A, a weekly feature of Fantastic Fangirls, we ask our staff to tackle a simple question — then open the floor to comments:
What's your favorite news out of San Diego Comic Con?
---
Anika
I recently watched The Incredible Hulk with Edward Norton and Liv Tyler. I'd seen it before, but after Norton was officially out of the Avengers I sort of wanted to know if I really cared. I don't much care for or about the Hulk generally and my feelings about the Avengers movie fall directly in between overwhelming excitement and overwhelming terror — BUT, I care enough to discover if I care.
I like that movie. I don't love that movie. But it has enough of the tragedy to carry me through and no one stares hopelessly/helplessly like Liv Tyler. No one.
But Norton is not reprising the role. Reading through the list of possible replacements I allowed myself the passing thought that Mark Ruffalo is one of my favorite actors I really like just not enough to babble about. He definitely had my vote but he's the best boyfriend-best friend ever in 13 Going on 30 WHY would he be cast as THE HULK?!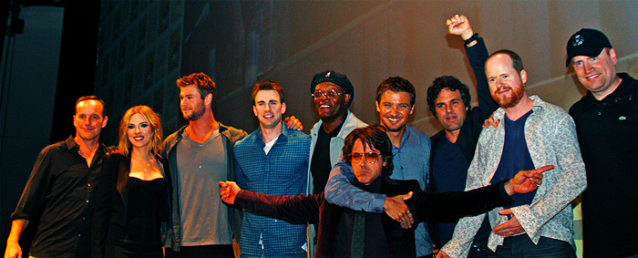 Yay.
---
Caroline
There's going to be a new Power Man & Iron Fist miniseries! I might have mentioned before (like, in last week's Q & A) that Luke Cage and Danny Rand, the original Power Man and Iron Fist, are one of my favorite superhero team-ups. I often seem to be the person at the con panels saying, "What's going on with Iron Fist?" or "When are Luke and Danny going to work together again?" So, of course, I was very excited when I saw this announcement.
I then had a moment's pause, realizing that "Power Man" here is a new, teenage character who is going to be introduced in the ongoing Shadowland event. Quickly, though, I figured that Luke has a lot of books going on, already, with his leadership of New Avengerss and Thunderbolts. Besides, he hasn't used the Power Man name in years. It seems like a great opportunity to introduce a legacy, and one of my favorite things about legacy characters is to see them team up with some of the "original" character's buddies. Add to that, the story is being written by Fred Van Lente, whose witty and imaginative comics are consistently among my favorites. I've missed Iron Fist appearing in an ongoing series (yes, okay, I love Iron Fist! I own the Toon Tumbler!), and I've got my fingers crossed that he's on the way to being part of one again.
---
Jennifer
There wasn't a lot that excited me personally about the San Diego announcements this year — and most of the things that did have been mentioned by my co-bloggers. But one thing that made me happy, despite the fact that it's not really my cup of tea, is the release of news and footage of the upcoming Young Justice cartoon.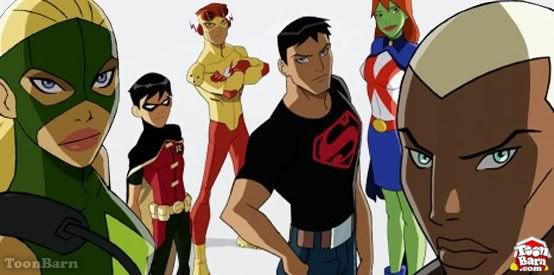 I'm not really a Young Justice fan — I read the first trade of the series and it didn't click for me. But I know that the comic is something that makes a lot of my friends happy, and as a fan of both Peter David and lighthearted teenage superheroes, I was always pleased by the mere fact of the book's existence. This animated incarnation, according to the SDCC news, will feature more of that Peter David magic (he's writing several episodes), which is always a plus. It'll also feature a cast with at least two girls and at least one character of color — which could, of course, be better, but is still more diversity than a lot of superhero cartoons have right now (particularly Marvel's Avengers offerings). The producers seem passionate and excited, and the animation looks downright delightful — all in all, it's a complete package of awesome. I may not wind up watching the show in the long term, but I'm very, very happy that it exists.
---
Sigrid
That's easy — Kelly Sue DeConnick and Emma Rios have a five-issue mini-series, OSBORN, coming out in November. One of my favorite writers, one of my favorite artists, writing about the consequences of Norman Osborn's Dark Reign to Osborn himself. I will buying this for certain.
---
What's your favorite news out of San Diego Comic Con?